Gimbals reduces shakiness of the smartphone when shooting while holding it in your hands. It helps you achieve stable, smooth and clear shots even when you are on the move. 
Dji Osmo gimbals are known to be among the best in the market, providing users with epic shots all the time. Today the article will review two of their latest releases: DJI Osmo Mobile 6 vs OM5 to help you identify which one is better between these two amazing gimbals. 
DJI Osmo Mobile 6

The DJI Osmo Mobile 6 is an advanced smartphone gimbal that magnetically attaches to your phone and provides smooth, stable footage. It also has a wide range of creative tools. The new features and tools make it easy for users to record impressive videos like a pro.
Design
DJI Osmo Mobile 6 is polished, neat, and stain resistant. The gimbal is slate gray, a look that makes it look more elegant than other gimbals in the series. It has improved ergonomic features and an anti-slip grip. The gimbal is also compact and foldable, you can easily carry it around in your pocket or purse. 
Specs
Compatibility- androids and iphones of up to 3.2-inches in width.
Dimensions:
> When folded - 189×84.5×44 mm
> When unfolded  - 276×111.5×99 mm
> Bluetooth: Yes
> Weight: 309g

Compatible Phone:
> Weight. - 170-290 g
> Width - 67-84 mm
> Thickness - 6.9 to 10 mm
> Battery Capacity - 1000 mAh
> Operating Time - Approximately 6. 24 hours
> Charging Time -Approximately 1.24 hours
> Charging Port -USB-C
> Software -DJI Mimo app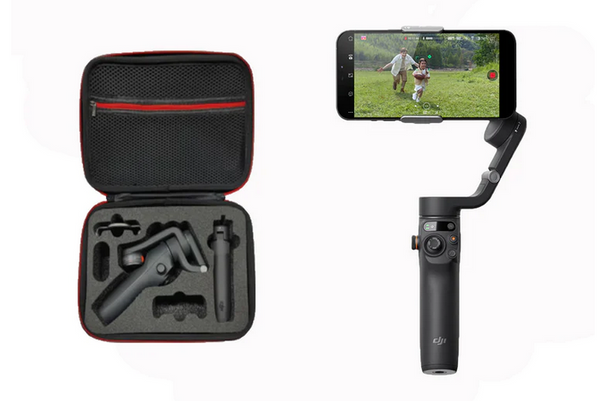 DJI OM 5
Dji OM 5 is a palm-sized and portable gimbal. It has a built-in extension rod to help you get better shots at a wider angle. The gimbal gives you a fantastic experience shooting with its features, such as shot guides, automatic tracking, and more. You are guaranteed smooth and flawless videos and pictures as you walk or run with its 3-axis stabilization. 
Design
DJI OM MOBILE 5 comes in two colors: athen gray and sunset white. The gimbal is small, so you can put it in your pocket. It also has a tripod mount on the bottom, a thumbstick, and a rear trigger. 
Specs
Dimensions:
> Folded: 174.7×74.6×37 mm and 264.5×111.1×92.3 mm
> Unfolded: Weight- 292 g
> Charging Port- USB-C
> Compatible Phone  Thickness -6.9-10 mm
> Weight- 230 ± 60 g, Width -67 to 84 mm                                                 
> Battery life -6.4 hrs
> Battery Capacity- 1000 mAh
> Charging Time- 1.5 hrs
> External Device Charging Port- No.
> Stabilization - 3-axis
> Software - DJI Mimo App
> Compatibility- Androids and iPhones of 67 to 84 mm width)
> Weight- 290g
DJI OM6: What's New?
Quick launch 
The DJI Mobile 6 powers on immediately after you unfold it and snap in your phone. It's Mimo app pops up and starts the second the phone launches. This allows you to start recording and capturing every moment without the delay of starting it up.
New control
OM6 has some new features on its control panel. The status bar shows information such as battery life and shooting mode. 
The side control wheel allows you to adjust zoom and focus as you film. Side control wheel is much easier to use and allows you to capture zoom shots with different effects. 
The built-in M button allows you to flip between modes conveniently. 
Ergonomic upgrade 
DJI Osmo OM6 was designed to provide extra comfort to its users. The gimbal is sleek with an anti-slip grip allowing it to fit perfectly on your hands for easy operation. 
Gesture Control
Gesture control is one of the fantastic features of the new Osmo mobile 6. It comes in handy when you are alone and want to take some shots. Or when you are in a group but all of you want to be on the screen. To use it, set the gimbal, then get in frame and wave to the camera for some of the best shots.
Upgraded Active track 5.0
The new Osmo Mobile 6 has improved AI tracking for better and more stable images. Active 5.0 can detect faces around its frame, even with a temporary distraction. The AI tracks a subject accurately so that it can identify the image and retract it after losing it for a while. It can also track subjects at a longer distance than the previous releases.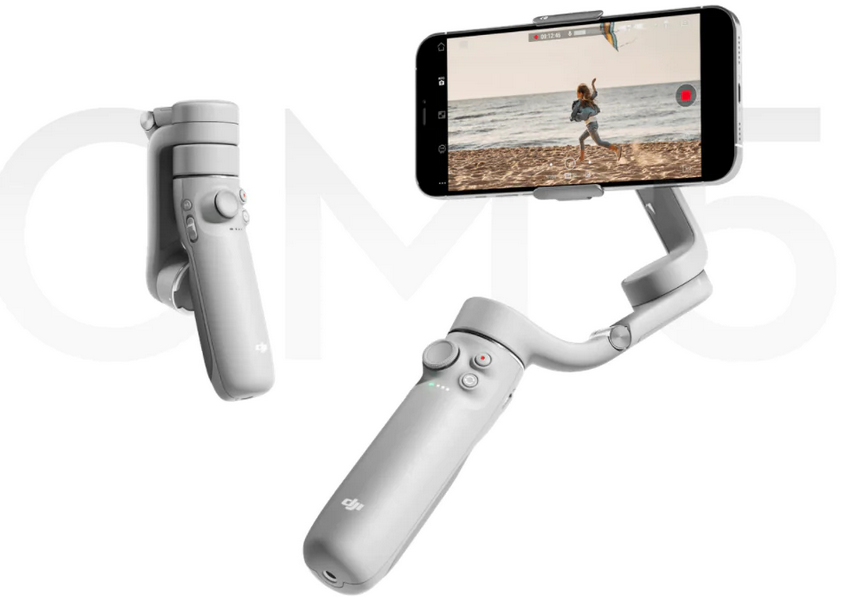 DJI OM6 vs. DJI OM5: What's Different?
The Design and Color
OM6 is only available in slate gray, giving it a more professional look, unlike the OM5, which is available in sunset white and athen gray colors. It can also hold heavier and larger phones than OM5.
Weight 
DJI OM6 is a little bit heavier than OM5. DJI OM6 has a total weight of 309 grams, while the OM5 has a total weight of 292 grams respectively. The little margin is a result of additional features that are available in OM6. 
Physical Controls
More physical control in the new OM6 makes the gimbal easier to operate. The zoom slider in OM5 is replaced with a side control wheel in OM6, which is more efficient in fine-tuning zoom shots.
Efficiency in Operation
The new quick launch has replaced the old DJI OM5 manually powered launch. With OM5, you have to physically click and hold the power button for it to start. The quick launch has made OM6 more efficient as users can quickly begin to record immediately they put their phones in place.
Axis lock 
Osmo mobile 6 has an axis lock that securely restricts the gimbal from movement when folded, a feature lacking in Osmo mobile 5. The Osmo Mobile 5 axis turns around even after folding for storage,
The joystick has also been upgraded in Osmo mobile 6 to provide users with a better operational experience. 
Magnetic Alignment Detection
When you unfold Osmo Mobile 6, it automatically turns on, and then you clip your phone. The magnetic phone clamp will detect your phone and show on the status bar by blinking red. 
Upgraded Camera Features
The new OM6 has an active track that is more effective in replacing the OM5 active track 4. Active track 5 holds subjects for longer, even at a long distance. Identifying the subject through a disruption effectively, It's also more accurate. 
DJI OM6 vs. DJI OM5: What's the Same? 
Compatibility with Various Smartphones 
Like the DJI OM5, DJI OM6 supports phones weighing between 17 and 290 grams. DJI is committed to producing gimbals compatible with various androids and iPhones. 
Products of the One Company
DJI OM6 and DJI OM5 are both products of DJI, one of the leading companies in producing high-quality gimbals. Both products provide users with excellent stabilization when recording videos or taking shots with their smartphones. 
The Built-in Extension Rod 
The built-in extension rod was introduced in the DJI OM5, and it's also available in DJI OM6. You can extend the rod to reach a maximum of  upto 215 mm and acts as a selfie stick, enabling you to capture great shots on a wider angle from well-up or any side with your friends. 
Advanced Features
All the amazing features that you love on OM5 still exist on OM6. You can still use time-lapse, dynamic zoom, and more to create engaging and in-depth content. 
The battery
You will still enjoy the long-lasting battery in OM6. Both series have the same inbuilt battery with the same features. The battery capacity is at 1000 mAh / 7.74 Wh. Charging Time is 1.5 hours, and runtime is 6.4 hours, respectively. 
Both gimbals have three axes (tilt, roll, and yaw) and move at the same speed. 
MIMO App 
You will still enjoy all the features in the Mimo app you were enjoying when you upgrade OM6
DJI Mimo is a feature-rich app that is easy-to-use. Users can effectively edit their photos and  like a pro. You can also use features like HD live while recording and smart modes. 
DJI OM6 vs. DJI OM5: Best One To Choose In 2023
Even though DJI OM5 and 6 are from the same company, OM6 is an upgrade of OM5. Therefore, it has more advanced and better features than OM5. The added features and advancements provide users with far better quality and stable footage. It also has an improved ergonomic, thus, making it more comfortable to hold even for long hours. 
OM6 has the active track 5.0, which is much better at tracking subjects. It can follow a subject longer and still produce better shots. With OM6 you can still achieve impressive shooting when the subject turns or spins. 
Apart from the active track, the quick launch is another excellent feature added to this gimbal, making it the best. You do not have to start shooting manually; you only have to unfold the gimbal, attach your phone, and everything is launched.
You'll also enjoy better control on the OM6 than it was on OM5. The new built-in status panel and mode button allow you to check the battery and mode levels. The M button is also placed where it is more accessible. A quick tap enables you to change between follow mode, tilt lock FPV mode, and spin shot.