Are you planning to start a vlog in 2023? Do you plan on using an iPhone for recording your photos and video? If that's the case, you have come to the right place. We have compiled everything you need to know when it comes to getting a tripod for your vlog in 2023. This articles gives you options for the best tripods you can use with an iPhone,  how to choose the tripod, and other pertinent information. Here we go..
Why use a tripod with your iPhone?
When taking photos or videos with your iPhone, one of the best tools you can invest in is a tripod. Tripods are essential for taking captivating photographs and videos. They improve stability and reduce motion blur, giving you sharper, more professional-looking results. Furthermore, a tripod makes it easier to take creative shots, as the phone can be set up with different angles to capture the best shot. Using a tripod is especially useful for low light and night photography, as it allows you to take pictures at slower shutter speeds, which can help prevent blurring from camera shake.
Tripods are also great for taking hands-free shots of yourself, group shots, or time-lapses. The most popular type of tripod for the iPhone is a flexible one. These tripods bend and rotate, so you can adjust them for different settings and angles. Furthermore, some of them even come with mountable phone accessories, such as swivels or smartphone holders.
In addition to practicality, using a tripod also ensures you get maximum enjoyment from your Apple device. Rather than having to fumble with your iPhone while clicking the shutter button, you can just set it up and leave it to take stunning shots.
Overall, using a tripod with your iPhone is a great way to get the most out of your device. By increasing stability and picture quality, as well as reducing motion blur, tripods are an essential accessory that can take your photos and videos to the next level.
How to pick the best tripod for your iPhone
Are you trying to capture the perfect shot with your iPhone? If so, then you should look into the best tripod for your device. A tripod can be a great tool to help you get that perfect shot, but you need to make sure you are picking the right option for you. Here are some tips to help you pick the best tripod for your iPhone.
1. Determine the type of tripod you need.
Think about what type of photography you are doing. For example, if you are taking landscape shots, then you will need a heavier tripod that has a broad base for optimum stability. On the other hand, if you are taking more casual shots, then a lightweight tripod with a smaller base will be sufficient.
2. Consider the weight and size
Tripods come in various sizes and weights. It's best to choose one that is lightweight and compact so that it's easy to transport around. If it's too large or too bulky, it won't be practical for you to take it with you on your expeditions.
3. Think about the features
 It's important to go for a tripod that has features that you will need. For example, some come with bubble levels to help you keep the camera level when taking shots. Others come with quick-release plates that make it easier to attach and detach the camera from the tripod.
4. Check the material and construction quality
Construction is key when picking a tripod. Make sure you choose one that is made of good quality materials that will be able to withstand wear and tear. Don't go for one that looks cheap - it won't last.
5. Stick to a budget
Tripods come in a wide range of prices. Don't go for the cheapest option as it won't be the best. Instead, find the best tripod within your budget that has all the features and quality that you need.
Following these tips should help you pick the best tripod for your iPhone. Always make sure that your iPhone is securely attached to the tripod and that it is safe to use. After all, you don't want to risk damaging your precious device.
Carbon Fiber Tripods vs Aluminum Tripods for iPhones
If you're looking to buy a tripod for your iPhone, you might be wondering if a Carbon Fiber tripod or an Aluminum tripod is the right choice for you. Both types of tripods have their own unique advantages and disadvantages which can make it hard to choose. This section will examine the advantages and disadvantages of both Carbon Fiber and Aluminum tripods for iPhones.
Carbon Fiber Tripods are becoming increasingly popular for iPhones and are becoming the go-to choice for many photographers. Carbon Fiber is incredibly strong and lightweight which makes it ideal for a tripod. Its durability means that you won't need to worry about your tripod getting damaged or breaking if it falls and its lightness also ensures that the tripod won't be too cumbersome to take around with you.
Furthermore, Carbon Fiber tripods are very inexpensive compared to their aluminum counterparts. However, Carbon Fiber tripods can still be quite expensive and may not be suitable for everyone's budget. Furthermore, Carbon Fiber can be sensitive to temperature and can become brittle when exposed to cold temperatures, making them more prone to breaking in such conditions.
Aluminum tripods, on the other hand, are the traditional choice for iPhones and are renowned for their strength and durability. They're much more lightweight than Carbon Fiber tripods and are much less expensive. They're resistant to cold temperatures and also come with adjustable legs and locking mechanisms which make them more versatile when it comes to positioning your iPhone.
However, Aluminum tripods are much heavier than Carbon Fiber tripods which can be a problem if you plan to travel with your tripod or need to move it around to get the perfect shot. Aluminum is also much more expensive than Carbon Fiber. Ultimately, when it comes to buying a tripod for your iPhone, you need to decide which type is going to suit your needs the best. If you plan to use your tripod often and want something lightweight and durable, a Carbon Fiber tripod is a great choice.
If you're on a budget or plan to use your tripod on rough terrain, an Aluminum tripod might be a better choice. Both types of tripod have their own unique advantages and disadvantages and by considering these factors, you can make an informed decision and choose the tripod that best fits your needs.
Best Tripod for Your iPhone: Reviews and Recommendations
Now you know how to pick a tripod for your iPhone. However, you may need to know the best in the market. Let's take a look at five of the best in the market below.
The Best Flexible Tabletop Tripod: Benro KoalaPod
Specifications
> Folded height:265mm
> Max height:210mm
> Max diameter:16mm
> Weight:0.22 kg
> Max loading:1.5 kg

Best Deals
View at Vlogsfan:$29.00

The Benro KoalaPod is a lightweight, compact tripod designed for enhanced stability and convenience in capturing photos and videos on any terrain. It features a slim design that is easily packed in a backpack and has adjustable legs for additional stability. The quick-and-easy setup can be completed in a matter of minutes, making it ideal for travel photography needs. The level head has three independent axis points allowing for 360-degree panoramic and cinematic shots.
Pros
Lightweight and compact design for easy portability
Quick and easy setup for less waiting time
Level head that swivels for 360-degree shots
Legs can be adjusted for added stability
Cons
Not suitable for heavy cameras and long lenses
The Best Universal Smartphone Clamp: Manfrotto PIXI 
Specifications
> Panoramic rotation:360 degrees
> Closed length:23cm
> Large height:20cm
> Low altitude:10.5cm
> Weight:250g
> Bearing:2.5kg.

Best Deals
View at Vlogsfan:$39.99

The Manfrotto PIXI is a mini-tripod designed to be lightweight and utmostly portable while still delivering the stability photographers and videographers need. It is made of aluminum with adjustable legs that can be extended to hold even the heaviest of gear. This tripod can support up to 5kg and is uniquely designed to be used with and without a head. When folded, it stands just 18 cm, making it an easy fit into even a backpack or small bag.
Pros
Lightweight and compact
Adjustable legs for stability
Can support up to 5kg of gear
Can be used with or without a head
Stands 18cm tall when folded
Easy to set up and take down
Cons
Not suitable for extended use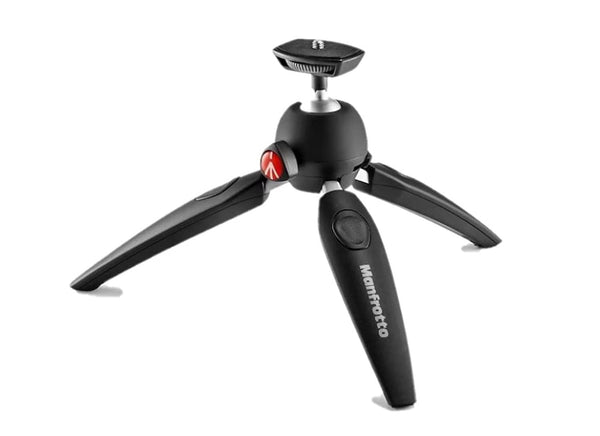 The Best iPhone Universal Tripod Mount: ULANZI ST-14
Specifications
> Compatible Device Width: 2.6 to 3.9" / 6.5 to 10.0 cm
> Tripod Mount: Arca-Type Plate with 1 x 1/4"-20 Female Thread
> Accessory Mounting: 1 x Cold Shoe 3 x 1/4"-20 Female Thread
> Adjustments: Rotation: 360°
> Material: Metal

Best Deals
View at Vlogsfan:$29.90

The ULANZI ST-14 is an all-in-one video production kit from Ulanzi, developed to meet your shooting requirements. The kit includes several accessories and components to help you with your video production needs. The ULANZI ST-14 includes a tripod, a stabilizer, a gimbal, two video lights, a monitor, an LED softbox, a lens adapter, and a microphone.
Pros
The kit offers a complete set of accessories to support video shooting and production
The included gimbal and stabilizer offer smooth and steady footage for high-quality shots.
The tripod is lightweight and durable, allowing you to carry it easily for outdoor shoots.
The two video lights provide plenty of brightness, allowing you to set up different lighting for various scenes.
The included LED softbox helps you achieve soft and eye-grabbing visuals.
The lens adapter allows you to pair the kit with most lenses, allowing for more flexibility.
Cons
The included microphone is of lower quality, resulting in poor audio quality.
The Best 360-degree Ballhead Tripod: SmallRig Tabletop Mini Tripod
Specifications
> Dimensions: 230 x 80 x 60mm
> Net Weight: 410g
> Material(s): Aluminum Alloy
> Ball head safety payload: 2kg
> Tripod without ball head payload: 20kg
> Closed length: 230mm
> Working height: 113mm
> Panoramic rotation: 360°

Best Deals
View at Vlogsfan:$44.90

SmallRig Tabletop Mini Tripod is a lightweight, travel-friendly mini tripod designed for DSLR cameras and compact system cameras. It is made from lightweight aluminum and has adjustable feet for added stability on uneven surfaces. The tripod is versatile enough to be used for travel, outdoor activities, time-lapse photography, and shooting from a low angle.
Pros
Lightweight and compact design
Easy to set up and use
Adjustable feet for added stability
Multi-functional use
Compatible with most DSLR and compact system cameras
Cons
Limited load capacity of 2kg (4.4lbs)
Not suitable for large DSLR cameras

Best Stabilised Tripod for iPhone: DJI OM 5
Specifications
> Gimbal Dimensions:
Unfolded: 264.5×111.1×92.3 mm
Folded: 174.7×74.6×37 mm
> Weight:
Gimbal: 292 g
Magnetic Phone Clamp: 34 g
> Max Length of Built-in Extension Rod: 215 mm
> Compatible Phone Weight: 230 ± 60 g
> Compatible Phone Thickness: 6.9-10 mm
> Compatible Phone Width: 67-84 mm

Best Deals
View at Vlogsfan:$135.00

The DJI OM 5 features a motorized 3-axis gimbal stabilizer, designed to stabilize shots and reduce unwanted shakes and jitters while shooting. It has a patented omnidirectional stabilization algorithm that helps reduce the need for manual adjustments and ensures stabilized footage in any direction.
The OM 5 also features active tracking that follows a target while shooting videos or photos. It has a smartphone clamp that can hold multiple types of devices, with the ability to be adjusted using a motorized joystick. The OM 5 also offers up to 17 hours of battery life and is compatible with multiple DJI Pro systems.
Pros
Motorized 3-axis stabilizer to reduce shakes and jitters
Patented omnidirectional stabilization algorithm
Active tracking and smartphone clamp
Up to 17 hours of battery life
Compatibility with multiple DJI Pro systems
Cons
Complicated setup

FAQs
Is My iPhone Secure On a Tripod?
The answer is yes, but to ensure complete security, there are a few important steps to take.
First, always make sure that the tripod is securely fastened to a fixed object, such as a desk, chair, wall, or other object. Many tripods come with clamps or straps that can be used to secure the tripod to prevent it from being easily knocked over or removed.
Second, make sure that the tripod you choose is designed to securely hold your iPhone. Many tripods are designed specifically for specific brands and models of iPhone, and if you choose a tripod that is not compatible with your phone, it could lead to security issues.
Third, when you are setting up the tripod, make sure that it is in a secure location, such as a locker, hotel room, or bag. It is important to carefully choose a location to store your iPhone that is not easily accessible, as unscrupulous individuals with bad intentions can easily target these areas.
Fourth, use a high-quality tripod to ensure your iPhone is securely mounted. This significantly reduces the likelihood of the tripod being removed and your iPhone getting stolen. Finally, when using your phone on the tripod, make sure to turn off the "location sharing" feature, which broadcasts your location to potential intruders. By following these simple steps, you can be sure that your iPhone is secure on a tripod while you are traveling.
Do not forget that using a high-quality tripod and being careful about the location you store your iPhone is key to avoiding any security risks. So, the next time you travel with your iPhone, remember to take the necessary precautions to keep it secure.
What size tripod is best?
When you're out on a photographic adventure, nothing could be more important than a good tripod. It's a necessary piece of equipment for anyone serious about taking stunning pictures or videos. But when you're shopping for the best tripod, you might be overwhelmed by all the different sizes available.
The truth is, the right size tripod for one photographer might not be the best option for another. There are several factors to consider when it comes to finding the right tripod size. The first factor is the type of mount you'll be using your tripod for.
If you're shooting with a DSLR, you'll need to make sure that the tripod can support the weight of the camera and lens. It's a good idea to get a larger tripod with a load capacity that's at least two to three times the weight of your camera equipment. This will ensure that your equipment will stay put and won't cause the tripod to sag or become unstable.
Another factor to consider is the type of photography you'll be doing. If you're shooting landscapes or architectural photography, you'll want a lighter, smaller tripod. This would be ideal for walking around with the camera and setting up shots on the go.
For longer exposures or sports photography, you'll need a sturdier tripod with extra stability. If you're shooting video, you'll need a tripod that's adjustable and can handle more weight. The last factor is your budget. Tripods come in all shapes and sizes and of course, prices. If you're on a tight budget, then you'll want to look into different brands and materials when trying to find the best tripod for you.
If you're willing to invest a little more, there are some excellent tripods available that can withstand a variety of conditions and still offer ultimate stability. No matter what size tripod you choose, make sure that it meets all your needs and is compatible with your camera and lenses. Once you've found your ideal tripod, you can be sure that all your future photos or videos will be perfectly still.
Can you use any tripod for an iPhone?
The simple answer is yes, generally speaking, you can use any tripod that is designed to hold a cell phone to use with an iPhone. However, there are a few things you should consider when selecting a tripod for an iPhone.
The most important thing to consider is if the phone will fit in the tripod's mount. Most tripods come with a standard mounting plate, but some tripods are designed specifically for the iPhone. If the standard plate isn't compatible with your iPhone, then you may need to purchase an adapter plate. Another important factor to consider is the weight of the tripod and if it's suitable for the size of your iPhone.
For example, a large DSLR tripod probably won't be suitable for an iPhone as it's likely to be too heavy and large for the phone. A better option would be a lightweight, compact tripod specially designed for smartphones.
Finally, check how stable the tripod is. After all, if it's too wobbly the shots may turn out blurry. Try to find a tripod that has extendable legs and a non-slip footing so that it will stay in place on any surface. In conclusion, yes, you can use any tripod for an iPhone but you should consider the weight, stability, and mounting plate compatibility of the tripod before you buy it. With the right tripod, you'll be sure to get the perfect shot!