BOYA XM6 S Series
Wireless Microphone System, a Creative Artifact from the Media Blogger, Was Released! This series is designed for mobile phone users. It can be easily used by both novice and professionals to meet a variety of pickup needs.
In this short video, live, vlog gradually become the mainstream era, more and more users began to use mobile phones to create, although the mobile phone video shooting is getting stronger and stronger, but the radio effect is always unsatisfactory, so many users will buy a microphone to create, but in the face of many mobile phone microphones on the market, how to choose is also a problem. On July 4, 2022,
BOYA
launched a brand new wireless microphone product, BY-XM6-S series 2.4GHz mini dual-channel wireless microphone system, which is a wireless microphone product specially designed for mobile phones.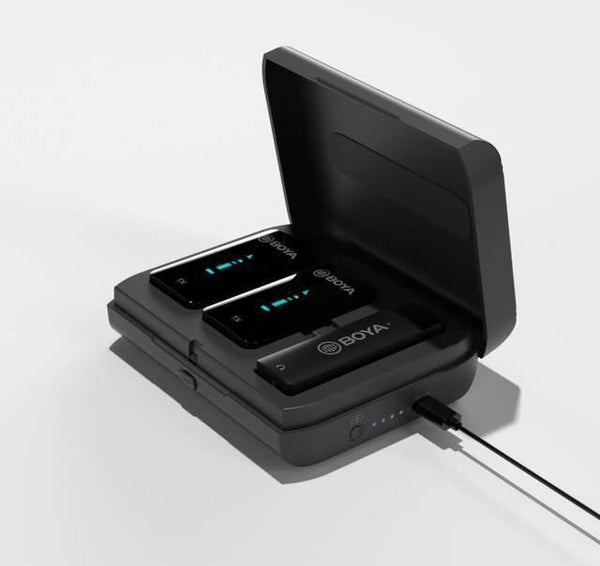 > Wireless design to create more possibilities
> Sound quality, easy to get
> OLED screen, visual operation
> Plug and play, convenient and fast
> Stable signal and long transmission distance
> Stereo/Mono, switch freely
> Real-time monitoring to ensure sound quality
> Endurance is strong, say goodbye to power shortage
> Better battery life with charging case
> Gain control professional adjustment
> Strong adaptability and wide application
> Compact design, light and small
BY-XM6-S series adopts dual-channel design, providing four packages of S3, S4, S5 and S6, which can be applied to most Apple and Android phones on the market, and can be easily controlled in video shooting, Vlog recording, live broadcasting and other scenes. The BY-XM6-S series also uses a 2.4GHz ISM development band wireless adaptive FM transmission solution, which has a barrier-free transmission distance of up to 100 meters, achieves excellent low-latency anti-interference effect, and provides clear and stable audio signal transmission.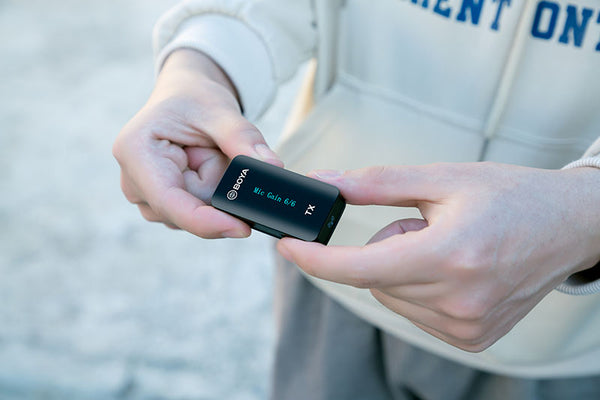 The screen of BY-XM6-S series TX transmitter adopts OLED display screen, simple visual operation interface can make you easy to use, power status and audio parameter information can be seen at a glance, and support multi-language switching, as well as 0-6 gain adjustment function, which can be adjusted according to the recording environment to help you record more details. Bring you more professional recording options.
The TX transmitter also has a built-in high-quality noise-reducing microphone with an omnidirectional radio mode, which can bring you broadcast-quality recording quality. The TX transmitter also has a MIC/LINE IN input Jack, which can record with an external TRS microphone, providing an additional option for creation. The clip design of TX transmitter can be directly worn on clothes for recording, which is not easy to fall off. The weight is about 32g. Even if it is worn for a whole day, it will not feel too heavy. It is very light and comfortable.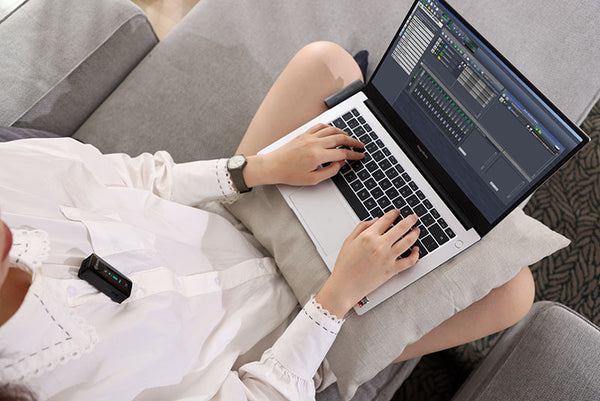 BY-XM6-S series does not need to install any plug-ins, plug and play. RX receiver is equipped with stereo/mono switch key, which can be switched freely according to needs to ensure the flexibility of post-production. It is also equipped with The 3.5mm headphone Jack can support real-time monitoring, ensure audio quality, reduce post-modification work, and effectively improve your creative efficiency.
Despite its compact appearance, the TX transmitter has a single battery life of up to 7 hours. The body is also equipped with a Type-C interface, which can be charged with an external power supply when shooting outside. If it is used with a charging box, it can also provide two additional cycles of power supply, which is not only easy to store, but also greatly improves the overall battery life, bringing you a full sense of security. Say goodbye to the trouble of electricity panic completely.