On February 8, Zhiyun released MOLUS G60 and MOLUS X100, using the electronic backpressure cooling system which can be called "ceiling" technology, and launched the adaptive integrated power supply system, making 60 W and 100 W power professional video lamps truly palm-level light and portable, solving the two major historical problems of cumbersome installation of traditional lighting equipment and outdoor endurance load at one stroke. It can provide professional lighting effect anytime and anywhere, and meet the needs of photographers,
live broadcasting
and short video shooting scenes.
It is understood that Zhiyun released
FIVERAY series
hand-held stick lamp in 2022 to enter the lighting market, which is the first time in the industry to integrate fluid mechanics, attitude algorithm and electric tuning algorithm, to design a radiator with greater heat dissipation efficiency and smaller volume independently, and to streamline the internal space and volume of the supplementary lamp. As a result, FIVERAY series stick lamp becomes the first portable light filling device that can provide 100 W high-power light filling. In less than a year, the "black technology" evolution version of Zhiyun MOLUS has made the 100 W high-power COB video lamp continue to condense to the size of the palm, reaching a new height of industrial design in the industry, which is expected to re-guide the market trend.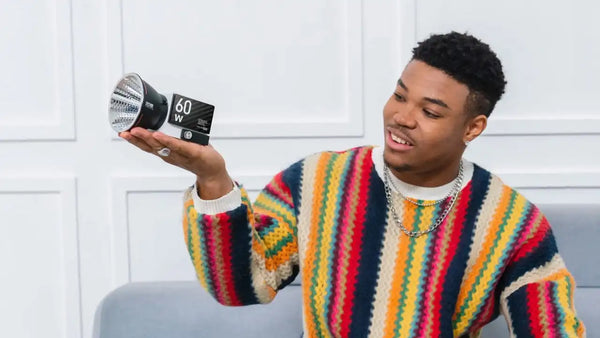 Small: only 300 grams, as light as holding a can of soda
The Zhiyun MOLUS G60 and MOLUS X100 use an electronic backpressure cooling system to compress the cooling device structure. The MOLUS G60 has a net weight of only 300 G, a compact and regular shape, the same size as the "Rubik's Cube", and a color rendering of more than 96, which can bring a 60 W main light source filling effect. MOLUS X100 is 385 G, shaped like a palm-sized card camera, only 30% -50% of the volume of the video lamp with the same power specification, and MOLUS X100 can achieve the professional light filling efficiency of professional 100 W video lamp. On the whole, the starting point of the birth of Zhiyun MOLUS Video Lamp is quite sci-fi.
Convenient: 2 power supply modes, power bank can move lighting
As we all know, traditional video lights use NP-F batteries, which require extra load and limit outdoor creation. Zhiyun MOLUS X100 is designed according to ergonomics to hold and removable handle batteries, which are comfortable to hold and portable. Zhiyun MOLUS G60 and MOLUS X100 also use Zhiyun's unique adaptive integrated power supply system for the first time. On the basis of the original DC power supply, the Type-C interface power supply mode is integrated, which means that the use of mobile power bank with high power output and PD fast charging adapter can ensure professional light efficiency. At the same time, Zhiyun Power King Type-C power supply can also provide full power support outdoors, in other words, a single person can quickly pack away the "professional light effect studio".
Professional: ZY bayonet accessories, one key storage, compatible with Baorong mouth
In order to solve the traditional light control accessories bulky and cumbersome criticism, based on the light positioning of the power king series, Zhiyun specially customized a full set of ZY bayonet accessories, which not only reduced the space volume, but also optimized the installation logic structure. For example, Zhiyun soft light cover redesigned the main body and soft light cloth, which can be unfolded and received step by step, and build a professional portrait soft light scene in minutes. And ZY bayonet can also be compatible with industry Baorong bayonet standard accessories, fully integrated into the film and television creation ecology, both labor-saving and efficient, almost no threshold for creation.
Practical: small sets can also be professional lighting, lighting construction is no longer cumbersome.
In order to meet the needs of short video creation and live broadcast crowd for starting threshold and refined team creation, Zhiyun MOLUS has also re-optimized the design of interaction.
Two knob buttons are provided on the lamp body to control the brightness and 2700K-6500K color temperature respectively, and the display screen can display the power supply and parameters; The built-in APP can connect multiple light sources in series, realize joint debugging and one-key lighting, and build a studio-level lighting effect; In addition, according to the needs of specific scenarios,MOLUS series adds live broadcasting room mode and music mode. Live broadcasting room mode supports DC interface power-on automatic lighting, without using the power button. Multiple lamp groups can achieve synchronous lighting, which is more friendly to the live broadcasting industry. MOLUS X100 also has built-in music mode, which can provide flashing effect synchronously according to the decibel and rhythm of the sound, and the atmosphere is full.
The portability of photographic equipment has become the development trend of the industry, and technological innovation can continuously promote the development of the industry. Zhiyun drives the progress of the industry with its core cooling technology and power supply technology, and sets off an upsurge of innovation in the industry. Its direct role is to enable more technologies to benefit the people and transform technology into the production value of photographers. As Zhiyun said, they have been committed to technological innovation and core technology beyond industry expectations, to achieve convenient and high-power lamps, to create a national video lamp, so that professional lighting efficiency is simpler. Whether professional film and television workers, small creative teams or individuals, or ordinary consumers who are trying to create videos, Zhiyun is working with users to achieve "think and do" and use technology to change and promote the development of the industry.
In the future, Zhiyun also plans to release more professional video lights, covering the entire creative ecology, quite a wave of momentum.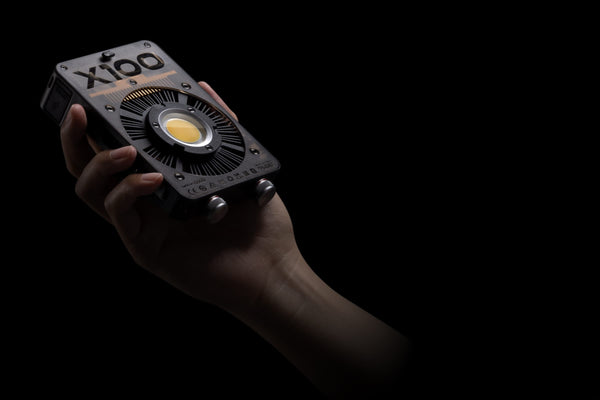 MOLUS X100 Spec:
> Output power: 100W
> Heat dissipation mode: active heat dissipation
> Adapter operating voltage: AC100V~240V (50/60HZ)
> Lamp body working voltage: DC 24V, PD ≥9V
> PD input power: ≥18W
> Color temperature: 2700K~6500K
> Dimming range: 0 to 100%
> CRI color rendering index (RA): ≥95
> TLCI: ≥97
> 4300K/100% luminance (1 m) : 3881 Lux
   Room temperature 25℃, the indoor brightness during the test is less than 0.1lx, the distance between the test equipment and X100 is 1M.
> APP control mode: Bluetooth
> Power supply mode: PD adapter, power adapter, handle battery
> Operating environment temperature: -10℃ ~ 40℃
> Extension: 1/4 universal screw hole *2
> X100 dimensions (W*D*H): 144.5*94*36.1mm
> Net weight: 385g
MOLUS G60 Spec:
> Output power: 60W
> Heat dissipation mode: active heat dissipation
> Adapter operating voltage: AC100V~240V(50/60HZ)
> Lamp body working voltage: DC 24V, PD ≥9V
> PD input power: ≥18W
> Color temperature: 2700K~6500K
> Dimming range: 0 to 100%
> CRI color rendering index (RA): ≥96
> TLCI: ≥97
> 4300K/100% luminance (1 m) : 2376 Lux
> APP control mode: Bluetooth
> Power supply mode: PD adapter, power adapter
> Operating environment temperature: -10℃ ~ 40℃
> Extension: 1/4 universal screw hole *2
> X100 dimensions (W*D*H): 90.6X67X66.95mm(W*D*H)
> Net weight: 300g