As people's living standards are getting higher and higher, in recent years, more and more people pay attention to sports health in their lives. In addition, short videos have set off a nationwide vloger trend. Many Vlog creators like to use motion cameras to record their different sports journeys. This way of recording their lives with motion cameras is also popular. And this has been derived into all aspects of our lives.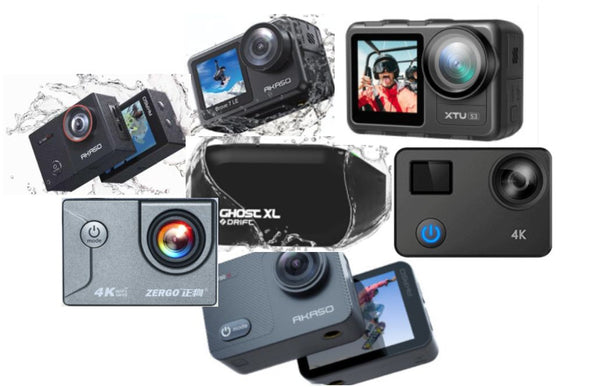 I, Action Camera Encyclopedia:
What is an action camera?
A motion camera is a camera used to shoot in a moving scene. This kind of camera generally has natural anti-shake function, which can capture pictures in complex motion environment and present clear and stable video effect. For example, our common hiking, cycling, skiing, mountain climbing, downhill, diving and so on. Motion cameras in a broad sense include all portable cameras that support anti-shake, which can provide clear video when the photographer is moving or moving, without relying on a specific gimbal.
Which effect is better in action camera, optical anti-shake or electronic anti-shake?
The optical anti-shake effect is better. Optical anti-shake is to reduce the blur caused by camera shake by changing the position of lens components or photosensitive chips to offset the displacement caused by shake. Electronic anti-shake is a method of correcting shake through software calculation, and the specific effect is related to various algorithms. Generally speaking, optical anti-shake is better and more realistic than electronic anti-shake, and most electronic anti-shake technologies will crop part of the edge image. In terms of cost, optical anti-shake requires hardware support, which is more difficult and costly.
Can the so-called waterproof action camera really be used for bare-metal diving?
Many models of sports cameras claim to support bare waterproof, some are splash-proof, can only be used to deal with rainy days, splashing water and other scenes; some support the highest 10 meters waterproof, can be taken to swimming and other water activities, but it should be noted that the vast majority of action cameras do not support warranty after entering the water, therefore, even the claim of waterproof action cameras in use should also try to avoid contact with water, if you need to shoot in the water, be sure to wear a matching waterproof shell, after wearing the shell generally support 30-60 meters waterproof.
★ ★ ★ Shooting quality
All support 4K 30 frames of picture recording, while the top model supports 4K 60 frames. In terms of pixels, the 12 megapixel camera is enough to meet most of the needs. Pixel and frame rate are not the only indicators to determine the final image quality, and the quality of lens, sensor and other components are also critical, which is also related to the anti-shake effect. Generally speaking, the imaging quality of products using Anba, Hess chips and Sony sensors is guaranteed.
★ ★ ★ Accessory richness
It refers to the abundance and quality of optional accessories. A good action camera needs the right accessories to get the most out of it. The accessories can improve the anti-shake ability and enhance the waterproof ability. A variety of fixed brackets are suitable for different scenes, such as bicycle and motorcycle brackets, helmet brackets and so on.
★ ★ ★ Ease of use
It refers to the convenience of operation and post-editing. Generally equipped with touch, high-definition screen, larger buttons, support Bluetooth mobile phone connection control, voice control and other functions of the model is easier to use.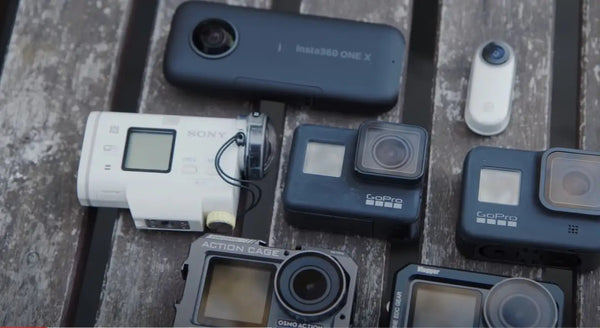 II, action camera selection
Nowadays, the motion camera market is no longer dominated by GoPro. Instead of pursuing large and complete functions, manufacturers have begun to subdivide the field.
1. Select the picture quality, frame number and angle of view according to the requirements
Before buying a motion camera, you can think about what scene you will shoot or decide what subject you want to shoot, and choose the corresponding clarity and perspective, so as to shoot the scene you want.
① If you pay attention to the picture quality, choose the camera corresponding to 4K!
4K is now becoming the mainstream resolution for action cameras. Of course, the higher the pixel quality, the higher the price of the camera itself, so it is important to choose according to the method of using the video after shooting. If you don't need to edit and upload the video, you can watch it yourself, and full HD is enough.
② If the action is intense photography, choose a high frame rate camera!
If you want to shoot videos of intense sports, it is recommended to choose a camera with a high frame count. Frames per second (FPS) is the number of frames recorded per second, and the larger the number, the smoother the impact of the shot.
If there is 24-30 FPS, the record of daily life will be enough. However, if you want to connect it to a surfboard or bicycle for shooting, it is recommended to use a high frame rate model that supports 60 FPS. Especially in the case of 4K picture quality, if there is no gentle transition, then the high-quality film will appear to be stuck in the frame, so the high pixel quality also needs to correspond to the high frame number to play its greatest role.
③ The wide viewing angle is shocking, and the small viewing angle can avoid the distortion of the picture.
The style and scope of video shooting is determined by the angle of view. Generally speaking, people's eyes have an angle of view of nearly 200 degrees. The closer the picture is to 200 degrees, the more immersive it is. Previous action cameras had an angle of view of about 130 to 150 degrees, and with the breakthrough of technology, products with an ultra-wide angle of view of more than 200 degrees were introduced.
Ultra-wide angle can give people some shock, but too much will also produce the possibility of picture deformation. So if you want to avoid this situation, you might as well choose an action camera with a small angle of view. The action camera with ultra-wide angle is recommended for the immersive shock. In addition, some cameras can adjust the angle of view, the choice can also have more, there is a need to understand the next.
2. Select the function according to the shooting scene
Choose functions based on how you use the action camera, such as using the camera for a long time while traveling, or using the camera in the sea or swimming pool. Each situation requires a corresponding function, and you can choose according to your most basic needs.
① If the camera is used in a scene with severe vibration, the camera must have an anti-shake function!
Camera anti-shake generally includes optical anti-shake and electronic anti-shake. Optical anti-shake cameras are recommended if you want to keep your hand shaking to a minimum; electronic anti-shake cameras are resistant to slight vibrations. So I want to make a smooth and high-quality video. ? It is recommended to use a camera with optical anti-shake. At the same time, we need to understand that optical anti-shake models can shoot beautiful images without afterimages, but because of the complex structure, the size of the camera body tends to be larger, and the cost will be higher.
② Marine sports and outdoor shooting must have waterproof and dustproof functions.
When shooting near water, choose a camera that meets the waterproof purpose. If you are shooting on the beach, choose a camera with a depth of less than 3 meters, so that you don't have to worry about being flooded. If you are shooting in the water, such as diving. Please choose a waterproof camera of 10-60 meters according to your hidden depth. In addition, for off-road racing and off-road motorcycle photography on mountain roads, it will accumulate dust and need to buy a dust-proof model.
③ If you use it while traveling, please pay attention to the battery life!
Before buying, confirm how long you can shoot after a charge, and try to avoid the situation that the camera runs out of power in the middle of the trip. After knowing the capacity and continuous use time of the battery, it is also a good way to prepare a spare battery. In addition, if you choose the USB charging model that charges through the mobile power supply, it is also very convenient in case of emergency.
3. Choose a size and weight that is easy to carry!
When choosing an action camera, you should also pay attention to the size and weight. If you can, it is recommended to choose a compact and lightweight one. Just like the so-called wearable camera, the action camera can be worn on the helmet or clothing to shoot. If it is too heavy and too big, it will be difficult to install, especially for people who shoot for a long time.
4. Choose more accessories, and the bicycle is easier to install!
If the action camera comes with a wealth of accessories, it is easier to correspond to a variety of scenes, so it is highly recommended. For example, when riding a bicycle, it can be mounted not only on the helmet, but also on the handle. Because of the change of shooting position, the sense of presence will be different.
5. Compatible with Wi-Fi and Bluetooth
If you frequently share videos, an action camera with Wi-Fi and Bluetooth is recommended. By connecting to a mobile phone or tablet and immediately uploading to a social APP, you can easily interact with your friends and family, and some even have their own live broadcast function. If you need this, you can consider getting this kind of style.
6. With display screen, you can view the video immediately when shooting.
If you want to view the captured video in real time, the model with display screen will be very suitable. Although the size will be larger because of the display, you can view the video you shot at the same time. While many action cameras don't come with a display, it doesn't seem necessary because you can't even see the display when shooting changing motion, but it's also necessary for those who want to record Vlog videos and landscapes.
7. Choose well-known brands
GoPro is an American brand and the originator of action cameras. It is also a synonym for action cameras, whose professional ability is well received in the industry, coupled with the sports elements advocated by foreign countries and the spirit of adventure, it is basically invincible in foreign countries.
Dajiang is a rising star with strong R & D capability and a representative in the field of UAV. It has made great achievements in the field of motion cameras for the first time. Its original product, Osmo Action, had a great impact on GoPro and forced GoPro to make greater changes.
Insta360 is also an excellent action camera brand, known for its cost performance. Now the main thumb camera has achieved the smallest existence in the industry. Insta360 currently sells
Insta360 ONE, ONE X, ONE RS
, and Go.
8. Different usage scenarios have different uses.
If you like to play extreme sports, GoPro is recommended, after all, this is the ancestor of action cameras. And the latest GoPro already supports the front screen, making up for the shortcomings of self-portraits, and anti-shake has been upgraded to a higher level, making GoPro stronger not only in the field of sports, but also in the field of life.
If you just want to be an ordinary Vloger and record your life, I recommend Osmo Pocket 2 from DJI. If you're looking for the ultimate in lightness and compactness, consider the Insta360 Go 2.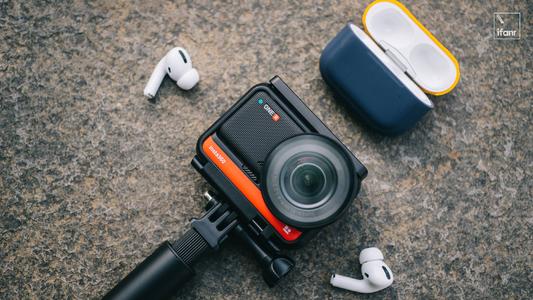 III, 2022 Action Camera Recommendations
After referring to the above purchase strategy, the following will introduce 8 action cameras in the way of popularity ranking, hoping that vlogger can find the one he likes.
No.8:
THETA SC2 panoramic motion camera for easy 360-degree all-sky imaging
This is a 360-degree panoramic camera, which can shoot high-quality animation and still pictures through the application of Ricoh's digital camera technology. As long as the lens is aimed at the target, excellent works of panoramic images can be simply shot. This action camera is also commonly used for commercial purposes, such as shooting VR works, restaurant interiors and real estate information.
| | | | | | |
| --- | --- | --- | --- | --- | --- |
| Dimension (mm) | Number of frames | Angle of view | Waterproof/dustproof function | Weight | Price |
| 130*45.2*22.9 | 29.97fps | - | - | 104g | $399 |
No.7:
GoPro MAX 360-degree panoramic motion camera, a highly immersive motion camera
Add a 360-degree camera to the GoPro HERO series! In addition to the powerful camera anti-shake function and waterproof performance. It can also shoot 270-degree panoramas without distortion. In addition, six built-in microphones can receive 360-degree surround stereo sound, thus recording unprecedented immersive audio images.
| | | | | | |
| --- | --- | --- | --- | --- | --- |
| Dimension (mm) | Number of frames | Angle of view | Waterproof/dustproof function | Weight | Price |
| 64*69*25 | 60fps | 360 degrees | 5m waterproof | 154g | |
No.6:
Ezviz S2 action camera, affordable, versatile
Ezviz S2 is an action camera that can shoot 1080p video, and the most important thing is that the price is acceptable to many people. It can be previewed and controlled using a dedicated APP, or it can be used as a driving mode or a live mode, which can be used in various situations.
| | | | | | |
| --- | --- | --- | --- | --- | --- |
| Dimension (mm) | Number of frames | Angle of view | Waterproof/dustproof function | Weight | Price |
| 58*45*21 | 30fps | 150 degrees | - | 75.6g | $99 |
No.5
:AKASO Brave7 action camera, durable waterproof action camera
This all-weather action camera is IPX7 waterproof and can be used in water up to 40 m deep if a waterproof case is installed. In addition, it includes many accessories, such as helmet base bracket, 2 batteries and remote control, which is a very cost-effective action camera, which will be very convenient when enjoying sports.
| | | | | | |
| --- | --- | --- | --- | --- | --- |
| Dimension (mm) | Number of frames | Angle of view | Waterproof/dustproof function | Weight | Price |
| 63*44*34 | 30fps | 170 degrees | IPX8 | 300g | |
No.4
:GoPro HERO9 Black 5K action camera, cost-effective action camera in the video camera industry
This action camera is equipped with the powerful camera anti-shake function of HyperSmooth 3.0 of GoPro series; in terms of waterproof performance, it is bare-metal waterproof. 10 meters, 60 meters waterproof with shell. Lens angles range from 16 to 27 mm, and you can choose from ultra-wide, wide, linear, and narrow lenses for a wide range of images.
The dual display screen on the front and back solves the troublesome problem of shooting preview in the past. The lens also supports disassembly, which makes the user play more diverse. Among them, 10 preset shooting scenes, 20 million pixels, 5K 60 frames and so on are all advanced configurations of the current motion camera level, which are worth trying.
| | | | | | |
| --- | --- | --- | --- | --- | --- |
| Dimension (mm) | Number of frames | Angle of view | Waterproof/dustproof function | Weight | Price |
| 66.3*48.6*28.4 | 60fps | 155 degrees | 10 m waterproof | - | |
No.3
:
DJI Pocket 2 Camera, Pocket Size High Pixel Beauty Camera
Pocket Camera As the name suggests, this is a compact camera that fits easily in your pocket. Because it is a palm-sized small camera, it can shoot freely in any occasion. At the same time, although it is small in size, it also supports 4K/60FPS shooting and stereo radio.
In addition to the anti-shake function of 3-axis mechanical stabilization and the zoom function of up to 8x, it also has the beauty effect of automatically tracking the subject. You can also post videos directly on headlines and microblogs through Wi-Fi.
| | | | | | |
| --- | --- | --- | --- | --- | --- |
| Dimension (mm) | Number of frames | Angle of view | Waterproof/dustproof function | Weight | Price |
| 38.1*124.7*30 | 60fps | - | - | 117g | |
No.2
:
Insta360 ONE X2 Action Camera, 360 degree camera with unique features
ONE X2 is a portable model of Insta360, a brand specializing in 360-degree cameras that can shoot in all directions. FlowState with high-performance anti-shake function enables high-quality 5.7 K video recording with dual lenses.
In addition to 360-degree audio and a unique circular screen, it also has unique features, such as a unique circular screen and an invisible automatic crossbar (sold separately), which can be used like a drone. It also has built-in AI editing function, so it is very suitable for those who want to share videos on the Internet through mobile phones.
| | | | | | |
| --- | --- | --- | --- | --- | --- |
| Dimension (mm) | Number of frames | Angle of view | Waterproof/dustproof function | Weight | Price |
| 46.2*113*29.8 | 30fps | 360 degrees | 10 m waterproof | 149g | |
No.1
:
GoPro HERO10 Black Action Camera, the ultimate in full upgrade
The latest version of the GoPro HERO series has become synonymous with action cameras. It can shoot freely on a large screen, equipped with ultra-high performance sensors, and can shoot 5.3 K quality video and 23 million pixels of still images. Start recording video 30 seconds before pressing the shutter button, HindSight function, etc., which is more convenient to use.
The chip has also been upgraded from GP1 to GP2, which is more than twice as efficient, and its unparalleled ultra-powerful camera anti-shake mechanism has been upgraded to enhanced anti-shake. 4.0, the video shooting algorithm is also matched with the 3D noise reduction function, so as to eliminate more clear and beautiful pictures. The GoPro HERO10 is the ultimate in all aspects of powerful evolution.
| | | | | | |
| --- | --- | --- | --- | --- | --- |
| Dimension (mm) | Number of frames | Angle of view | Waterproof/dustproof function | Weight | Price |
| - | 60fps | 155 degrees | 10 m waterproof | 153g | |