Finding the right monopod for you can be difficult. You need to look at weight capability, height specifications, durability quality, and many other variables. Not only do you need to know the specifics, but you also need to know the details that are best for the job you're going to use it for. In order to help you choose the right monopod in the market, we have compiled a monopod selection guide for you, hoping that this list will help you choose the right monopod. Recommend 8 popular monopods from famous brands such as GITZO, MANFROTTO, SIRUI and Manbily.
Model 1:
Manbily C-555 Carbon Fiber Professional Monopod
Features:
Simple fixation, portable entry monopod
Manbily C-555 monopod is made of 8 layers of carbon fiber, which is lighter than aluminum while stronger than steel, and has excellent corrosion resistance. So unlike the general monopod, which is either portable or strong, the biggest feature of this carbon fiber tripod is that it is both durable and portable, and can even be used as an alpenstock.
In terms of shape design, the six-section foot tube is also enough for height adjustment, with a wide range of 36-160 cm. The tripod part at the bottom is also very practical. It can be used by connecting a monopod or installing a head separately. It is no problem for shooting in harsh outdoor conditions.
Parameters:
> Category: Standing
> Weight: 361g
> Length: 36-160cm
> Weight: 10 kg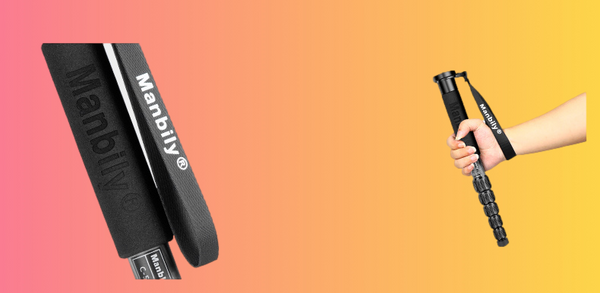 Model 2:
NVV NV-7 single-axis stabilizer Bluetooth self-timer tripod
Features:
Light and portable, remote control, free shooting
It is believed that many people have become accustomed to using mobile phones to take pictures, and if they want to take professional works, they naturally need to match powerful accessories. This self-timer with Bluetooth remote control allows users to show their hands freely, while the patented locking structure clip combines with the anti-shake head, allowing the phone to shoot in a very stable condition. In addition, the horizontal and vertical pictures can be switched by one key, and the mirror position can be changed without hindrance.
Up to six sections of telescopic tube body can be up to 79 cm long, which is enough for taking selfies with scenery or taking pictures with many people. Lightweight and compact frame can also be easily put into the bag without occupying space, which can be said to be a good companion for those who love to take pictures. Although SLR cameras can not be used together, taking pictures of mobile phones is the most professional choice.
Parameters:
> Category: Standing
> Weight: 360g
> Length: 21-79 cm
> Bearing:-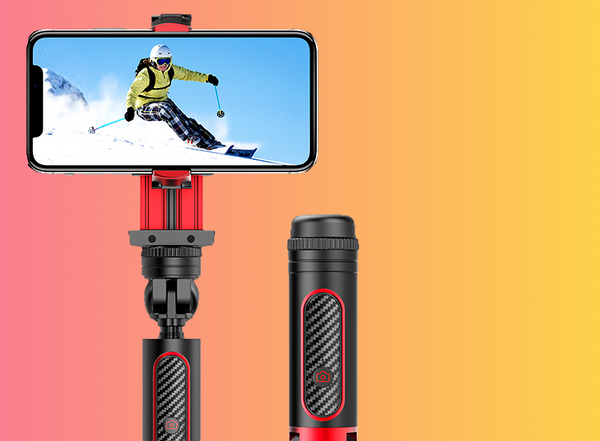 Model 3:
YUNTENG 038 hydraulic tripod head monopod
Features:
Bring your own gimbal to avoid worries and move at any time with one shoulder.
High-strength aluminum alloy tube body material monopod, with a complete combination of three-way hydraulic head and bottom tripod, the price is still surprising. The bottom tripod connector is a 3/8 interface, which is convenient to combine with other equipment, and the accessory head with cork glue anti-skid mat is not a problem for photography. Moreover, the humanized design of the handle can be interchanged on both sides, which is quite friendly for left-handed users.
In addition, the tripod part can be separately combined with the tripod head to be used as a low tripod, and after being stored upwards, the tripod part can directly stand as a monopod because of the anti-skid foot pad at the bottom. And that wrist rope is place on the side of the monopod, so that the monopod can be directly carried on the shoulder without bagging after being store as a whole, and although the weight is a test, the monopod can be moved conveniently if multiple movements are needed at a short distance.
Parameters:
> Category: Standing
> Weight: 1040 G
> Length: 57-148cm
> Load: 3kg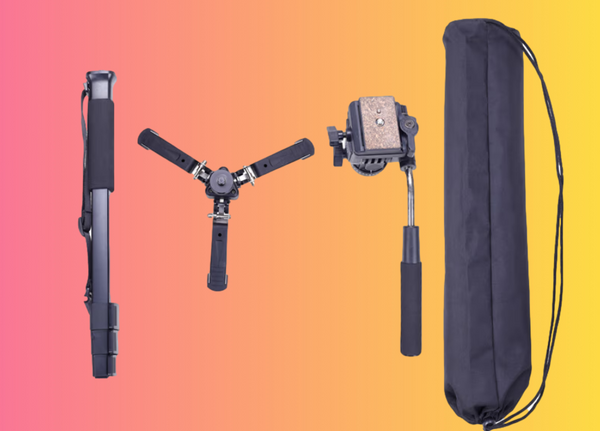 Model 4:
GITZO GM2542 Carbon Fiber Monopod
Features: the introduction of well-known brands to strengthen the stability of the big foot effect
Anyone who has dabbled in photography must have heard of Jetson, a famous brand in the tripod industry, and there is no doubt about the quality of Italian production. Although this makes the price difficult to approach, the structure of Carbon eXact carbon fiber ensures the strength and rigidity of the monopod, so that the load-bearing and shock absorption have excellent performance, which can be said to be worth investing in durability.
The unique lock button technology also makes the bayonet strong and fast to operate, and the special G-Lock Ultra spin lock makes the whole monopod extremely stable, not afraid of sudden loosening when using. As for the special enlarged foot pad at the bottom, it can rotate smoothly and easily, and it is not a problem to extend and rotate forward and backward. The brand is more thoughtful to introduce the choice of other sections, as long as the height or demand can find the most suitable length.
Parameters:
> Category: Monopod
> Weight: 510 G
> Length: 54-164cm
> Load: 30 kg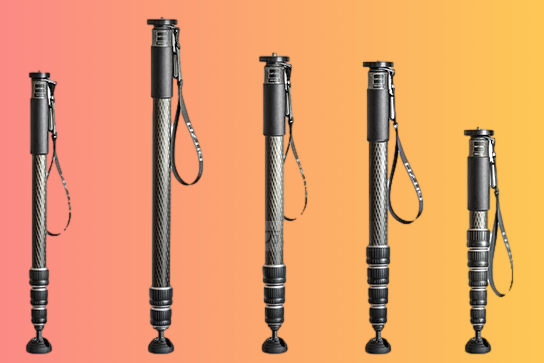 Model 5
:
SIRUI P326 Multifunctional Carbon Monopod
Features:
Panoramic pictures can also be recorded smoothly
The main structure of SIRUI P326 monopod is divided into two parts, and the most special feature of the upper part is that it has a 360-degree panoramic knob lock, which can smoothly complete the circular panoramic shooting without holding hands, and easily record the wonderful scenery. When combined with the monopod at the bottom, the damping sphere allows the monopod at the upper part to swing about 20 degrees in all directions, which can ensure a stable position when it is impossible to move the position and want to adjust the mirror position and shoot.
If a hydraulic or spherical head is additionally installed as a dynamic photographic tripod, it can still perform steadily. In addition, it can be used as a low-shot tripod alone, which can be used for both large-scene shooting and close-focus shooting.
Parameters:
> Category: Monopod
> Weight: 419 G
> Length: 38-154cm
> Weight: 10 kg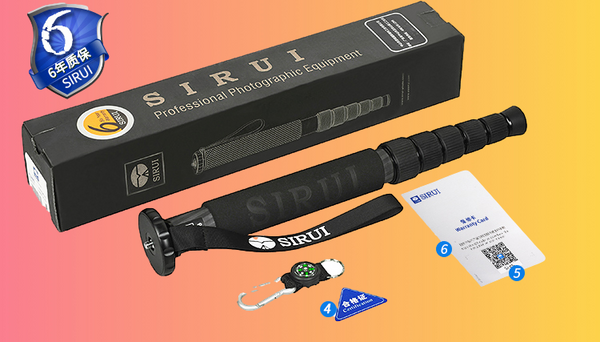 Model 6:

DIFUN C-325 + F-36A Monopod
Features:
The design is neat and the quality is reliable.
DIFUN's products have always won with people-friendly price and reliable quality. This monopod is made of durable carbon fiber, and the five-section telescopic foot tube uses rotary opening and closing to speed up the operation. What is different is that its frame is covered with anti-skid and anti-freezing foam, which can hold and shoot steadily even if it encounters light rain, fog and other conditions that are easy to slip.
In terms of safety equipment, the anti-skid rubber pad of the PTZ can reduce the risk of accidental flying out during installation, and it needs to be used with one hand to strengthen the hand through the top lifting rope. In addition, the single wrench universal control lock can release the PTZ to change the angle with one key, and can be used freely in crowded occasions. The best thing is that the weight of this model is relatively light, and there is no burden to take it out.
Parameters:
> Category: Monopod
> Weight: 470 G
> Length: 47-170cm
> Weight: 12 kg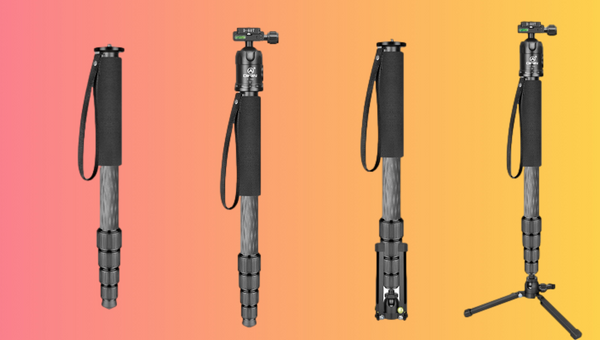 Model 7:
IFOOTAGE C180 Imprinted Carbon Fiber Monopod
Features:
Quick Dismantling Display Feature Design Award Affirmation
When there is no camera assistant to help disassemble and assemble, whether the tripod has the function of quickly and firmly connecting with the camera is the key to seize the time. This tripod, which won the Red Dot Design Award of the International Award, has a patented design of quick fixing lock, which can be disassembled and assembled at the top with only two fingers, thus eliminating the trouble of rotation.
In addition, all the contacts and triggers are conspicuous red design, which can quickly complete the setting of the tripod at a glance. The lower part of the combination with the monopod has a quick-release locking structure, which can be bent up to 90 degrees, the tripod part can be unfolded to three heights, and there is also a fixed lock to install the head, which can certainly be said to be well-deserved to win international awards.
Parameters:
> Category: Standing
> Weight: 1250g
> Length: 70.5-180cm
> Weight: 10 kg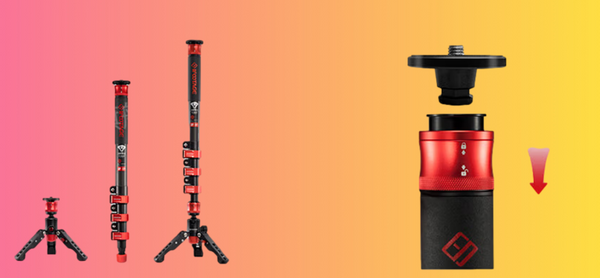 Model 8
:
MANFROTTO MMELMIIA5RD aluminum alloy monopod
Features:
The weight and price are all close to the people, and the telephoto weight can hold up.
Manfrotto, from Italy, is a well-known affordable choice in photography circles. The five-section telescopic design of its Element series monopod allows users to slightly adjust the height of the lens. With a knob-style telescopic tube body, the tube diameter of 31 mm to 19 mm is strong enough to support telephoto lenses up to 500 mm.
As for the anti-slip handle and the hand strap connected to the screw table, even if it is equipped with heavy equipment, it has enough force protection points to save energy even in the crowded crowd when shooting sports events. The bottom can be replaced with rubber head or foot nail according to the needs of the photographic place, and the top can be locked with the camera or installed with a head. What is unique is that besides the common black, there are also enthusiastic red styles, which can show different tripod styles when unfolding.
Parameters:
> Category: Monopod
> Weight: 500g
> Length: 43-159cm
> Weight: 15 kg