More and more people are getting into content creation, producing videos for TikTok, YouTube,  and other social media. This has created a huge demand for gimbals for steady and more professional videos. 
Fortunately,  the gimbal industry has been up for the task, and they keep releasing better gimbals with exceptional features in every release. A good gimbal has 3 axes, is easy to handle, and holds the camera steady for firm shots. 
This article will discuss the features and performance of DJI RS 3 Vs. Zhiyun WEEBILL 3. To allow you to be the judge of which one is the best and which one meets your needs.
DJI RS 3 
DJI RS 3  is an easy-to-use and lightweight gimbal. It is suitable for video creators who find it complicated to use other DJI gimbals but would like to create impressive, stable videos for their audience. The gimbal can handle full-frame cameras and support vertical videos, making it great for dancers and TikTok video creators. 
Design
The DJI RS 3 is black, giving it that professional look. It is compact and lightweight. You can easily carry it around for a shoot. The RS 3 is a handheld stabilizer that supports a mirrorless camera. 
Basic Description
DJI RS 3 is black

It is Lightweight and Portable. The gimbal is ultra-compact compared to others in the RS series, making it more convenient for traveling. You can also hold it in your hands for a long time since it is lightweight.

Dji RS 3 

is intense and has a high-torque motor. 

 It has a load capacity of upto 2 kg, enabling it to hold heavy cameras and lenses. 

It has a Wide Range of Compatibility. 

It has

Bluetooth Shutter Control

which automatically connects after the initial pairing. You can, therefore, easily control photo capture and video recording via the gimbal.

The 3rd generation RS stabilization algorithm lets you create stunning professional shots when shooting at a low angle or using flashlight mode. 

With its quick-release vertical shooting, you can conveniently shoot your TikTok videos. 

The 1.4-inch full-color touchscreen makes it easy to access frequently used settings. 
Specs
Accessory Port- NATO Expansion Port, a Mounting Hole, USB-C port, 

Battery capacity- 2450 mAh, running time 10 hrs, charging time 2.5 hrs

 Connectivity - USB-C charging port, Bluetooth 5.1, 

Built-in app-

Ronin app

compatible with IOS11 and android 7 and above 

Payload capacity -upto 2kgs/ 4.4lbs

 Rotation range — Tilt: 360°/s, Pan: 360°/s, Roll: 360°/s,

Bluetooth Transmitter Power-<4 dBm

Weight-Gimbal: 795 g, tripod 128g

Dimensions – Folded without grip: 323×195×98 mm, Unfolded without grip: 180×159×296 mm

Zhiyun WEEBILL 3
Zhiyun WEEBILL 3 is the new production of the Zhiyun brand. The gimbal is restructured to make your shooting experience effortless. It has an L-shaped handle, an ergonomic wristband, and an extended sleek grip to give you the best shots even at a low angle. The new gimbal is also compatible with various cameras, allowing users to use multiple cameras. With its 10th generation algorithm, Zhiyun WHEEBILL 3  gimbal can remove shakes in a video by retuning its running curves, thereby offering outstanding stable performance. 
Design
Zhiyun WHEEBILL 3 is sleek, polished, and black, giving it an elegant professional look. It has a trigger button that allows you to choose the mode you want to use among the available ones. It also has a built-in fill light that lets you take photos with different types of lighting.
Basic Description
The gimbal is Lightweight and  Stable. Its  body is compact and only weighs 1.13 kg making it easy to carry around. 

It has a ¼ screw port at its bottom you can use to install it for better angles when taking shots.

Built-in fill light opens more possibilities for creating exciting videos with various color filters in a dark space without additional lighting. 

Customizable settings. You can easily adjust to your preferred shooting mode by clicking the trigger button. You can also use the front wheel for axis movements, camera parameters, and focus/zoom mode.

It has a

Sling Mode 2.0

. with the  L-shape handle, ergonomic wrist rest, and extendable sling grip, the gimbal is more stable when you shoot at a low angle. 

The built-in noise-canceling Hi Fi microphone lets you record clear and crisp voices by canceling all background noise.

Its dual layer quick release plate enables you to quickly set the camera without balancing and inserting batteries with no hindrance. 

 An embedded magnetic wrench is at the bottom to secure the mic when setting up the camera. 
 The built-in battery serves you for 21 hours, allowing you to seamlessly shoot your videos without power hindrance. 
Specs
Rotational range- Tilt 310°, Roll 340°, Pan 360°

Output- 5V, 1A

Battery Operating Time - 21h 

Charging Time- 2h 

Dimension Size -342*207*73mm(W*D*H)

Weight-1.13 kg

Comparing Different Features 
Ergonomics 
In terms of ergonomics, DJI RS 3 is better than Zhiyun Weebill. Weebil's grip is a bit small, which causes discomfort when you hold it for a longer time.  However, Zhiyun has an extra grip you can use with both hands. Unfortunately, in DJI RS 3, you will have to buy the extra grip. 
Built-in Features
Weebill gives users a better option regarding variety in a shooting. The gimbal has a built-in fill light that allows users to change different lights and no additional lights, even when shooting in the dark. The mic also cancels background noise to give you a clear voice. These  new features come in handy for hobbyists or casual shooters. DJI RS3, on the other hand, has no built-in mic or fill light.  
Controls 
DJI controls are easy to access for easy adjusting when shooting. The touch screen is 1.4 inches, LED, and more intuitive than menus with touch controls.
Weebill 3, on the other hand, has controls, but they are awkwardly placed. It can be challenging when you quickly want to change the mode while shooting. The screen is smaller and not a touchscreen; you can only scroll to change control and modes. 
Wireless shutter control
This is another fantastic feature in RS 3. Its Bluetooth 5.1 enables you to trigger the camera by activating the camera shutter, and you begin recording. 
Traditionally, you needed a cable to attach the camera to the gimbal. This is still the case with Zhiyun WEEBILL; you still need to manually operate the camera shutter.
Battery Life
A long battery life allows you to have  uninterrupted shooting for a longer duration. The Weebill 3 gimbal can be used for up to 21 hours non-stop. DJI RS 3 provides users with a shorter running time of only 10 hours. 
Auto-lock feature
Gimbals, including Zhiyun Weebil 3, typically allow you to lock each axis manually. You have to  switch the buttons on the gimbal arms to prevent the camera from fluttering around when momentarily switching off the gimbal. With the new DJI RS 3, this feature is revolutionized. The gimbal has auto-lock features eliminating the need to lock each axis manually.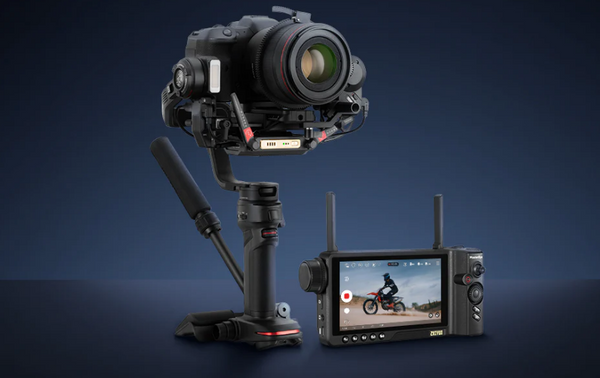 Price
The DJI RS 3 basic package is approximately  $549, and the combo package retails at $719. The combo package has an additional focus motor that lets you turn the camera lens to zoom or focus when using the controls. It also throws in a briefcase handle, allowing you to hold the gimbal in more ways. However, Zhiyun is much more affordable. It is currently retailing at $379 after a 16% discount. 
DJI RS 3

Zhiyun WEEBILL 3

Number of Axes

3-Axis Pitch , Roll, Yaw 

3-Axis Pitch, Roll, Yaw 

Quick Release

Dual layer quick release

Two-In-One Quick Release Plate

Rotation range 

Roll: 220° 

Pitch (Tilt): 335° 

Yaw : 360° 




Pitch : 314° 

Roll: 314° 

Yaw : 360° 

payload capacity

Upto 2 kgs 

Not specified 

Running Time

10 hrs

21hrs

Charging time 

2.5 hrs

2.5hrs

Dimensions

Folded: 323×195×98 mm

Unfolded: 180×159×296 mm

Display Type

Fixed Touchscreen OLED

Fixed OLED

Accessory Port

3

1

Stabilization Accuracy

Not specified 

±0.05 to 0.3° (Motion)

±0.01 to 0.04° (Motionless)

Inputs/Outputs

USB-C

Weight 

1.9 lb / 850 g (with Camera Plate)

2.04 lb / 0.926 kg

Remote Control

ZY Play & VC100

Mobile App Compatible

Android & iOS

Not specified 

Wireless connectivity

Bluetooth 5.1

NO

Screen 

0.66-inch Non-touch Single-color screen

Grip Design

Single handgrip

Single handgrip
The Verdict
DJI has additional features that are pretty useful, such as the auto-lock feature and wireless Bluetooth control. They help in making the filming experience effortless.
Zhiyun has also tried adding features such as the built-in fill light and microphone. However, they are not that useful when you want a professional shot.
Zhiyun also cost less, making it a preferred option when looking for a bit more affordable gimbal that will still give you great photos and videos.
DJI RS 3 is a bit more expensive, but it will give you the best value for your money whether you are a professional videographer or doing videos and photos for your blog. Choosing which to buy will depend on your financial muscles and your preference.