Often go out to travel like to shoot vlog video, in the end which mobile phone gimbal stabilizer is appropriate? At present, among the many handheld gimbal stabilizer models, which mobile phone gimbal stabilizer is the most suitable for shooting vlog videos? All mobile phone gimbal stabilizers can shoot vlog videos, but we can still make the best choice according to our needs.
When it is used for vlog video shooting, we need to pay attention to three important indicators when choosing mobile phone gimbal stabilizer.
1. Stability
At present, the mobile phone gimbal stabilizer on the market can be divided into three structures in terms of stability: single-axis mobile phone stabilizer, dual-axis mobile phone stabilizer, and three-axis mobile telephone stabilizer (the more axes of the stabilizer, the stronger the stability, and the less the limited angle of the mirror). It can be summed up in one sentence: single axis is to maintain stability in one direction, double axis can maintain stability in two directions (left and right, up and down), and three axes (left and right, up and down, vertical) can maintain stability in three directions.
> Single-axis phone stabilizer (recommended model: Hohem Q, Feiyu vimble one)
> Two-axis phone stabilizer (recommended model: Zhiyun smooth X, smooth XS)
> Three-axis phone stabilizer (recommended models:
HohemV2/X2, DJI OM4/OM5, MOZA SE/MX, Feiyu vlog pocket2, Zhiyun smooth Q3/smooth 4
)
2. Portability, load bearing and endurance
The more compact and portable the mobile phone gimbal stabilizer is, the more conducive it is to carry it out. Only when the weight of the body is light can the best shooting state be maintained for a long time.
> The stronger the load-bearing capacity, the more external mobile phone lenses can be carried to achieve richer shooting effects.
> At present, the battery life of the mainstream mobile phone gimbal stabilizer has reached more than 6 hours, which is enough for us to go out to shoot at ordinary times. In order to solve the embarrassment of no power for mobile phones, several mobile phone stabilizers (such as Haohan V2 and Zhiyun Smooth 4) have realized the two-way power supply of tpye-c. Make sure that both the phone stabilizer and the phone are in the best shooting condition.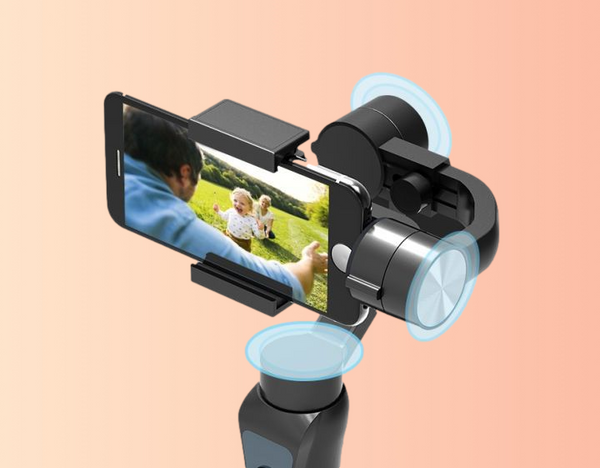 3. Handling performance
> In terms of control, the main consideration is whether the stabilizer button layout is reasonable, simple and easy to use, and the smoothness of the mirror.
> Whether the mainstream mirror play method (POV mode, Inception mode, Hitchcock, one-click horizontal and vertical shooting, etc.) provides richer shooting modes, so that novices can get started quickly and make a film with one click to achieve professional shooting effect.
For the above three key indicators, we recommend four mobile phone gimbal stabilizers with good reputation on the market at present: Hohem iSteady V2/X2, DJI OM5, Feiyu vlog pocket2. Why are they the best tools for vlog shooting.
The following four handheld gimbal stabilizers are all 3-axis mobile phone gimbal stabilizers, which are excellent in stability performance. The volume and weight of the mobile phone stabilizer are very light, which is very suitable for long-term shooting and carrying. The difference is that the technical focus of each mobile phone stabilizer brand is different, you can choose according to your actual needs!
1.Hohem iSteady X2
Portability, load bearing and endurance:
> The X2 is the second product in Hohem's iSteady series to maintain an ultra-light design of 259 G compared to its first-generation iSteady X. It folds down to the size of a smartphone, making it very portable and convenient for outdoor shooting.
> The battery life is increased from 8 hours to 10 hours to meet the needs of all-day shooting. More importantly, the iSteady X2 has a Type-C charging port, which supports two-way charging. It can be used for emergency charging of electronic devices such as mobile phones.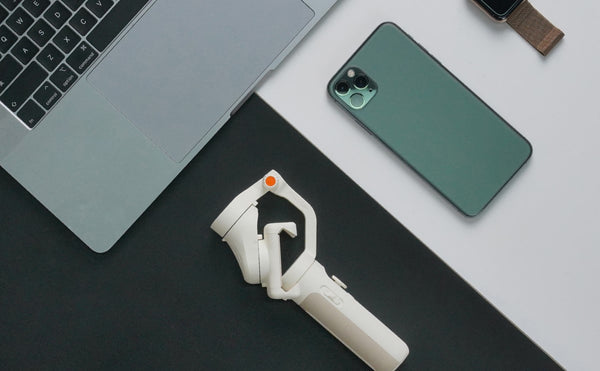 Handling performance:
> Hohem iSteady X2 key layout is relatively simple, a thumb positioning joystick, two small function buttons below, a zoom slider on the left, minimalist key layout, not easy to touch by mistake.
> Overall hand fluency is relatively smooth, with the help of Hohem's own hohem app, it can easily achieve face tracking, gesture control photo/video, Inception, Hitchcock, dynamic delay and other mirror play methods.
> Hohem iSteady X2 is equipped with a customized multi-function remote control, which is convenient for users to control the gimbal remotely; it adopts a fast connection scheme. The remote control can remotely control the stabilizer to move, shoot, switch working modes, etc. If there are no obstacles and signal interference in a straight line, the effective distance of the remote control can reach 10 meters, which is very practical for friends who like to travel and take self-portraits.
To sum up: Hohem iSteady X2
overall control is relatively simple, suitable for novice entry, friends who do not know how to hold the mirror can also achieve a variety of large mirror effects through the app.
2.Hohem iSteady V2
Hohem iSteady V2 is an upgraded version of Hohem X2, adding two powerful functional designs, AI intelligent tracking camera and very practical LED beauty light.
Portability, load bearing and endurance:
The Hohem iSteady V2 weighs 263g and can carry 280g. Its storage volume is about the same as that of a mobile phone (my mobile phone is 6.59 inches). It can be put directly into a trouser pocket. It is very suitable for traveling and taking a vlog video anytime and anywhere.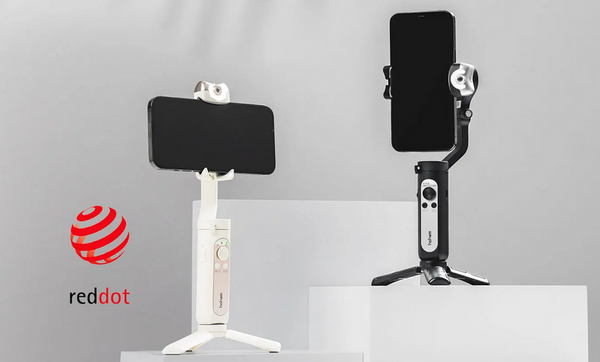 Handling performance:
> Hohem iSeady V2 mobile phone gimbal stabilizer has a very big innovation compared with the traditional mobile phone stabilizer. Because most handheld stabilizers can not adapt to the native cameras of different mobile phones, face tracking is achieved through software app control. V2 mobile phone gimbal is creatively equipped with an AI smart sensor. Face tracking and gesture tracking can be done independently without a dedicated app; the most powerful AI tracking is not just face tracking, it can automatically track whether it is sideways or back to it.
> Hohem iSeady V2 adds an LED beauty fill light on the AI tracker. For close-range shooting in low-light environment, there is no need to carry a large led fill light. Through the three-level fill light of V2, the brightness of the fill light can be adjusted according to needs, which broadens our shooting scene needs to a certain extent.
> The Hohem iSeady V2 has the same button layout as the iSeady X, with two buttons, power and direction, a joystick and a zoom button on the side. The design is minimalist, not easy to operate by mistake, and the novice can get started quickly.
> Hohem iSeady V2's own hohem pro app is also relatively friendly to novices. Considering the embarrassment of Xiaobai's basic inability to move mirrors, V2 has many built-in special effect mirror templates, such as Inception, Hitchcock, panoramic shooting and so on. With one key, novices can also shoot blockbusters.
To sum up: Hohem iSteady V2
mobile phone gimbal stabilizer has been very popular in the market since its launch, and has been praised by the major ups. Although V2 has a regular appearance design, it is very practical, compact and easy to carry out. It is very suitable for friends who usually like to shoot vlog short videos and often broadcast live.
3.DJI OM 5
Portability, load bearing and endurance:
> The DJI OM 5 looks very similar to the DJI OM 4. The OM5 also has a magnetic clip and folding design. In fact, the OM5 weighs 100 grams less than the OM4, only 290 grams, which is about the weight of a power bank.
> DJI OM5 is upgraded from a one-stage folding structure to a two-stage folding structure. After folding, the volume is reduced by about 30% compared with OM4, which is only the size of a palm. The portability has been greatly improved, so it is more convenient to carry out shooting.
> The battery life is about 6 hours, which is enough for all-day shooting. Of course, compared with Hohem V2 and Zhiyun Q4, the battery life of om5 is still insufficient.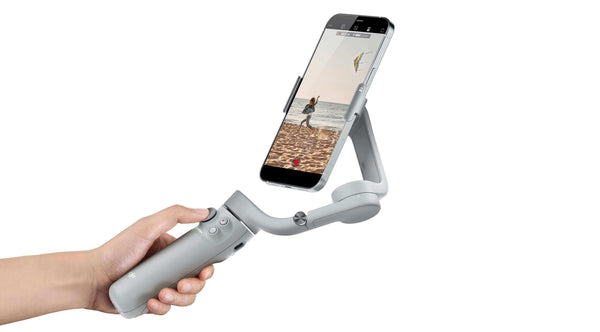 Handling performance:
> One of the really useful features of the DJI OM 5 is its extension lever. Built-in 215 mm extension bar makes it easy to take low-angle photos or group photos, perfect for family vacation trips or sweet angles that can't be taken on the OM 4.
> DJI OM 5 handle adopts ergonomic design, which is more comfortable to hold. There is an additional function button on the body. Click it to switch between front and rear cameras. Double-click it to switch between horizontal and vertical screens. Om5 moves the power button to the side. The key operation logic is more concise and clear, which reduces the probability of accidental touch.
To sum up:
The
DJI OM 5
weighs only 290g. It is extremely portable in the DJI mobile phone stabilizer. If you are a professional photographer and have an extreme demand for the hardware experience of the mobile phone stabilizer, you can choose the om5. The disadvantage is that it is expensive.
4.Feiyu vlog pocket2
Portability, load bearing and endurance:
> Feiyu Vlog pocket 2 This mobile phone stabilizer is very light and compact. It has a folding design, which is palm-sized and easy to carry. It weighs 272 G and can bear 250 G. It can be said to be one of the lightest three-axis mobile phone stabilizer on the market.
> It lasts 9 hours on a single charge, which should be enough for a day of shooting.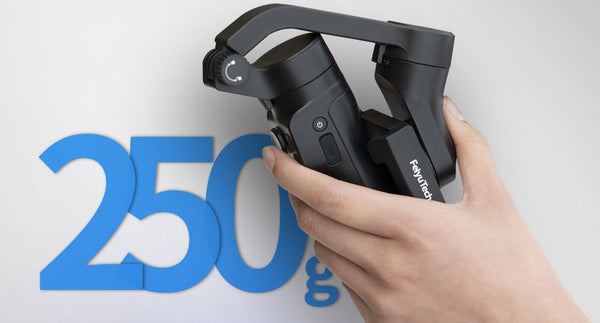 Handling performance:
> Compared with the Vlog pocket generation, the key layout has been improved. There is an additional heading rocker, which can freely control the up, down, left and right direction adjustment. The shooting button is divided into an independent shooting button and a video recording button, which saves the time of switching back and forth.
> The mobile phone stabilizer of Feiyu Vlog pocket 2 is designed with an inclined cantilever. The advantage is that it can be adapted to a larger and longer mobile phone to prevent the motor from blocking the wide-angle lens of the mobile phone. The disadvantage is that the mobile phone will jam the cantilever when tilting the lens.
> Feiyu Vlog pocket 2 also has a commendable place that it can directly control the native camera of the mobile phone, even the beauty camera.
To sum up:
Although the appearance of
Feiyu Vlog pocket 2
is compact, it is better than the three-axis platform design, and there are relatively few restrictions on the way of playing. For friends who want to try to combine the mirror, it is still worth trying.