Many people are embracing content creation as a way to earn a living. You can only beat the competition by making quality videos for your channel. To achieve that, you need a camera with exceptional features. Renowned brands, DJI and Insta360 each have released a new action camera. 
The two recent releases are the DJI Action 3 and Insta360 X3, from DJI and Insta360 respectively. While they might be different in structure and design, at least they can still fill the same hole in your kit. The Insta360 X3 is a versatile camera system which focuses on capturing 360 content while DJI Action 3 specializes in capturing high definition footage. If you're considering either of these cams, this detailed comparison might help. 
Of course let's kick it off with Insta360 X3.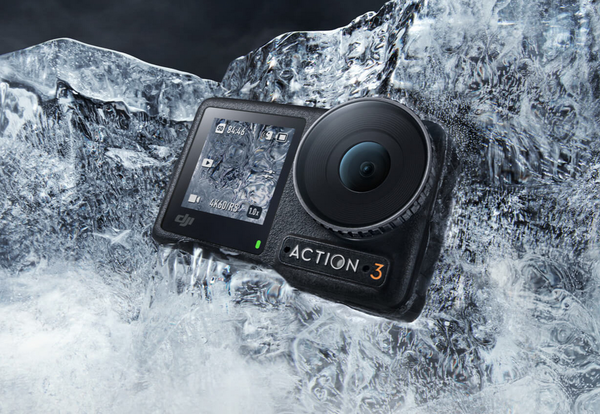 Insta360 X3
Insta360's cameras never stop getting better. From a larger screen, larger sensors, to a perfect battery life, the Insta360 X3 is here to change the game. 
It's extremely hard to fault Insta360's entire 360 camera generation. While many thought the Insta360 X2 was the real deal, this is even better. The footage is terrific, and it can be used as an action or dash cam.
Pros
Slim and pocket-sized dimensions

Bigger touchscreen

Shot lab features for the adventurous people

4k single-lens action camera mode
Cons
Active HDR might look washed out

5.7k does not go far when reframing videos
Design and setup
At a glance, the Insta360 X3 resembles the Insta360 X2. There is a similar candy bar design with curved edges, a matt black rubbery finish, and the tell-tale twin wide-angle lenses protruding out at the top. However, the distinguishing difference is that the Insta360 X2 has a tiny circular display while the Insta360 X3 has a 2.29" rectangular touchscreen. 
Furthermore, the Insta360 X3 has a removable battery. After taking out the battery, you will find a micro SD card slot. Another fold offers access to the USB-C port that allows users to charge and transfer files. Both these flaps are waterproof, and like the Insta360 X2, the cam can be submerged up to 10 meters deep without needing another case. However, the basic Insta360 X3 Kit has a soft protective case that keeps the lenses covered and scratch-free when the cam is in a bag.
Basic Description
The Insta360 X3 is compact and lightweight enough to fit in a small pocket, but its grippy rubberized exterior and design allow it to fit nicely and securely in the user's hand. You will always use it mounted on an accessory like a selfie stick. It also comes with a standard tripod thread on the bottom for that function.
With the 4K single lane mode, you can select the lens to shoot a wider angle footage. The 4K30fps offers you maximum resolution. You can also opt for a wider 170° area view with 2.7K MAXVIEW.
The FlowState stabilization and 360 horizon features allow you to create amazingly smooth videos.
Specs
Weight

:180 grams

Dimension size

: 114 x 46 x 33.1mm

Video quality

: 4K/60fps, 5.7K/30fps

FOV

: 360º

ISO range

: 100-3200

Aperture

: f/1.9

App

: insta360

Operating time

:81 minutes

Battery

:1800mAH

Storage

: micro SD up to 1 telebyte

Connectivity: 2.4/5GHz Wi-Fi, Bluetooth 5.0 LE, USB-C

DJI Action 3
DJI Action 3 is a user-friendly and lightweight cam. It's a reimagined type of DJI's Osmo action camera with a range of magnetic modules. That means you can customize the camera as per your shooting requirements.
For many adventurers, the DJI Action 3 cam is an ideal balance of price and quality. Stabilized 4K videos look excellent, and the cam can take a lot of hardships like rough and tumble and extreme temperatures.
Pros
Compact size with several helpful accessories

Premium, smart modular design

Impressive audio recording capabilities

Exceptional stabilization
Cons
Uploading and editing is manual

Photo quality is restricted to 12 mp
Design 
After ditching the modular approach with the DJI Action 2, DJI opted for a more conventional action camera design for its Action 3. It is easier to mistake the DJI Action 3 for the GoPro cam since the design is slightly similar. In the front is a large, circular cover that goes over the lens. That is followed by a 1.4-inch front display screen that reacts to touch and is used to control the camera. 
Far to the left is a power button that works as a QuickShot button. Below the power button, you will find a flap covering the USB-C port for transferring data and charging. The opposite side has another door that covers a removable battery and micro SD card slot. 
It has an adaptor mount, protective frame, and other important accessories required for diverse and dynamic scenarios.
Basic Description
The back and front touchscreen with waterproof coating allows you to take selfies, vlog, adjust parameters and enjoy clear playback even with wet fingers.
Since it's a waterproof cam, you can use it down to 16 meters without needing extra cover. This allows you to dive deeper and explore underwater.
Easier vertical mounting. It comes with an effortless and innovative quick-release mounting design that allows you to mount the cam firmly. Its 4K HDR video offers vivid, natural details, even in the highest contrast scenes. Its 10-bit color depth captures more than 1b colors.
Specs
Maximum video resolution

: 4k/120fps

Maximum photo resolution

:12 MP

Battery life

:160 minutes

Waterproof : up to 16 meter

Comparing Different Features
Overview
The DJI Action 3 is a classic action camera. DJI defined the genre and proceeded with its consistent quality and design. You can't fault it for this, particularly with the excellent 4k resolution. However, it only shoots straight ahead; hence you should ensure it's positioned at the right angle.
The Insta360 X3 is the best 360 cam. That means it captures everything happening around you and allows you to do reframing in the post to get a perfect shot. The final shot can only reach full HD of 1080P resolution.
Image Quality
Both devices are set to their highest quality settings on the DJI Action three, the 4k 30p mode. The Insta360 captures the 5.7k 3op 360-degree images reframed to 1080p for the best shot.
The Insta360 X3 has the 4k 30p mode that utilizes a single lens. This may be marginally better, but it delivers an ultra-wide look because of the 180-degree lens design.
If you can prepare a shot and get your camera positioned at the right angle, then DJI Action 3 offers better images.
Types of Footage
For vlogging, DJI Action 3 suffers from always having a selfie stick in the images. There will be a selfie stick for anything other than shoulders and a headshot.
Insta360 solves this problem with its 360 stitching capabilities. It eliminates the selfie stick in the image for the floating cam effect. The results of this shot are amazing.
Stabilization
Both devices are used for action shots. So, it would help if you had perfect stabilization. Both cameras utilize digital systems that are amazingly good. DJI has worked magic with what they can do and their advancement over the years.
Nevertheless, Insta360's ability to capture the whole sphere of the image and compensate for the cam being flipped in the middle of the shot is unbeatable.
Durability
Both are effective action cams and can be submerged and beaten up without a problem. Nevertheless, DJI Action 3 has an edge thanks to its replaceable lens cover. So, if a camera suffers serious damage to the lens, you can pop off the lid and put in another one.
Insta360 comes with two 180 degree lenses that are prone to damage. So, you must be careful when using the Insta 360 X3 camera. Scratching the lens will mess up the images, and you will need a professional to fix it.
Insta360X3

DJI ACTION 3

Video resolution

5.7K: 5760×2880@24/25/30fps

4K: 3840×1920@30/60fps

 

 

4k/120fps

Max. Video Bitrate

120mbps

120mbps

Water resistant

Up to 10 meters 

Up to 16 meters

Invisible Selfie Stick

yes 

no 

Active HDR Video

Yes

Not specified

operating time 

81 minutes

160 minutes

Dimensions

114 x 46 x 33.1mm

70.5 x 44.2 x 32.8 mm

Remote control

Yes

No

Accessory Port

3

1

Image quality

72 megapixels

12 megapixels

Inputs/Outputs

USB-C

Weight 

180g

145g

Battery power

1800mAh

1770mAh

Mobile App Compatible

Android & iOS

Not specified 

Wireless connectivity

Bluetooth 5.1

NO

Screen 

1

2 Touchscreen
Final Verdict
While it's effectively a tie, there are some clear benefits to each. Just have a proper look at each and go for the one which best meets your needs.