As a photographer who has been in the industry for 8 years, I have a little experience in choosing and using photographic equipment. Today, I will talk to you about how to choose the hottest smartphone gimbal stabilizer.
2022 is the outbreak year of short video, as the short video era enters the second half, both video producers and viewers have higher and higher requirements for video quality, coupled with the crazy development of mobile phone camera video function by major mobile phone manufacturers in order to compete for market share, the camera video function of smart phones is getting better and better, and then matched with mobile phone stabilizer.The fluency of the picture quality is also very good, which is sought after by many young people, so the major gimbal stabilizer manufacturers have also launched various types of hand-held gimbal stabilizers. Because they have no experience in purchasing, ordinary consumers are dazzled by a lot of products and parameters, and do not know where to start.

Recently, I have seen a lot of questions about mobile phone gimbal stabilizers on the Internet:
Which brand of mobile phone gimbal stabilizer is more cost-effective?
How about Zhiyun smartphone gimbal stabilizer?
Which is better, Zhiyun stabilizer or Dji stabilizer?
What are the recommended gimbal stabilizers with high cost performance at present?
Here are three key points we need to pay attention to when choosing a gimbal stabilizer for smartphone:
Lightweight and easy to carry
As a video content creator, we need a lot of material for our video creation. At this time, we need a lightweight gimbal stabilizer, which can be easily stuffed into our bags and stand by at any time. When we meet a suitable scene, we can immediately enter the shooting state. For girls, the lightweight stabilizer will be more friendly in the use experience.
Balance, load-bearing capacity
The balance performance of the gimbal stabilizer is very important, and the excellent stability performance makes the picture quality of our shooting smoother and the viewing experience better. The gimbal stabilizer has strong load-bearing capacity, so we can carry more lens accessories to meet the needs of shooting a variety of scenes.
Handling
The most ideal gimbal stabilizer can be set in multiple modes to suit a variety of shooting styles. For example, follow mode, POV mode, three-dimensional dream mode, self-timer mode and so on, which provide creators with rich creative perspectives.
To sum up the key points of choosing and purchasing, screening the smartphone stabilizers currently on the market, I recommend several models with good comprehensive performance, basically covering the needs of most users:
Next, I will talk about my own use experience, which may be subjective, but the overall use experience is for your reference:
         1. Feiyu Vlog pocket
Feiyu's Vlog pocket is very light and compact, weighing only 272 G, but bearing 240g. It is the lightest gimbal stabilizer folding design among the smartphone stabilizers I use. It can be put into my pocket at any time. Another advantage of the folding design is that it is more friendly to the ultra-wide angle shooting that everyone likes at present, and it will not appear that the roll axis blocks the picture.The disadvantage is that it limits many other ways of playing, such as Inception, POV mode and so on.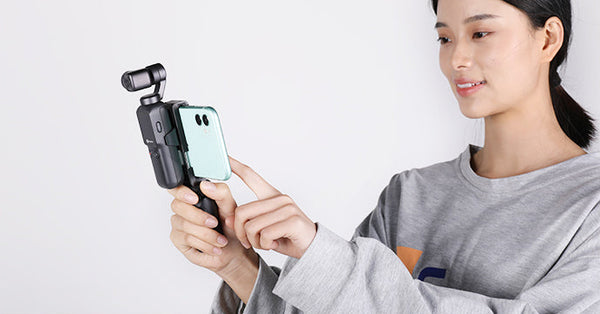 Summary: Feiyu's Vlog pocket is a smartphone stabilizer with high cost performance. It is more suitable for students who have just started shooting. There is not much demand for the lens. It only needs a stable picture.
The introduction of the second generation of Feiyu Vlog pocket has made up for many defects of the first generation, added rich function keys, improved the sense of control, and the biggest change has improved a lot of mirror play methods (intelligent following, panoramic mode, Inception, Hitchcock zoom). Feiyu Vlog pocket 2 can satisfy your wishes.
Summary: Compared with the first generation of Vlog pocket, the appearance has not changed much, the overall weight has improved a lot, and the grip is stronger. It is suitable for advanced players who have certain requirements for mirror play.
          2. Moza Mini-S
Moza MIni-s weighs 0.95 kg and bears 260 G. Its weight is almost three times that of Feiyu's Vlog pocket. Its volume is much larger. It has great advantages. Its load-bearing capacity has been strengthened. We can carry various external lenses on our mobile phones to achieve more creative play.
In addition, there are fewer restrictions on the operation of the lens. Hitchcock zoom play can be very easy to achieve.The appearance design continues the style of his AirCross2. The black, grey and red color contrast design is very high-end. The disadvantage is that the function design of the keys is very brain-consuming, such as single click, double click and triple click, which requires a certain learning cost to operate skillfully.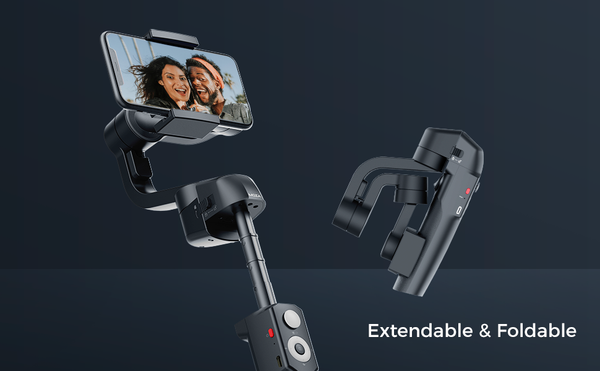 Summary: Moza MIni-s mobile phone stabilizer performance is more comprehensive, with hand degree and smoothness than Feiyu's Vlog pocket generation is much better. Good value for money, suitable for students with a small budget who like to try new things.
         3. Moza Mini MX
Last week, I received the latest smartphone gimbal stabilizer of the mini family from Moza, Moza Mini MX, and used it for a week. I would like to talk about my subjective experience, for reference only:
Appearance, Moza Mini MX uses a relatively new spiral design, folded volume, a palm size, is indeed smaller than the previous generation of mini-S, the advantage of spiral folding is that each of its joints is more compact, will not become loose because of long-term wear and tear. Another design breakthrough is the placement of the tripod,Most of the stabilizers we usually use fix the tripod under the handle. The position of the MX fixed tripod is under the heading axis, and the handle has a tilt angle.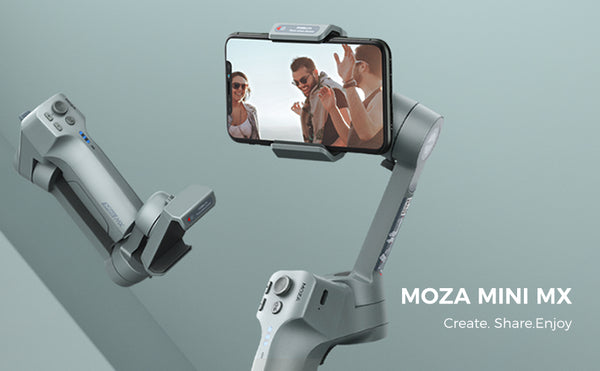 The advantage is that it is more comfortable to pick up or put down, or to hold with both hands. In terms of control, Moza Mini MX has complete functions and modes.Full lock mode, rapid mode, FPV mode, Inception and so on, for some users who like to play the mirror, the experience is very good. In addition, the Moza Genie app for Moza Mini MX has many built-in shooting templates.
For beginner, you only need to choose the corresponding template, and then you can use different modes and ways to complete the video shooting of the same template.Another important point is that Moza Mini MX is compatible with most wide-angle mobile phone models, avoiding the problem of blocking the motor at the wide-angle lens end of the mobile phone.
Summary: Moza Mini MX is a gimbal stabilizer that caters to the growing number of short video enthusiasts. If you are a veteran, you can use different modes to shoot wonderful videos. If you are a novice, the built-in Magic mode also allows you to produce wonderful videos effortlessly and efficiently.
          4. DJI OSMO Mobile3
DJI OSMO Mobile3 is also a folding portable design, weighing 0.8kg and bearing 230g, which is also criticized by netizens. Its size is similar to that of Moza Mini-S, but its bearing capacity is not as good as that of Feiyu's Vlog pocket. Speaking of advantages, OSMO Mobile3 is very good in details and materials, has a good grip, and ergonomic design is used to the extreme.In addition, Dajiang OSMO Mobile3 has made great efforts in the development of app, and the shooting material can achieve the effect of one-click film.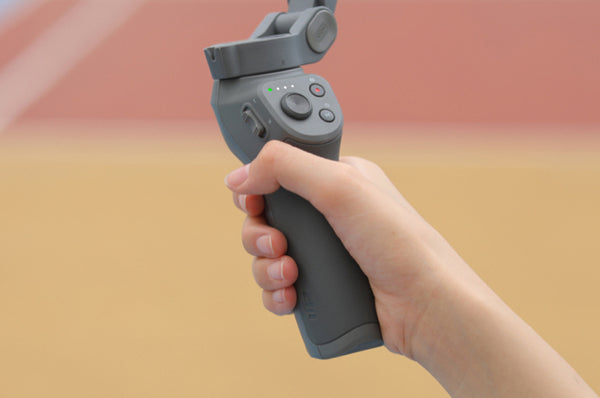 Summary: DJI OSMO Mobile3 is a smartphone stabilizer with low cost performance. In addition to the design sense of appearance, other functions are designed in general. It is not suitable for the mirror. If you like its design sense, you can consider playing with it.
          5. DJI Osmo 4
Osmo 4 has been used for a month to talk about my experience. Compared with osmo 3, the biggest change is the addition of magnetic installation design. The mobile phone bracket uses a very strong magnetic ring, which is very firm. When using it, it only needs a buckle to turn on and use, which is very convenient.
Osmo4 adds two new features, one is Split panorama, which can take panoramic photos of multiple people. The second feature is Hitchcock zoom, which is also not available in osmo3. Other functions basically inherit the user-friendly design of osmo3.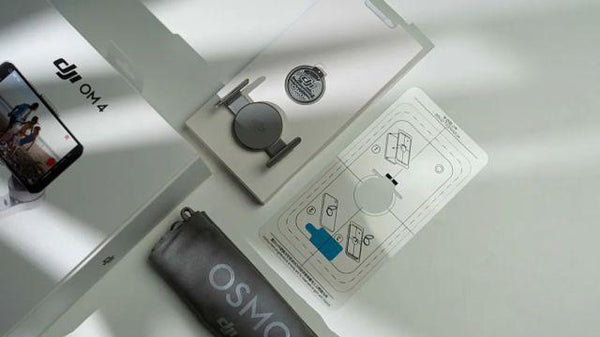 Summary: Osmo 4 is still a very smooth smartphone gimbal stabilizer. In addition, Osmo 4 makes up for some of the limitations of Osmo 3. It has more functions and is more suitable for advanced players.
          6. Hohem iSteady Mobile +
Hohem iSteady Mobile + This mobile phone gimbal stabilizer is a domestic brand in Shenzhen. I just got it at the beginning. The appearance design is very common, but I used it several times and found that all aspects of performance are good. In front of several folding gimbal stabilizer can not achieve the POV, Inception mode can be achieved on this stabilizer, a very real stabilizer.In addition, this gimbal stabilizer has a load bearing capacity of 280 G, sacrificing the portability of the stabilizer.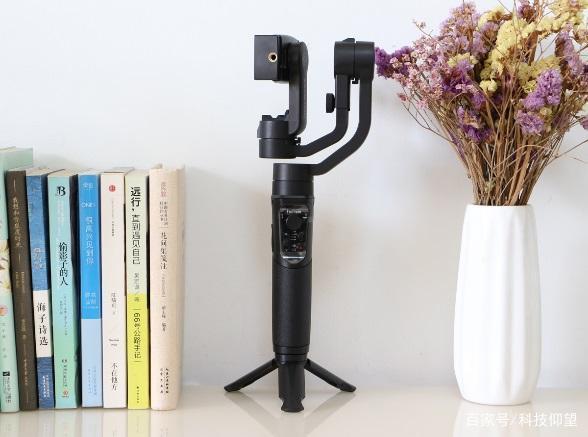 Summary: iSteady Mobile + This smartphone gimbal stabilizer is very cost-effective, suitable for the stabilizer size requirements are not high, but also want to try a variety of new ways to play, and more sensitive to the price, this stabilizer is the most suitable.
          7. Hohem iSteady X
The new Hohem iSteady X is also popular in the domestic smartphone gimbal stabilizer market, with an extremely lightweight body of 259 G and a folding design, which is more convenient to carry. The strength of the motor is very powerful, and the load-bearing capacity reaches 280 G. With the help of the vast stabilizer's matching app, it can easily realize Inception, Hitchcock, dynamic delay and other mirror play methods, and the fluency of the following hand is also very good.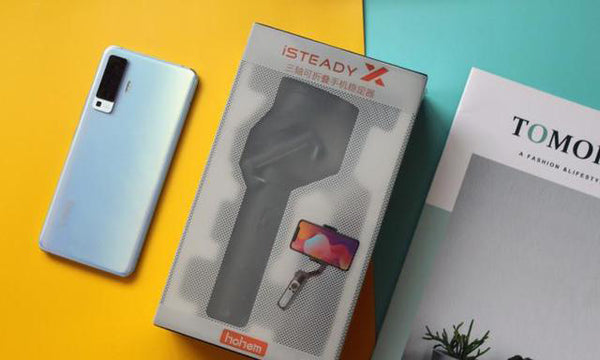 Summary: The design and control of iSteady X mobile phone stabilizer is especially suitable for beginners and easy to use.
          8. Hohem iSteady X2
Recently, many friends asked me in the comments section about the new iSteady X2/V2/Small Q. How about these three gimbal stabilizers? A few days ago, I received three new members of the vast family from Hohem. I tested them for a few days and said my feelings about using them for your reference:
The iSteady X2 is an upgraded version of the iSteady X, with basically the same shape, a body of 259g, a folding design, and a load-bearing capacity of 280g.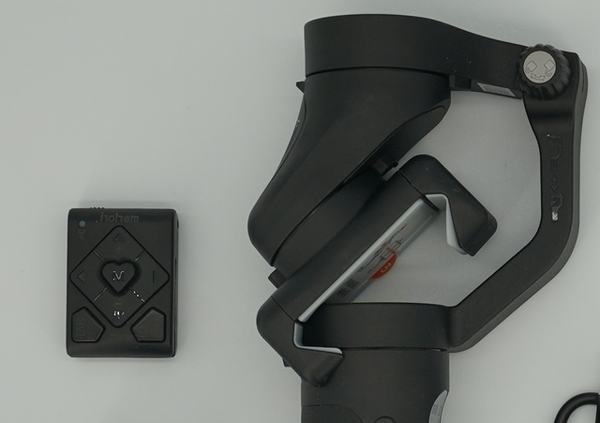 The iSteady X2 has upgraded the battery of the stabilizer, which is 30% higher than that of the iSteady X, and its endurance is enhanced. At the same time, it also adds a two-way charging design, which can be connected to the gimbal stabilizer for emergency charging when the mobile phone is out of power during shooting. It is equipped with a full-function remote control, remote control of shooting angle, one-button horizontal and vertical screen, and effective remote control distance of 10 m. Secondly, in terms of control,Because X2 has upgraded the handle material, it feels more comfortable to hold. Through the vast Hohem Pro APP, it can achieve gesture control, intelligent face tracking, Inception, Hitchcock and other effects in the app. The disadvantage is that the controllable range of the pitch axis is narrow, which limits the space of the pitch mirror. Of course, the positioning of X2 is light and portable, and it is easy to get started.Therefore, some trade-offs have been made in the functional design.
Summary: The overall control of iSteady X2 is relatively simple, which is suitable for beginners. Friends who do not know how to use the mirror can also use the app to achieve a variety of large mirror effects.
          9. Hohem iSteady V2
The appearance of iSteady V2 is not much different from that of X2, but V2 has made great innovations in today's homogenization of the three-axis gimbal stabilizer. In the prominent position of the stabilizer mobile phone clip, a camera and a fill light are placed. This fill light is very practical. Everyone has seen some up owners who broadcast live outdoors at night. It is usually necessary to bring a large annular light (which is not easy to carry).V2's innovation is a good solution to this problem. When we shoot some vlogs or live broadcasts at close range at night, we can use this fill light to fill the face.

The second innovation is that we all know that most mobile phone gimbal stabilizers now have app function and tracking function, but why do we have to set up an AI camera in front of it? This lens can ensure that you can still achieve tracking function when using non-native app, this design is very good! Most of the live broadcasting platforms, as well as some Meitu apps,They do not support face tracking in the mobile phone gimbal stabilizer, so the vast V2 has designed a separate AI camera to solve this problem. No matter what app is used to shoot, as long as the AI camera is turned on, the face tracking function can be realized, which is very good. The third innovation is that at present, most stabilizers have vertical cantilever design, and V2 adopts inclined cantilever design.So what's the advantage of slanting? This design is to solve the problem of cantilever blocking the lens when the mobile phone is shooting in ultra-wide angle. It is well compatible with most ultra-wide-angle mobile phones.
Summary: The iSteady V2 stabilizer has many design highlights, such as fill light, AI tracking camera and inclined cantilever design. At present, it is one of the most practical stabilizers I think.
          10. Hohem iSteady Small Q
The iSteady Q features a compact, portable, multi-form camera with a weight of 195 G and a load of 280 G, making it the lightest phone stabilizer I've used so far. The iSteady Q combines the functions of a selfie stick and a gimbal stabilizer. Although it is only a single-axis gimbal stabilizer, it can also meet the shooting needs of most people.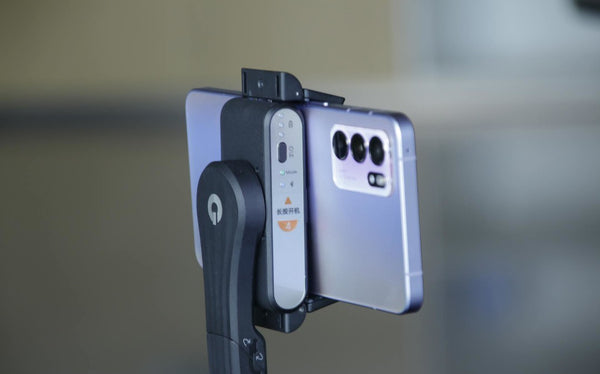 Summary: The gimbal stabilizer of Little Q can be understood as an advanced selfie stick. It can be used in many forms, including selfie stick, tripod, stabilizer and live broadcast equipment. The four forms can be switched at will. The most important thing is that the cost performance is very high. For students who like to travel and take selfies, Little Q can bring a different surprise experience.
         11. Zhiyun Smooth Q2
Although Zhiyun Smooth Q2 does not adopt folding design, it is still very compact. Because Smooth Q2 is made of metal, although it improves the feel, it sacrifices the weight, increases the cost, and the price is the most expensive one of these gimbal stabilizers. In addition, Smooth Q2 enters the ultra-wide-angle auxiliary shooting state by clicking the shutter button three times.It solves the problem that most mobile phones often take pictures of motors when shooting in ultra-wide angle. The price is expensive, but the performance improvement is also more conscientious, all kinds of mirror, POV mode, three-dimensional dream, provide more mirror play, in addition, Smooth-Q2 can last up to 16 hours in terms of battery life, support mobile phone charging, two-way power supply.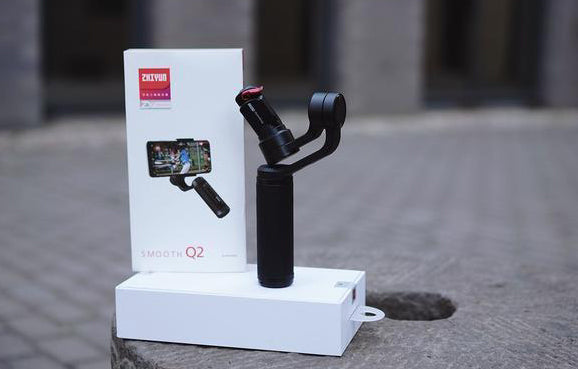 Summary: Zhiyun Smooth Q2 is a handheld gimbal stabilizer with excellent performance and good experience. The price is a little expensive. It is suitable for video enthusiasts. The requirements for mirror operation are relatively high. Smooth Q2 can realize various complex mirror operation.
          12. Zhiyun Smooth XS
Zhiyun Smooth XS is the latest mobile phone stabilizer launched by Zhiyun on September 3. I just got it for a week. Tell me how I feel about it.
The most attractive part of Zhiyun Smooth XS is the sliding storage design, which is very convenient to stretch outward, open shooting and store inward, which is an innovative design compared with the traditional rotary folding storage of other mobile phone gimbal stabilizers. Zhiyun Smooth XS is light and compact, weighing only 250g, and the overall body design is more popular with girls.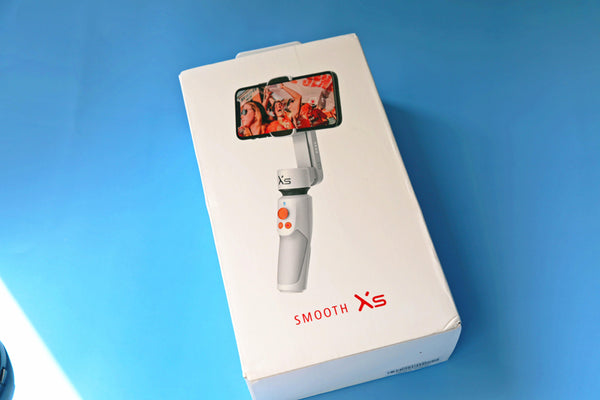 Functionally, Smooth XS supports the newly upgraded ZY Cami.Provide Hitchcock play, time-lapse photography, panoramic photos, zoom and so on, but also with dermabrasion, whitening thin face. Built-in Smart shooting mode follows the tutorial to complete the creative short film step by step. In terms of control, the use of zoom lever and remote sensing components is relatively smooth, horizontal and vertical screen one-button switching, new gesture control shooting, than a V gesture can enter the countdown to shooting. Intelligent tracking and shooting,The sensitivity is relatively high, and the overall control is easy to use, which is very suitable for novices. The disadvantage is that there is no Inception, POV and other complex mirror play, of course, this is also the distinction made by Zhiyun in product positioning.
Summary: Zhiyun Smooth XS, a mobile phone stabilizer, is closer to Xiaobai consumers in terms of design innovation and ease of use of the system. It is very easy to use and suitable for female users.
To sum up:
At present, the weight of most mainstream mobile phones on the market is about 200g, so almost all mobile phone gimbal stabilizers can be used. The higher load-bearing capacity of the gimbal stabilizer means that more creative play can be achieved by carrying external lenses on the camera.
In pursuit of compact and portable, the first choice is Feiyu Vlog pocket Generation I or II, Zhiyun Smooth XS, iSteady X, iSteady X2 and iSteady Small Q. In pursuit of extreme cost performance, the first choice is Moza Mini-S, vast and excellent iSteady Mobile, which pursues mirror experience, comfort and control. The first choice is Dji OSMO Mobile3, OSMO4, Zhiyun Smooth Q2 and Moza Mini MX, which pursue comprehensive function and practicability. ISteady V2 is preferred.
In addition, we need to remind you that the mobile phone gimbal stabilizer is not a consumable, ordinary people buy one may be used for several years (except for the equipment party), so first consider the actual needs, combined with the capital budget to buy.