7ryms, a leading manufacturer of professional audio equipment, has announced the release of its latest product - the AU02-K1 RGB Cardioid Condenser USB Microphone.
The AU02-K1 is a versatile mic that is ideal for everything from podcasting and voiceovers to music recording and live streaming, giving you the flexibility you need to create great content. Featuring a cardioid polar pattern that picks up sound from the front while rejecting sound from the sides and rear, you'll be able to capture crystal-clear audio that's focused and precise audio.
The standout feature of this product is the customizable RGB lighting. It's a small touch that greatly impacts any setup, and it's perfect for content creators who want their recordings to pop. Whether you're looking to match your color scheme or set the mood for your video or podcast, the AU02-K1 Condenser Microphone has got you covered. With a simple adjustment, you can elevate your content with some personality and flair that will grab your audience's attention.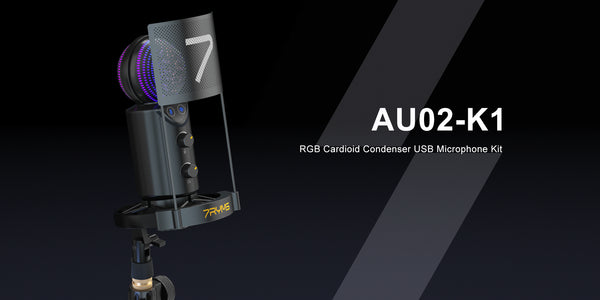 This RGB Microphone is perfect for anyone wanting to capture clear, detailed sound. Featuring a high-quality condenser capsule, this 7ryms microphone delivers exceptional clarity with every use. Plus, it's incredibly easy to use thanks to its plug-and-play design that connects to any computer or device with a USB port. On top of that, the adjustable desktop stand makes it easy to position the microphone exactly where you need it, while the shock mount reduces handling noise for even clearer recordings. And with the included pop filter to minimize plosives and sibilance, the AU02-K1 ensures that every sound you capture is of the highest possible quality.
The microphone boasts a cardioid condenser capsule with a 16mm diaphragm, which provides a wide frequency response and a large dynamic range. With its carefully designed construction, this microphone is able to block noise effectively outside of the receiving range while accurately picking up the front sound. The result is a professional studio sound that will make any podcast or recording session sound amazing.
With a high sampling rate and bit depth of 48kHz/24bit, this microphone is capable of capturing both high and low-frequency audio signals with unparalleled clarity and rich detail. Plus, the built-in DSP intelligent denoise chip takes things to the next level by effectively reducing ambient noise and ensuring that users are able to experience the ultimate sound experience.
With a built-in driver-free sound card, this microphone provides impeccable, high-fidelity sound quality recording. But that's not all; the sound preset touch button allows users to customize their recording experience by switching between podcasting, live broadcasting, and singing. This versatile feature enables the vocals to adapt seamlessly to any scene.