Comica has recently launched a new USB microphone, the STA-U2, featuring a unique RGB heart-shaped design. Compared to traditional desktop microphones on the market, Comica STA-U2 has made significant upgrades in sound quality, usability, functionality, and appearance, bringing users a new and improved recording experience.
In terms of sound quality, which is the top priority for most users, Comica STA-U2 is equipped with a high-quality 16mm heart-shaped directional condenser microphone head that accurately captures front-facing audio sources while reducing noise interference from the rear and sides, resulting in clearer and purer sound. Moreover, the Comica STA-U2 features an ultra-high sampling rate of 48kHz/24bit, which can reproduce more sound details in high resolution, resulting in a realistic and rich sound quality, equivalent to a professional recording studio experience.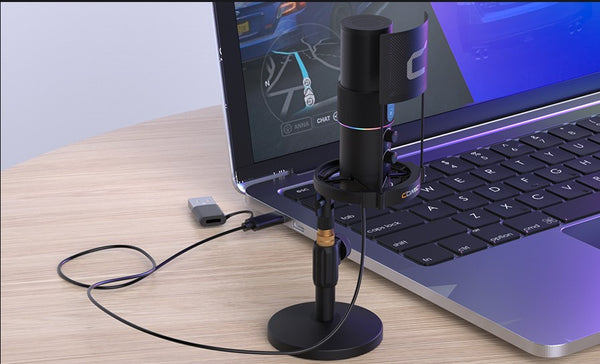 In addition, Comica has also taken into account the convenience of the user. The STA-U2 uses a USB-C digital output scheme and a built-in upgraded sound card, allowing users to directly connect the microphone to devices such as smartphones, computers, and tablets, making the recording process more efficient and convenient. Compared to other microphones that require complex driver installations or software debugging, the "plug-and-play" feature of Comica STA-U2 provides users with unparalleled convenience and efficiency.
What sets the Comica STA-U2 apart from other microphones is its extensive recording functions. According to the official website, the STA-U2 offers three sound presets for live broadcasting, podcasting, and singing, allowing users to switch between different settings according to their needs. Additionally, considering the complexity of recording environments, the Comica STA-U2 uses intelligent noise reduction technology and comes with a professional shock mount, metal windscreen, and full-metal body design to strictly control noise from both inside and outside.
Furthermore, to meet the diverse creative needs of users, the Comica STA-U2 is equipped with touch mute, real-time monitoring, and output gain adjustment functions. The monitoring and gain adjustment knobs are designed independently, allowing users to have more flexibility and control over the recording process. The Comica STA-U2 also features six dynamic RGB lighting effects that enhance the user's immersive recording experience for live broadcasting, podcasting, and music creation.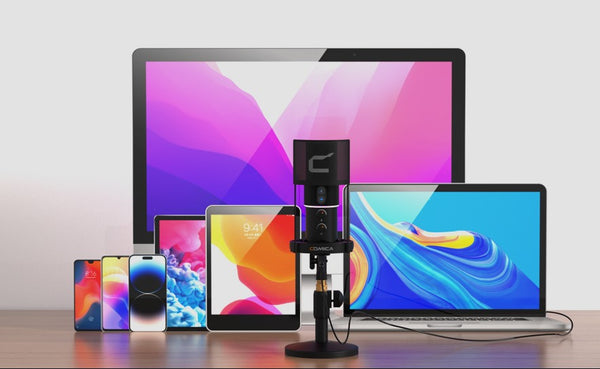 According to the Comica flagship store's details page, the Comica STA-U2 offers two options: a disc base and a boom arm. The disc base is made of solid metal, stable and highly mobile, while the boom arm is thickened and made of full metal, with a maximum load capacity of 3KG and a fully adjustable and foldable arm to meet the needs of different recording angles.
Overall, Comica STA-U2 provides users with a superior recording experience in terms of sound quality, usability, and functionality. Whether you are a professional anchor, music creator, or recording enthusiast, you can find a suitable recording solution with this microphone.