DJI launched DJI Transmission for professional video creators, DJI RS 3 Pro, an all-round camera expansion platform, and DJI RS 3, a professional micro single stabilizer.
DJI Transmission not only has advanced and reliable O3 Pro image transmission technology, which brings film and television workers an integrated image transmission scheme of receiving, monitoring and recording, but also can connect Ronin film machine, Ronin stabilizer and DJI professional control system in series.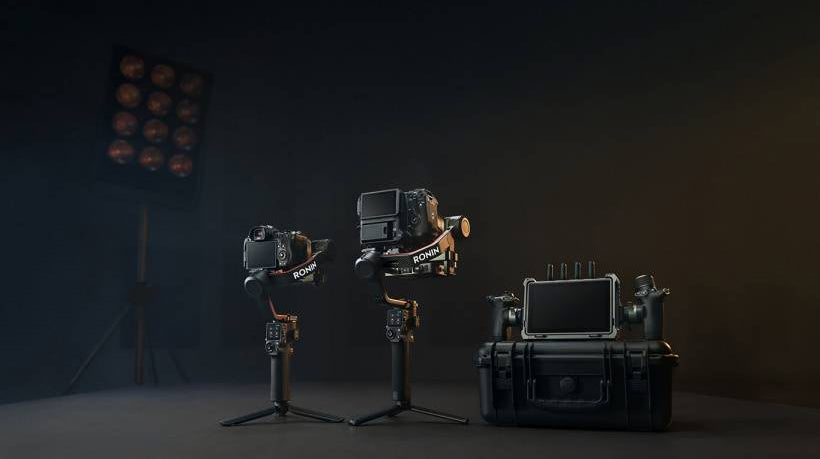 The new generation of stabilizer RS 3 Pro, as the first Pro version launched by Dji in RS series, is equipped with DJI Transmission, LiDAR Focus Rangefinder (RS) and a new focus-following motor, and has evolved into an all-round camera expansion platform. It not only provides an advanced professional shooting scheme for single shooting, but also provides a more efficient shooting combination for multi-person collaborative shooting.RS 3 is dedicated to flexible and fast single-person creative experience.
The official price of DJI Transmission suit is $2499, which includes DJI image transmitter, DJI image highlight monitor, battery adapter board, intelligent battery, charging housekeeper and other accessories. The DJI Image Transmitter is priced at $1099 and the DJI Image Highlight Monitor is priced at $1699.
The official price of DJI RS 3 Pro is $869, including DJI RS 3 Pro Gimbal main body, portable storage bag, BG30 battery handle, lens fixing bracket, handle extension tripod, double-layer quick-loading plate, portable adapter handle, camera control line and other accessories.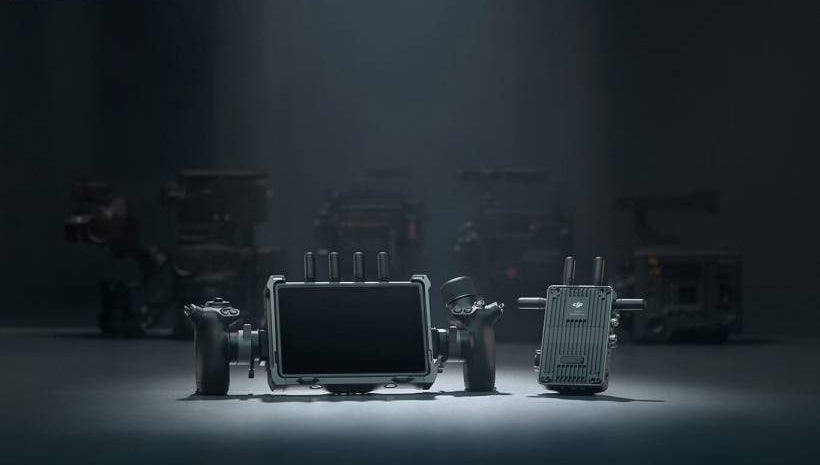 The official price of DJI RS 3 Pro package version is $1099, with additional accessories such as Ronin image transmission (original Hawkeye image transmission), focus motor, lower quick loading board (extended version), mobile phone clip, HDMI cable and so on.
Introduction of DJI Transmission:
DJI Transmission adopts O3 Pro image transmission technology, which can reach 6 kilometers of ultra-long transmission distance at the ground end, and has 1080p/60fps picture transmission specifications, supporting 16-bit 48 kHz real-time audio monitoring. Excellent monitoring and listening experience even in long-distance shooting scenes. The 7-inch 1500-nit image transmission highlight monitor supports multiple transmissions.When matched with different brands of cameras, it can also achieve end-to-end ultra-low delay of film and television level, meet the monitoring needs of multiple shooting departments at the same time, and reduce the pressure of personnel communication and collaboration in large studios with complex environment.
At the same time, the excellent stability and security of picture transmission make the picture transmission more reliable. The new DFS frequency band provides more choices for connection, supports sensorless automatic frequency hopping technology, can automatically detect the scene environment and select the best wireless channel, meets the higher requirements of professional studios for stability, and achieves the real stable transmission of film and television. Not only that,DJI Transmission supports frequency connection and AES 256-bit encrypted transmission, which fully guarantees the transmission security of pictures.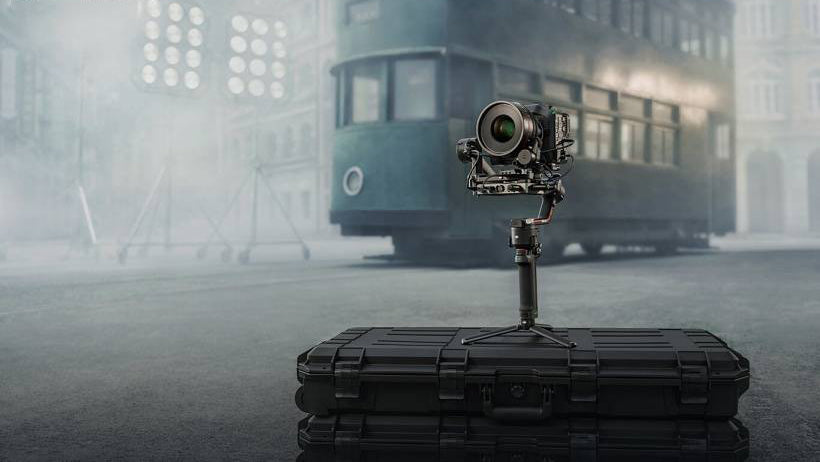 DJI Transmission not only has powerful performance, but also can be used as a comprehensive control system to connect Ronin series RS stabilizer, Ronin 4D and other products as well as rich accessories. The image transmission highlight monitor also has a built-in gyroscope, which can be used independently as a somatosensory controller to remotely control the Ronin series Gimbal. When it is used with Ronin 4D control handle, DJI master rocking wheel and DJI professional somatosensory controller.It can improve the transmission performance of the device itself and bring users a more integrated use experience.
Introduction of DJI RS 3 Pro:
RS 3 Pro, as a new upgrade of RS 2, pushes the handheld stabilizer performance to a new height through Pro level design, focusing, image transmission and expansion, and evolves into an all-round camera expansion platform, which can carry DJI Transmission to achieve integrated collaboration and release unlimited potential in film and television creation.
The RS 3 Pro uses a fully coated carbon fiber process to maintain a body weight of 1.5 kg and a load of 4.5 kg while lengthening the shaft arm, freeing up ample leveling space for carrying more professional cameras and giving creators more lens options.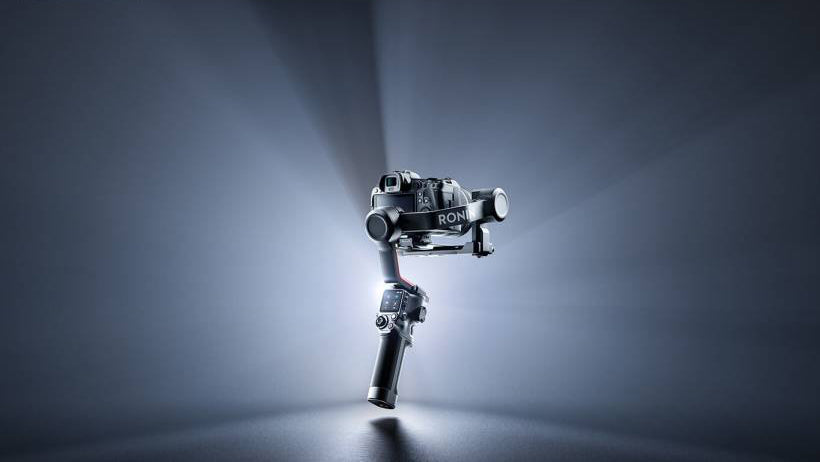 In terms of focusing system, RS 3 Pro uses Ronin 4D advanced LiDAR laser focusing technology, which can project 43200 ranging points to achieve indoor detection distance of up to 14 meters, even in low-light environment or multi-target complex scenes, it can also stabilize focu sing to meet the focusing needs of most scenes of photographers. It can also be matched with a new focusing motor to achieve automatic focusing under a large aperture lens.Capturing the best picture quality.
RS 3 Pro's diversified ecological expansion functions provide more comprehensive shooting solutions for image creators. It can be equipped with DJI Transmission to open the integrated collaborative operation of receiving, monitoring and control, accurately control the focus of PTZ and camera, exposure parameters or start-stop recording functions, and professional shooting scenes can also be efficiently controlled. In addition,The body is equipped with dual RSA/NATO interfaces and power supply interfaces. The photographer can customize and expand according to his own shooting needs. It can also be used freely in car shooting, rocker arm, Stanikon, ropeway, slide rail and other scenes. It can achieve multi-angle and multi-form shooting while bringing unlimited possibilities for creativity.
Introduction of DJI RS 3:
RS 3 has a large carrying space, with a body weight of 1.3 kg and a load of up to 3 kg. It can carry mainstream combinations such as Sony A7S3, Canon R5 and 24-70 mm F2.8 lens. It is easy to hold and full of power. Thanks to the third generation of RS stabilization algorithm, the anti-shake performance of RS 3 is 20% higher than that of the previous generation, and it can cope with low angle, running or switching between high and low positions.
As an upgrade of RSC 2, RS 3 introduces fine-tuning knob, automatic shaft lock and wireless Bluetooth remote control from the perspective of user experience, so that users can start shooting in seconds, and truly become a powerful tool with high efficiency and productivity in single creation. The double-layer quick-mounting plate makes the RS 3's camera particularly easy to assemble and disassemble, and the gimbal does not need to be re-leveled after the battery and memory card are replaced.DJI introduces the design of automatic shaft lock to RS 3 and RS 3 Pro, which is also the first in the industry. RS 3 can quickly enter the working state in only 2 seconds when it is turned off. Click the power button to automatically lock and enter the sleep state. It greatly improves the speed of the user's transfer and storage of the stabilizer. Wireless Bluetooth shutter control is added to avoid the interference of shutter release during operation.The senseless automatic connection between gimbal and camera can be realized only by pairing once, which makes the shooting process more concise and efficient.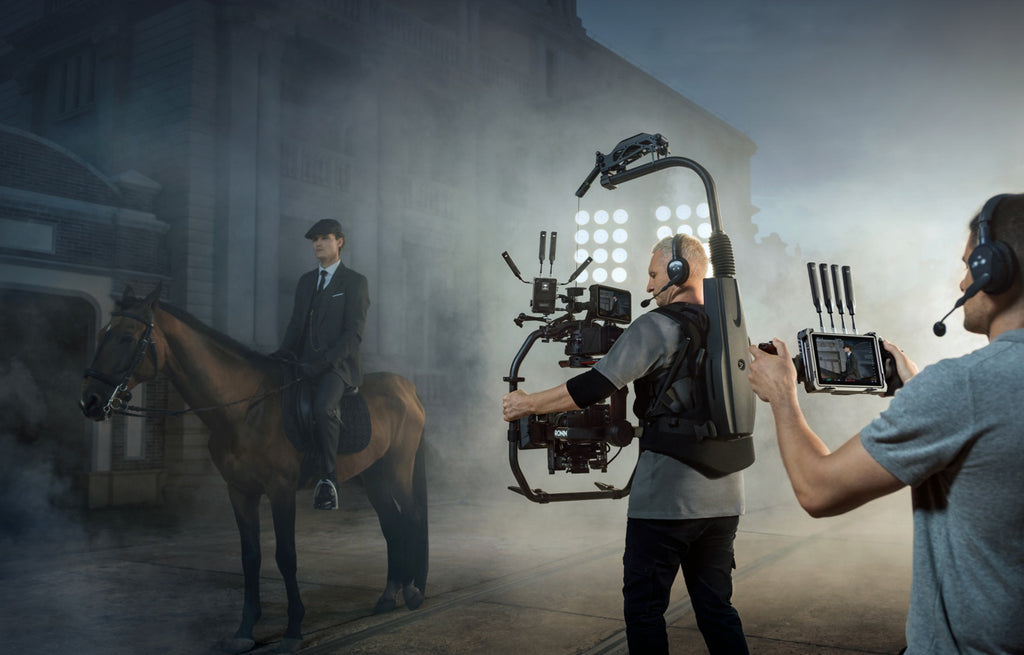 In addition, Dji RS 3 is equipped with a 1.8-inch OLED touch color screen, most of which are accessible at one touch. The new Gimbal mode switch can switch three Gimbal modes with one key, bringing flexible control of one-key parameter adjustment.
RS 3 supports Ronin image transmission. With the help of mobile devices such as mobile phones, photographers can receive 1080p/30 FPS high-definition image transmission signals within 200 meters, with latency as low as 60 milliseconds. The new battery handle of RS 3 can also bring 12 hours of strong endurance experience, support 18 watts of PD fast charging, meet the needs of users to charge independently and use while charging, so that shooting is less hindered.