On May 30th, the Hohem MT2 camera stabilizer was officially released. The MT2 standard version is newly launched at RMB 1,999, while the MT2 kit version with AI module is newly launched at RMB 2,299.
The Hohem MT2 is compatible with mirrorless cameras, smartphones, compact cameras, action cameras, even full-frame professional cameras and some lenses, with an upgraded load capacity of up to 1.2kg and a body weight of only 653g. Equipped with a magnetic AI tracking system, it can independently recognize and track objects in both horizontal (360°) and vertical (290°) directions.
The Hand-held stabilizer adopts the Multi 4.0 quick release system, allowing the camera with an L-shaped quick release bracket to be rotated 90° and pushed into the mounting slot; the quick release plate adopts the ARCA standard, with stronger universality. The multi-functional phone quick release plate has multiple expansion ports for additional accessories such as fill lights and microphones.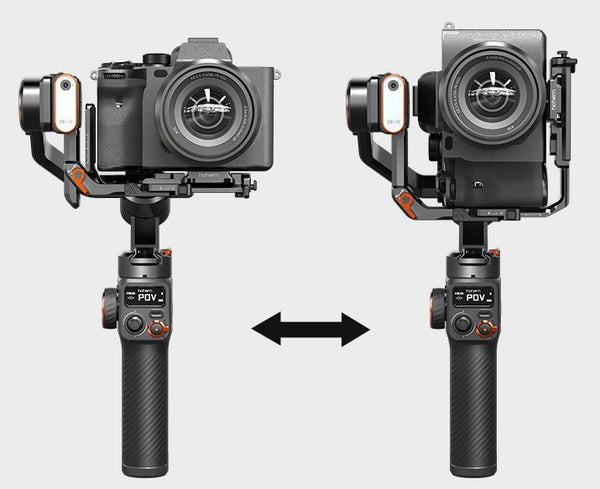 The Hohem MT2 supports shutter shooting control within the camera's permissions and can directly control the camera through a wired connection or Bluetooth pairing. It adopts the seventh-generation HOHEM anti-shake system, with a 30% increase in computing power. It not only supports commonly used PF follow, PTF follow, L full lock, all-area POV and motion modes, but also expands to 360° endless dream space, Hitchcock and other master-level camera movements. With balanced adjustment, it can last up to 17 hours of continuous use.
Specifications:
> Weight: 653g (excluding tripod)
> Main materials: aviation-grade aluminum alloy and high-performance composite materials
> Maximum load: 1200g
> Clamp stretching range: 60mm~97mm
> Battery capacity: 2600mAh/7.4V
> Working time: 17 hours (tested under balanced conditions, and without Al tracking and fill light turned on. If Al tracking and fill light are turned on with maximum output, the dynamic endurance of the stabilizer is 6-8 hours)
> Charging time: 3 hours
> Mechanical performance: horizontal: 360° unlimited; roll: 200° pitch: 290°
> Stabilizer operating temperature range: -1045℃