On June 28, Insta360 launched a new VR camera ONE RS, which is not only supported by Leica, but also equipped with dual 1-inch sensors, one step ahead of Mi 12 S, and the price is only
$799.99
.The panoramic version is equipped with dual front and rear 1-inch sensors, supporting 6K panoramic video and 21 megapixel panoramic photos.More panoramic camera details
here
.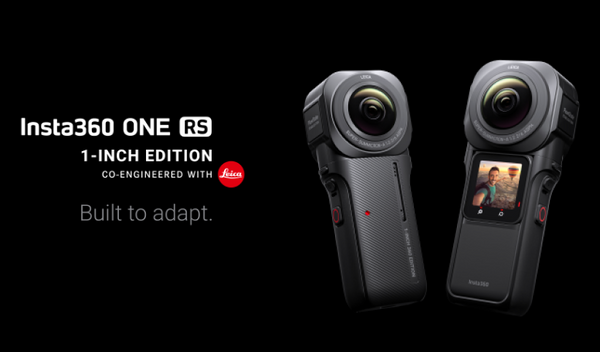 Compared with the previous Insta 360 VR camera,
Insta360 ONE RS
is equipped with two 1-inch CMOS image sensors and two Leica certified 6.52 mm F2.2 lenses, with a sensitivity range of ISO 100-3200. It supports up to 1/8000s electronic shutter, can take up to 21 million pixels (6528 * 3264) 360 ° photos, and supports two different formats of insp and RAW (PNG). It can shoot VR videos of 5888x2944 @ 30fps, 6144x3072 @ 25/24fps, 3840x1920 @ 30/25/24fps and 3040x1520 @ 50fps in insv format, with a maximum bit rate of 120Mbps. The color presets provide three modes of standard, bright and LOG. The battery life of 6 K30P is 62 minutes, and it can be charged by USB Type-C. In addition, it also supports a series of functions such as FlowState anti-shake technology, PureShot HDR, 360 ° horizontal correction and invisible selfie stick.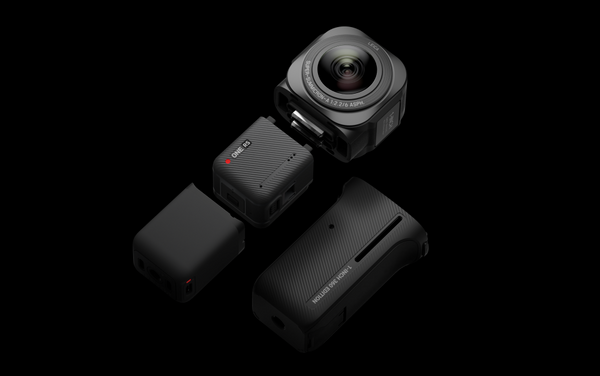 In the body design, ONE RS adopts a modular design. The camera is an independent module, which needs to combine the ONE RS host and the one-inch panoramic vertical shooting battery (1350 mAh) through the one-inch panoramic module fixed frame. The size of the whole machine is 53.2 X 49.5 X 129.3 mm under working conditions. It weighs 239 G, is IPX3-class waterproof, uses a microSD card to store data, and has a flash transmission companion. The full-featured package is priced at 4998 yuan, with extended warranty service and accidental damage insurance.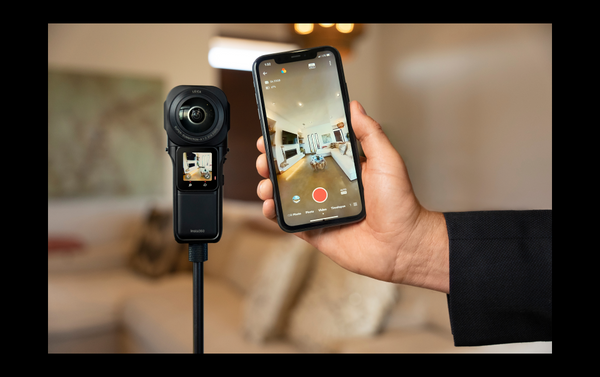 Main specifications:
Dual 1 inch sensor
> Lens aperture: F2.2
> 35mm Equivalent focal length: 6.52mm
> Photo resolution: 6528x3264 (2:1)
> Video resolution: 5888x2944 @ 30fps, 6144x3072 @ 25/24 FPS, 3840x1920 @ 30/25/24 FPS, 3040x1520 @ 50 FPS
> Photo mode: normal photography, HDR photography, interval photography, star mode, Burst nine continuous shooting, PureShot pure photography
> Video mode: normal video recording, time-lapse photography, moving time-lapse, loop video recording
> Color presets: Standard, Vivid, LOG
> Weight: 239g
> Size: 53.2 X 49.5 X 129.3mm
> Battery life: 62 minutes (* measured in lab environment, recording 6K @ 30fps)
> Maximum video bit rate: 120Mbps
> Gyroscope: Six-axis Gyroscope
> Live mode: 360 ° live broadcast, free choice of perspective live broadcast
> Bluetooth: BLE5.0
> Wi-Fi: 5GHz, 802.11a/B/G/n/AC (standard communication range about 20m, maximum transmission rate 20MB/s)
> USB: Type-C
> Memory card: Micro SD
> Battery capacity: 1350mAh
ISO range
> Photo: 100-3200
> Video: 100-3200
Shutter speed
> Photo: 1/8000-120s
> Recording: 1/8000-frame rate limited shutter