On August 2, Insta360, a world-renowned intelligent image brand, released AI Webcam Link, which is an AI gimbal webcam featuring 4K high-definition picture quality and rich AI functions to meet the growing demand for video conferencing and live broadcasting.
As the first image brand in the global panoramic camera market and the head of the action camera market, Insta360's move marks its first foray into video conferencing scenarios. With the continuous accumulation of image technology, AI algorithm and other advantages, Insta360 will innovate the online video experience on PC side.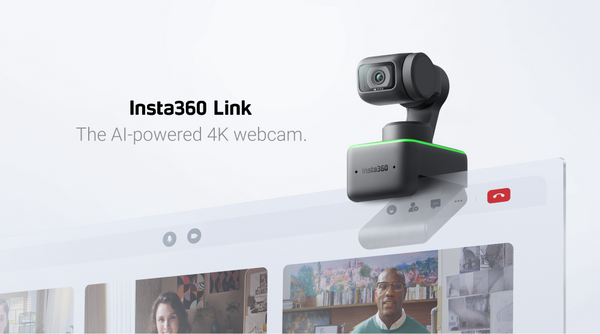 Ultra clear picture quality, remote like "face to face"
Link is equipped with an industry-leading 1/2-inch sensor, which supports 4K 30 FPS video streaming, with clear and delicate picture quality and immersive video interaction. Link also has a stronger expression of dark light, even in low-light or complex light scenes, it can also present a clear picture.
In bright or backlit environments, Link can turn on HDR mode with higher dynamic range to retain more highlights or dark details. Users can make personalized adjustments such as parameter setting and picture preview for video effect through special client software Link Controller.
Clear focus is the key to efficient video conferencing. Through the autofocus function, regardless of the distance of the subject, Link can also automatically focus to ensure that the subject is clear, while automatically adjusting the exposure to make the picture color more accurate.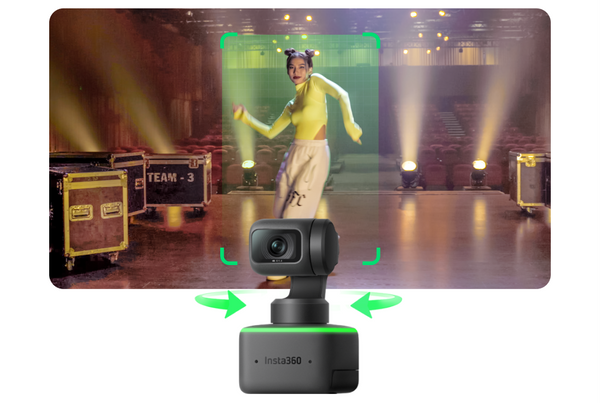 With AI intelligent support, the camera is more agile.
Link's product strength comes from both hardware advantages and software algorithm support. Insta360 has been working in the field of AI image processing technology for many years, and Link will make long-term research into products, so that more users can enjoy the convenience of AI functions.
Through powerful AI algorithm and flexible three-axis gimbal design, Link can carry out AI tracking, its lens moves with the subject, supplemented by automatic composition technology, users can ensure that the subject is always in the center of the screen without interrupting the manual operation of the meeting. At the same time, users can also use three simple gestures to achieve character tracking, whiteboard mode switch and up to four times the picture zoom.
Link can open the desktop mode, without additional accessories, link can turn the lens downward to shoot the desktop, and with the image algorithm, automatically carry out trapezoidal correction on the overhead picture, clearly showing the details on the desktop. During the video conference, users can easily switch between displaying front and overhead files.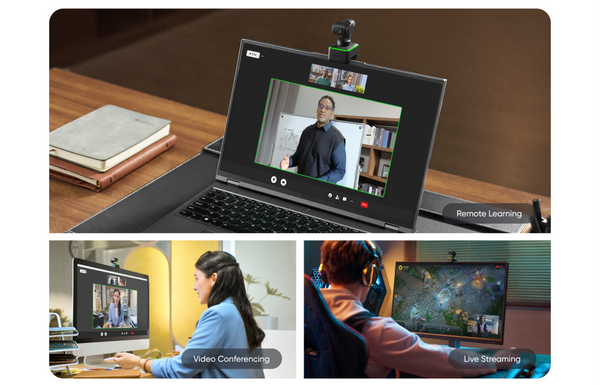 Three-axis gimbal design, unlimited scene
With the increasing frequency of video conferencing and the increasing demand for video scenes, Link integrates many innovative modes, such as whiteboard enhancement, lossless vertical screen, automatic overhead shooting, and comprehensively broadens the scene boundaries of webcams.
Online courses and conference presentations, often involving whiteboard presentations. Link's whiteboard enhancement corrects the whiteboard in the picture to a standard rectangle, and optimizes and enlarges the picture to convey information more accurately.
Thanks to the three-axis gimbal design, Link can not only shoot 16:9 pictures, but also rotate the gimbal to shoot 9:16 vertical video streams without cropping. Compared with the traditional way of cutting picture quality to output vertical screen video, Link's vertical screen mode can bring friendly viewing experience to mobile audiences without sacrificing picture quality.
For professional live scenes such as writing, drawing and handicraft, users can open the overhead shooting mode. Link's unique head configuration allows the lens to automatically shoot vertically without manual leveling. You can easily complete the picture from top to bottom just by matching the overhead shooting accessories.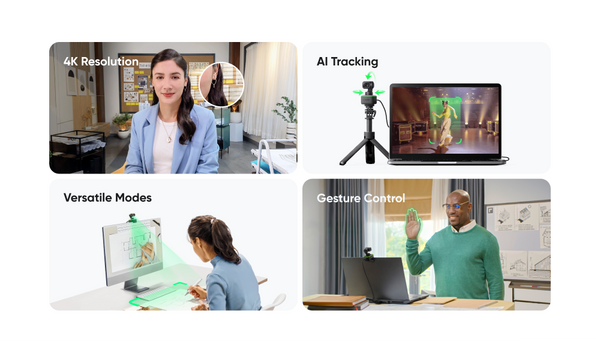 Link's design is also fully adapted to many life scenarios. With built-in dual microphone noise reduction, automatic gain, voice enhancement and other technologies, Link can maintain high-quality audio transmission in noisy environments. At the same time, Link's automatic lens is downward in standby state, which fully guarantees user privacy.
At present, more and more enterprises, schools and government agencies choose to work or study remotely, and video conferencing with high flexibility will become the standard. Insta360's launch of Link into the field of video conferencing is also a full response to user needs and market trends. It is reported that since its establishment seven years ago, Insta360 has continued to work hard in AI imaging and other technical fields, and will use product technology to create more work and life convenience in the future to meet the needs of more people to share and connect images in real time.