On August 15, 2022, Saramonic released a brand new microphone product, Blink500 ProX 2.4GHz mini dual-channel wireless microphone system. As a well-known audio equipment manufacturer at home and abroad, this latest wireless microphone design is unique and has many bright spots. It has the characteristics of thin and compact appearance, strong adaptability to extreme environment, low latency anti-interference, long endurance, strong adaptability and so on. It is one of the most representative products of Maple Flute Saramonic this year. It has the characteristics of thin and compact appearance, low latency anti-interference and strong adaptability.
Blink500 ProX has an amazing adaptability, which can be used normally in the environment of 0-50 ℃, regardless of the severe cold and heat, it can be faced calmly. This microphone also uses the current mainstream dual-channel design, can freely switch between mono and stereo modes, whether it is interviews, short video recording, Vlog shooting, two live broadcasts can be easily controlled, effectively avoid the tedious operation of microphone transmission, to meet the recording needs of more different scenes; The Blink500 ProX has a built-in high-quality omnidirectional microphone, which can provide users with 20Hz-20KHz full-band audio sampling and 48 KHz sampling rate, bringing more full and high-resolution lossless sound quality, so that users can easily record excellent broadcast-quality sound quality anytime and anywhere.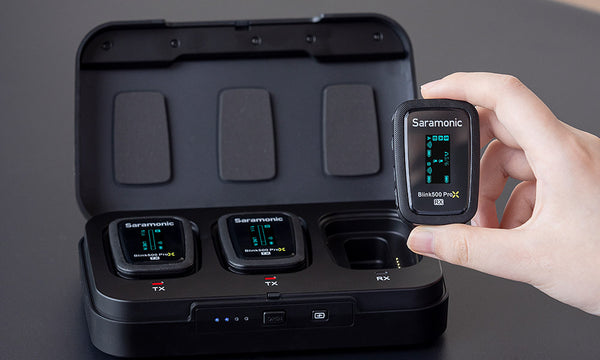 Blink500 ProX adopts 2.4GHz ISM adaptive wireless frequency hopping communication transmission scheme, which can automatically hop channels to avoid static noise or audio distortion in case of interference, thus greatly reducing the interference caused by surrounding wireless signals. The ultra-low latency transmission of only 8 milliseconds truly realizes the synchronization of sound and picture. Barrier-free transmission distance up to 100 meters, whether indoor or outdoor environment can be easily controlled, such as live events, outdoor follow-up are no problem, to provide users with more professional and more clear and stable radio quality.
Blink500 ProX has a very good battery life, built-in use of a large capacity 3.7 V/400mAh lithium battery, only a single charge can have 10 hours of ultra-long battery life, even if the power bank can be used to charge through the Type-C interface of the body when shooting. Blink500ProX storage charging box design is very user-friendly, just open the charging box will automatically start, cover will automatically shut down, but also for the transmitter and receiver to provide two cycles of charging, if the transmitter and receiver are fully charged when used together, it can extend the duration to 30 hours, for users to reserve full power. Completely said goodbye to the trouble of electricity panic.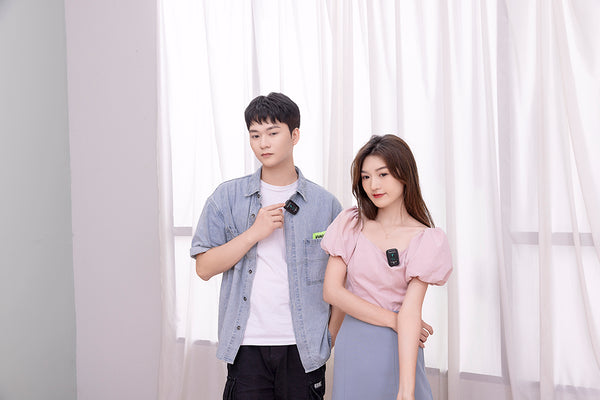 The Blink500 ProX is designed to be light and portable, with a size of 56 * 38 * 15.5mm, a TX transmitter weight of about 29.5g, and a RX receiver weight of about 30.5g. It can be easily and firmly clipped to clothes to reduce the sense of weight. The screen adopts OLED design with clear interface, which can intuitively see the audio information and power status, so that the data can be seen at a glance. In addition, there is a gain adjustment function of 0-6 levels, which can be adjusted freely according to different scene requirements to help users record more sound details. The receiver is equipped with a 3.5mm headphone Jack, which can support real-time monitoring, effectively ensure the accuracy of audio, and reduce the work of later modification.
In addition, Blink500 ProX wireless microphone series can be compatible with smartphones, tablets, computers, cameras, video cameras, recording pens and other recording devices, providing users with more options. And does not need to install any plug-in, also does not need the Bluetooth connection, also does not need to carry on the pairing operation after the boot, only needs to access the equipment to be able to use directly, effectively enhances the work efficiency, lets the user's creation one step faster, does not have to worry about missing any wonderful sound moment, is very intimate and convenient.