Recently,Saramonic Blink900 2.4GHz Wireless Microphone was awarded the IAI Global Design Award-Best Design Award for Industrial Product Design by the Asia Pacific Designers Alliance (APDE). This award is one of the most influential and prestigious design awards in the Asia-Pacific region and even in the world, which is enough to reflect the core value and innovation ability of designers.It is one of the international design awards with high recognition and gold content in the world.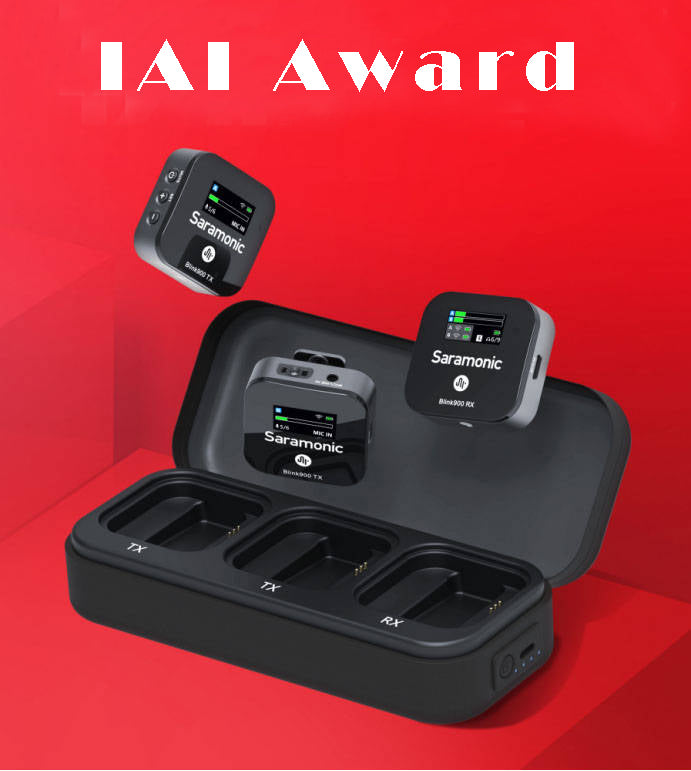 Saramonic Blink900 won the IAI Global Design Award (Intelligent Manufacturing Award)-IAI Industrial Product Design Best Design Award, representing the product's recognition by the
IAI
jury in terms of design innovation. Blink900 has a compact and exquisite appearance, rounded corners make the product look more rounded and comfortable, the screen is professional IML technology, which makes the product more wear-resistant and scratch-resistant, and the full-color LCD display screen is designed with light-sensitive IC.Take your experience to the next level with a color display that can be automatically adjusted for brightness, audio information, and remaining battery power.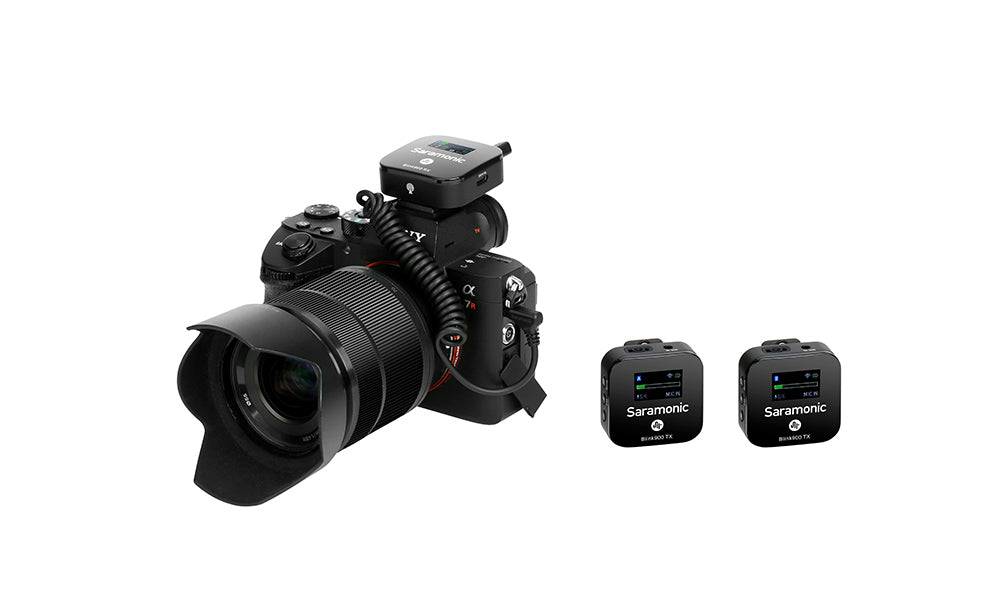 Blink900
uses the mainstream dual-channel system, with the global 2.4GHz wireless transmission technology, can provide users with 6 milliseconds of low latency, up to 200 meters of barrier-free wireless transmission distance, plus built-in adjustable 0-6 gain, can bring you a better use experience.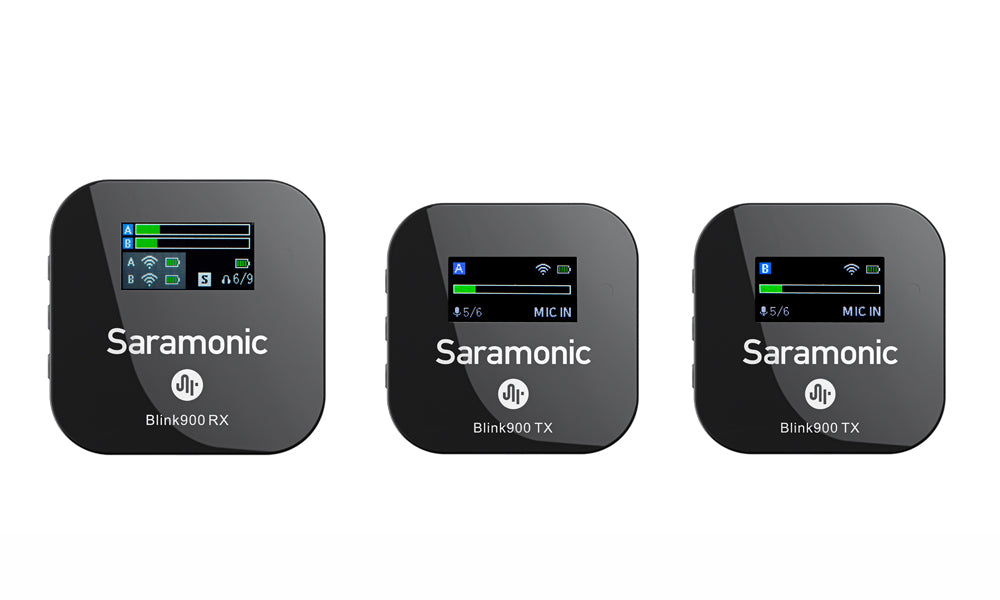 Battery life is also a highlight of Blink900, which can last up to 6 hours in a single use, and extend to 18 hours with three cycles of charging box. The built-in microphone and SR-DK3G lavalier microphone of the product are omnidirectional microphones with clear radio and convenient use, which can meet the use of Vlog, recording, live broadcasting, interviews, online classes and other scenarios.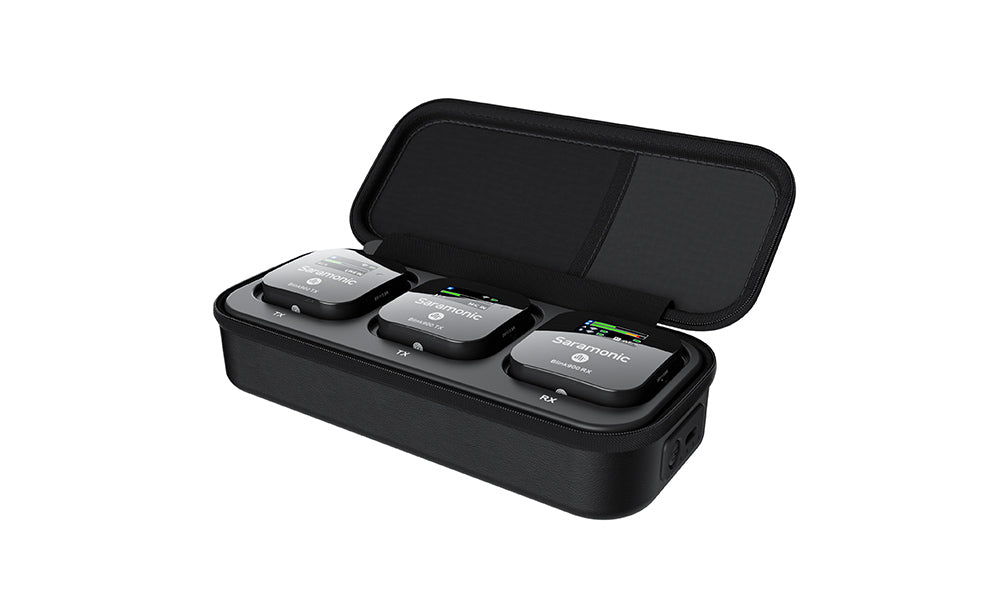 Blink900 can win the IAI Intelligent Manufacturing Award, which is the embodiment of long-term technology accumulation and design innovation. On the road of Fengdi's continuous enhancement of user experience and innovation, it is believed that Blink900 series wireless microphones will enter millions of households, allowing users to use them anytime and anywhere, and allowing users to enjoy the fun of technology.
Specifications:-
Blink900 TX
> Pickup: Built-in 4mm microphone
> Polarity mode: omnidirectional
> Transmission mode: 2.4GHz digital frequency band
> Operating distance (accessible): up to 200 meters
> Frequency response: 20-20kHz
> Maximum sound pressure level: 100 dB SPL (1kHz @ 1m) dBu
> Signal-to-noise ratio: > 80dB
> Sampling rate: 48kHz
> Bit rate: 24 bit
> Distortion: ≤ 0.1%
> Audio input connector: 3.5mm TRS microphone/line input
> Power supply: Built-in 400 mAh battery
> Built-in battery life: 6 hours
> Antenna: PIFA antenna
> Weight: 33.6g
> Size: 43.5 × 43.5 × 16.4mm
Blink900 RX
> Transmission mode: 2.4GHz digital frequency band
> Operating distance (accessible): up to 200 meters
> Frequency response: 20-20kHz
> Maximum sound pressure level: 100 dB SPL (1kHz @ 1m) dBu
> Signal-to-Noise Ratio:     >80dB
> Sampling rate: 48kHz
> Bit rate: 24 bit
> Distortion: ≤ 0.1%
> Audio output connector: 3.5mm headphone Jack
                      3.5mm TRS line output hole
> Power supply: Built-in 450mAh battery
> Built-in battery life: 6 hours (in one-drag-two mode)
> Antenna: PIFA antenna
> Weight: 35.3g
> Size: 46 × 46 × 16.4mm