On May 15th, 2023, Saramonic officially released its new product, the BlinkMe dual-channel wireless touch screen microphone system. With its unique design concept, this new product breaks the inherent trend of traditional microphone products, bringing a new experience to the microphone industry.
While maintaining its excellent high-definition broadcast-level sound quality, Saramonic BlinkMe offers a variety of practical functions, including full touch screen operation, custom theme design, 24-bit onboard recording, long battery life, secure audio tracks, and dual-device recording. It is an ideal choice for audio-related industries such as live streaming, video creation, and news gathering.
Full touch screen, touching the future
Both the transmitter and receiver of Saramonic BlinkMe are equipped with high-resolution full-color displays. The high-sensitivity touch screen enables users to operate various microphone functions through touch screen, including mode settings, internal recording, mute settings, etc. The slide operation of its brightness adjustment and gain adjustment functions makes the operation more convenient and simple, and the appearance is more comfortable. Its unique custom design function allows users to customize themes, wallpapers, and other content for the two transmitters according to their own habits and preferences through the APP, further enhancing the unique personalized experience.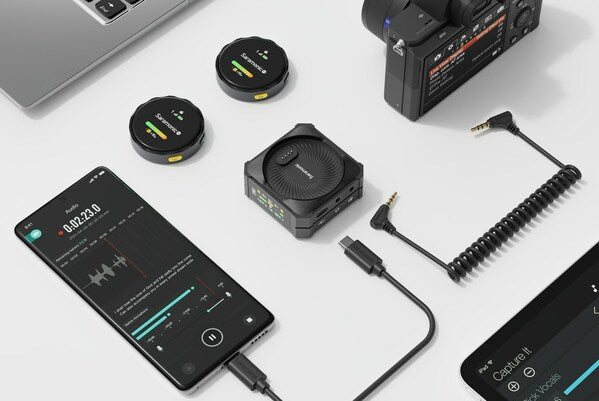 Combining appearance and practicality
In terms of sound quality, Saramonic BlinkMe inherits the professional audio tuning technology of Maple flute, with very excellent sound dynamics. The optimized 2.4GHz wireless transmission technology also ensures stable signal transmission, even in complex signal environments, it can still ensure stable and excellent recording effects.
Saramonic BlinkMe uses a self-developed 6mm omnidirectional microphone head, 48KHz sampling rate, and a signal-to-noise ratio greater than 80dB, even surpassing the CD-level sound quality effect, with long-lasting and outstanding sound. Considering more recording needs, BlinkMe provides up to 15 hours of 24-bit onboard recording and -6dB safety audio tracks, which not only ensures high-quality audio recording effects but also avoids problems such as audio data loss, distortion, and explosion sound, ensuring the security of audio data.
The appearance design of Saramonic BlinkMe has been comprehensively upgraded from the overall shape, material selection, and detail configuration. Multiple details such as the circular body and irregular cutting edges, personalized custom theme design, and high-transparency anti-drop glass make it more in line with the current trend of fashion and personalization. The industry-first integrated design, where the receiver is also the charging case, and the transmitter is connected to the receiver through charging contacts and magnetic suction, makes the product more portable while avoiding the loss of individual products. It also adopts an automatic on/off design for convenient use.
Many design details demonstrate Saramonic BlinkMe's breakthrough in inherent design language and unconventional design concepts, endowing the microphone with higher aesthetic and practical attributes, providing users with better choices and more abundant functions, and allowing more people to enjoy the dual enjoyment of visual and auditory experience.
"Me" changes for users
In terms of battery life, which is a concern for most users, the single transmitter of Saramonic BlinkMe can record continuously for up to 8 hours without internal recording, and the receiver can last up to 24 hours on a full charge. It can also provide a full day's recording with one cycle of charging for the single transmitter.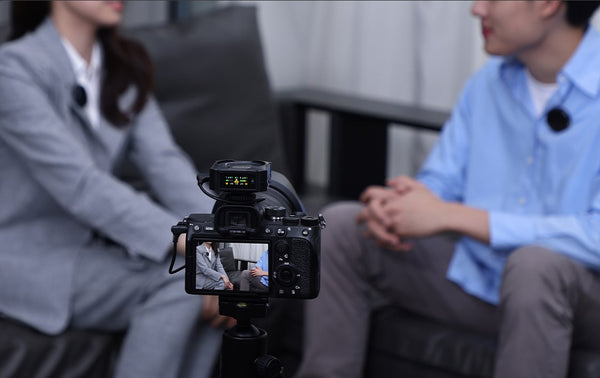 For the multiple usage needs of small teams, compared with other microphones on the market that can only connect to a single device, Saramonic BlinkMe creatively adopts a dual output port design, which can simultaneously output digital and analog signals for dual-device recording, suitable for more usage scenarios.
Regarding the wearing of the transmitter, in addition to the traditional back clip wearing method, Saramonic BlinkMe also provides a variety of magnetic accessories. The transmitter and receiver, various magnetic disks, back clips, etc. can be magnetically attached, allowing for easy recording even when wearing clothes that are not suitable for clipping, making wearing more convenient and simple.
As the culmination of Saramonic's core professional audio technology, BlinkMe creates a new visual and auditory experience with its industry-first full touch screen design and various innovative usage functions. Turning the microphone from purely auditory to a dual enjoyment of visual and auditory experience is a refreshing update to the audio-visual function. It is not only a better choice for audio recording but also a pioneer in the industry's development.