Film-makers have a reason to rejoice now because Zhiyun has come up with yet another game changing product. Introducing WEEBILL-3S, the handheld gimbal that is designed for mirrorless cameras and DSLRs. Known to produce amazing cinematic results, this filmmaking equipment is one of the best professional devices that is designed for professionals.
The Need for Handheld Gimbals in Filmmaking:
Gimbals are a must for professionals' photographers and videographers. These handheld gimbals are important tools for filmmakers as they offer smooth and stable shots, excellent cinematic movement options, great versatility, creative possibility and ease of use. Loaded with such excellent features, the handheld gimbals helps to enhance the overall quality and impact of the footage. This is one of the reasons why filmmakers prefer using the handheld gimbals.
WEEBILL-3S – Designed for Filmmakers and Loaded with Exceptional Features:
Often referred to as a powerhouse performer, the device is well-known for offering unparalleled compatibility. Professionals can be assured because this device is compatible with most DSLR and mirrorless cameras and also mainstream lens.
Let's explore some of the best features of the gimbal that makes it stand-out and one of the most sought after equipment.
User-Friendly Options:
The innovative Sling Grip Mode 2.5 takes user-friendliness to the next level as it helps in reducing any kind of hand strain. Professionals often face problems and ache in their hand because they have to hold heavy cameras or recording equipment for hours during shoot. This problem has been solved by the gimbal.
The equipment is designed in a way so that it can reduce the pressure across the arm and cause no strain to the user. This is an energy saving feature ensures maximum comfort during long shoots. The user doesn't have to worry about shaking hands or hand-ache during long shoots. There is also an extendable sling grip that can be easily adjusted to transform into a two-handed grip mode.
Unique Design that is Unmatched:
The makers have ensured that the equipment has the most innovative design. The grip allows for effortless left and right tilt adjustments to the gimbal handle's direction. This means you can effortlessly capture stunning low-angle shots and embrace the freedom of sling mode shooting.
Buyers are also happy because they do not have to tackle cumbersome camera controls. The Weebill 3S supports Bluetooth shutter control with major camera models. Thus, the user has the option to begin or stop recording or trigger photo-taking functions directly from the gimbal, providing a seamless and intuitive shooting experience.
Shooting modes:
Who doesn't want to capture cinematic shots or extraordinary footage? Gimbals help filmmakers with creative freedom so that they can explore different shots and a variety of perspectives. They allow for low-angle shots, high-angle shots, sweeping motions, and other creative camera movements. For the convenience and increased functionality, there are 6 shooting modes available. These modes include portrait mode, Go Mode, Cortex, Hyperlapse, Timelapse and the panorama mode.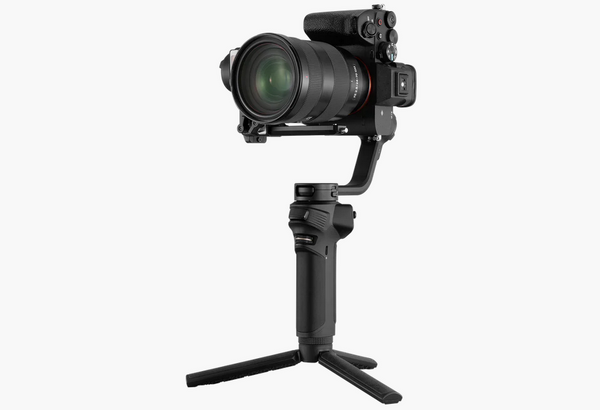 Why WEEBILL 3S is the Ideal Product for Filmmakers:
Filmmakers are already all praises for Weebill 3S because of its excellent features and its immense usefulness in filmmaking process.
Amazing Creative Possibilities That is not possible with Other Devices:
With the use of this gimbal, it is an opportunity to unleash the creativity of the professional. Its unique sling helps professionals in several ways to capture some great shots. It can be easily adjusted to transform into a two-handed grip mode, offering enhanced stability and control. Thus, it is possible to capture some of the best shots with ease and comfort.
Performance and Innovation Combined:
The Weebill 3S is the best combination of performance and innovation when it is about handheld gimbals. The device is best known for its amazing stabilization technology that helps in ensuring smooth and professional-looking footage. It helps to eliminate unwanted camera shakes that results in blurry images and footages which means poor quality recording.
The product is available in an ergonomic design and intuitive controls which makes it simple to use. Professionals can concentrate fully on the shots so that the best shot gets captured, while everything else is taken care of by the gimbal.
Easy To Use and Set-Up:
Setting up the Gimbal is easy and using it is uncomplicated and simple. Buyers do not need excessive training nor do they have to learn complex mechanisms to learn the operation.
That is not all, the gimbal can be charged via a Power Bank. Thus, even if a source of electricity is not available nearby, the user can still charge the device with the help of a Power Bank.