ZHIYUN has launched its flagship professional camera gimbal CRANE4 and the MOLUS G200 film light with overclocking power. The new products are designed to be lightweight and versatile, with rich shooting functions and easy-to-use features that allow individuals and teams to efficiently produce cinematic-level content.
CRANE 4 GIMBAL features ZHIYUN's innovative teapot design, which deviates from the traditional grip structure.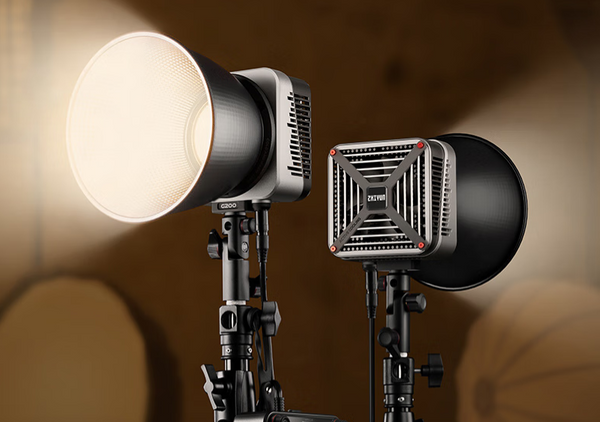 It is worth noting that ZHIYUN's "CRANE" series has always been aimed at the professional large-scale SLR camera market, with the model name implying stability and steady shooting. With the new CRANE4, ZHIYUN has incorporated lightweight design into its flagship gimbal. The teapot design includes a retractable handle and a wrist rest that provides convenient grip for low-angle shooting while effectively reducing long-term shooting fatigue. Comfortable interaction has become the core design element leading the development of lightweight professional gimbals. Additionally, CRANE 4 has added native vertical shooting function, Bluetooth control shutter, and other flagship features. With so many technical features, CRANE4 is a powerful flagship gimbal that can handle all aspects of video creation.
MOLUS G200 is ZHIYUN's new "lightweight, high power" professional film light.
The light uses ZHIYUN's original "round and square" ID design, with a separate light control system that integrates ZHIYUN's electronic back-pressure heat dissipation system. The light is small and lightweight, weighing only 1000g, while the controller weighs 910g. As a conventional 200W photography light, the peak illumination can reach an astonishing 61500Lux (1m ZHIYUN standard hood test data), and it can output a maximum power of 300W with a single key overclock, with an illumination of up to 85800Lux (1m ZHIYUN standard hood), covering all aspects of professional live broadcasting, interviews, program recording, TVC, and MV lighting needs.
In recent years, lightweight video shooting equipment has emerged frequently, and the traditional industry has transitioned from stable video images to finding solutions that can provide mobile shooting with light and shadow texture. ZHIYUN has proposed the concept of "mobile imaging," which combines the stable anti-shake performance of lightweight camera gimbals with the lightweight design of ZHIYUN's film lights to achieve cinematic-level output with strong light and shadow texture. This has become a standard shooting equipment for film studios. With CRANE4 and MOLUS G200, users can enjoy "outstanding lightweight, versatile professional" shooting experience in various scenarios, helping more commercial photographers and studios create their own cinematic masterpieces.
Build high-quality live broadcasting studios quickly with one-step film light layout.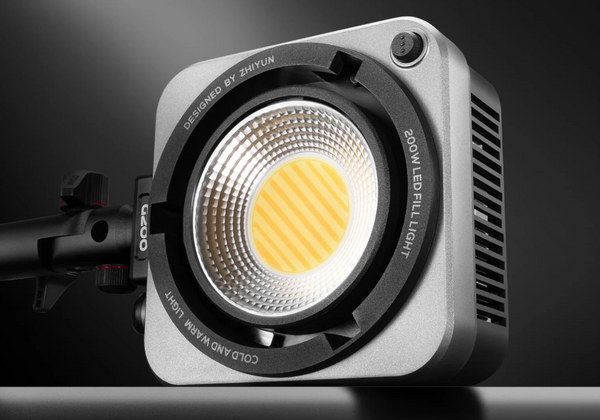 MOLUS G200 uses a standard Bowens mount that can be adapted to different sizes of ZHIYUN soft light accessories. Different specifications of soft light accessories can be selected for quick light and shadow effect layout in different product live broadcasting scenarios. When used in conjunction with the ZY Vega APP, multiple lights can be networked via Bluetooth Mesh to remotely adjust brightness and quickly switch preset parameters, improving the lighting efficiency of live broadcasting teams. In addition, to solve the site and staff limitations of live broadcasting teams, ZHIYUN MOLUS G200 adopts a more convenient dual-knob integrated control interaction. The brightness and color temperature knobs can precisely control the lighting and provide one-step access to overclocking mode, music mode, and commonly used preset parameters. The intuitive screen display makes it easy for novices to get started, and it provides a significant boost to the light and shadow texture of professional live broadcasting studios.
New products are launched continuously, and lightweight development has become ZHIYUN's new product label.
After the rapid deployment of ZHIYUN's professional film lights to the market, the company has recently launched professional camera gimbals. The frequent release of new products demonstrates ZHIYUN's comprehensive investment in research and development, gradually forming a dual-product market strategy focused on "lightweight, high power" lighting and "lightweight interaction, professional performance" gimbals. With their outstanding heat dissipation technology, lighting products have broken through the traditional form and technical limitations of lamps and have gradually been accepted and loved by photographers, and they are now widely used in live broadcasting, portrait photography, TVC creation, and other areas. The camera gimbal market continues to steadily improve. The gimbal's updated and upgraded teapot design and the perfect integration of various mainstream functions have continuously created an even more outstanding flagship gimbal experience.
"Think it, Do it" is the core brand philosophy that ZHIYUN has proposed in recent years. The company aims to help and meet the creative needs of photographers through continuous technological innovation, and is leading the innovation of the lighting market. At the same time, lightweight has become the trend of industry product iteration. Various industries strive to build innovative barriers through more sophisticated structures and core technologies. The industry has entered a new "competition period" of technology, and we believe that more innovative companies like ZHIYUN will join in the competition. The fiercely competitive photography market will also burst with new development opportunities.