DJI Smartphone Gimbal has a revolutionary upgrade from OM 3, folding storage makes it more convenient for users to take out. OM 4 upgrades the magnetic Smartphone clip, so that users do not need to install and remove the Smartphone frequently. OM 5 adds built-in extension rod design, reduces volume and weight by 30%, retains magnetic smartphone clip, and adds new shooting guidance function and other function upgrades.This time, the updated product is the gimbal of Osmo Mobile series, named DJI OM 5. Next, we will bring you the detailed review and use experience of DJI OM 5.
In terms of price, the price of DJI OM 5 is relatively expensive, and it is the most expensive smartphone gimbal product in Dji at present. There is a reason why it is expensive, and you will understand it after reading the review. This time, there is also a new accessory: the optical magnetic smartphone clip.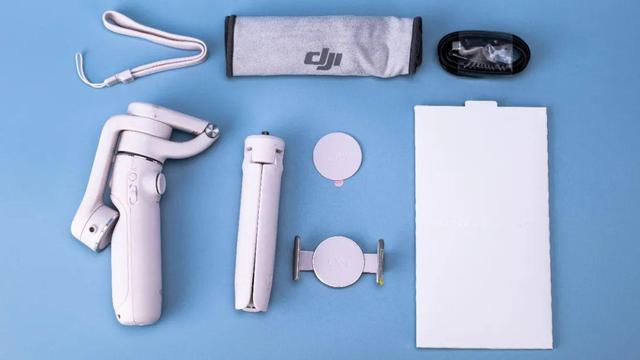 Main information of DJI OM 5:-
>Product weight: gimbal 290 G
>Magnetic clip: 34 G
>Product size:
        Unfold: 264.5 × 111.1 × 92.3 mm
        Folded: 174.7 × 74.6 × 37 mm
>Extension rod length: 215 mm
>Endurance: 6.4 hours (test reference value under the condition of balance adjustment)
>Adapt APP: DJI Mimo
>New accessory: Optical magnetic smartphone clip
List of DJI OM 5 Gimbal:-
>DJI OM 5 × 1
>Magnetic smartphone clip × 1
>Handheld tripod × 1
>Charging cable × 1
>Bundle pocket × 1
>Hand rope × 1
Let's see what DJI OM 5 has upgraded first?
Starting from the appearance, DJI OM 5 has two color schemes this time, while previous products have only one color scheme. This time, the two colors are Athenian Grey and Cloud Evening White, and we got the version of Cloud Evening White.
1.Volume reduction by 30%
DJI OM 5 adopts a new fuselage folding structure design, and the folding part of the bracket is replaced by metal material, which is more durable. Compared with OM 4, this folding position has also changed greatly, so its folding effect is better, which reduces a lot of volume and is more convenient for users to store and carry.
Compared with the previous generation of DJIO M 4, the overall volume of DJI OM 5 smartphone gimbal is reduced by one third and the weight is reduced by one quarter (DJI OM 5 gimabal weighs 290 G and DJI OM 4 gimbal weighs 390 G). When folded, the DJIOM 5 is palm-sized, so it saves more space and effort to carry it out. The tripod part is the same specification as the previous generation for stability.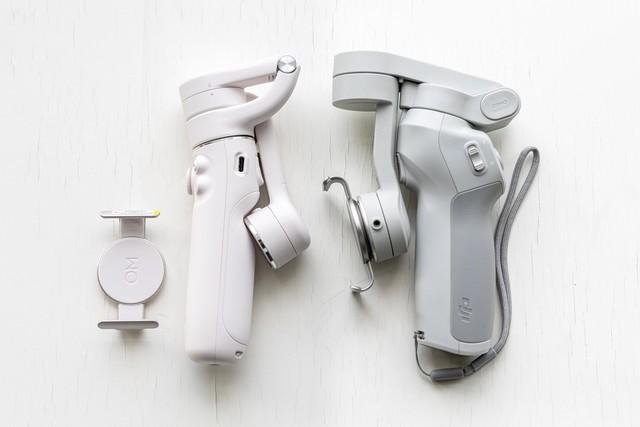 2.Magnetic quick-release smartphone clip
DJI OM 5 still uses a magnetic phone clip design, which is really convenient, and this time the phone clip is an upgraded product, which can be compatible with larger phones, such as Apple's iPhone 12 Pro Max Super Cup. What are the advantages of the magnetic smartphone clip? In daily shooting, if you need to use your smartphone, you can pull it out of the cradle directly.There is no need to install and remove the smartphone clip frequently.
In the test of DJI OM 4, we have demonstrated that the magnetic suction design is strong enough, even when using a super-large smartphone such as iPhone 12 Pro Max, shaking the gimbal of the smartphone will not cause the smartphone to fall.
3.Supplementary light magnetic smartphone clip
This time, in addition to the random magnetic smartphone clip, Dji also launched a small accessory to supplement the optical magnetic smartphone clip. It is used in the same way as the ordinary magnetic smartphone clip, but the difference is that the magnetic smartphone clip is powered by a built-in battery, and it is designed with a fill light and a USB-C interface for charging. There is a power button on the back of the smartphone clip.Control on, off and three levels of brightness adjustment.
The color temperature can also be changed by clicking the color temperature button on the side of the light-filling magnetic smartphone clip, which is also a three-level, warm, moderate and cold color temperature preset. For self-timer, live broadcast and other operations in a dim environment, this light-filling magnetic smartphone clip can be called an artifact. I think many tremolo players, Internet celebrities and live broadcast experts can consider this accessory.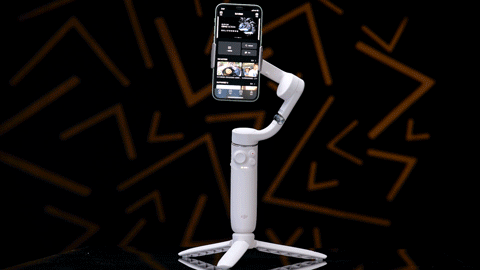 4.Built-in extension rod design
Then comes the key upgrade part, DJI OM 5 adds a built-in extension rod design. The damping of this extension rod is relatively tight, so even if it is connected to a relatively heavy smartphone for large-scale operation, there is no need to worry about the problem of the extension rod sliding down and recycling itself. In addition, the extension rod has a 90-degree angle that can be adjusted, so when we take a selfie or shoot,There is a wide range to choose from.
The role and advantages of the extension pole are obvious, which is the main reason why the Bluetooth extension pole of smartphone is particularly popular in the past few years, especially in various scenic spots, almost everyone has one. It is also worth affirming that even with this built-in extension rod design, DJIO M 5 is still a three-axis stabilization, which surpasses many similar products in the industry. In addition,DJIOM 5 uses an upgraded three-axis stability augmentation system, with a new generation of control algorithm, the gimbal can compensate in real time according to the current attitude, better control the picture shake, so as to ensure more stability when walking and moving the mirror, and at the same time, it has the same effect when using the extension rod.
DJI OM series has always had an excellent reputation for stability, and its three-axis stabilization capability and algorithm are very advanced, which is also well-known in the industry. We tested the stability of walking, running and taking selfies with the extension pole, and not surprisingly, the DJIO M 5 performed very well. Due to a new algorithm and a more optimized structural design,Therefore, such a stable performance is also expected.
5.Change of key layout
This time, there are some changes in the key layout of DJI OM 5, and DJI has adjusted the position of some of the most commonly used function keys. Compared with OM 4, DJI OM 5 changes the function button (also the power button) to the side of the fuselage, above the zoom lever. On the front of the fuselage, a button is added to switch the front and rear cameras (the original trigger button needs to be pressed three times), which makes it more convenient for users to use.And the usage of this function is very high. It can be seen that Dajiang understands users intimately and makes changes in order to improve user experience.
This time, the steering lever feels better, and there is a clear tilt angle when adjusting, which can better sense the direction. The size and shape of the zoom lever have also changed, but it still feels great to use. Due to the structural changes (the addition of extension rods) and the success of the "slimming" of DJI OM 5 itself, the battery capacity has also been compressed.Therefore, the product cancels the USB interface for smartphone power supply, and this adjustment is also reasonable.
6.Shooting guidance function
Shooting guidance function is also a new function added to DJI OM 5 this time, which is very friendly for novices. The opening part of the shooting guide is the icon similar to "movie board" in the upper left corner of the APP interface. After clicking to enter, users can select the shooting scene they need. Of course, OM 5 can also automatically identify the current scene and recommend the appropriate shooting guide.Shooting guidance is mainly to provide users with shooting ideas and skills, to teach in the form of example videos, and to watch teaching examples while shooting. Novices can watch instructional videos and shoot at the same time, so that they can quickly advance and learn more mirror skills.
7.Intelligent follow 4.0
Along with DJIOM 5 comes Intelligent Follow 4.0 technology. Intelligent following is a very important function in DJI smartphone gimbal. Users can select the subject you need to shoot through the box selection in the interface, and then the smartphone gimbal can automatically follow the shooting. Especially when shooting children and pets, the advantages of intelligent following will be more obvious. After upgrading to intelligent follow 4.0,The stability of following is better, the speed is faster, and the moving process is smoother, even if the subject is lost, when the subject returns to the picture again, it can be quickly recovered. In a word, it is better to use, and everyone can use it more confidently.
The gesture control part is the same as the previous product, and the gesture posture has not changed. This function is mainly aimed at users who travel alone to shoot. With this function, we don't need help from others when shooting videos and photos. If you can't remember the gesture, there will be a prompt in the DJI MIMO app, which you can check at any time.With gesture control is the intelligent following 4.0 system, so we can see that the effect of following is better and the improvement is obvious.
What are the other useful features of DJI OM 5?
Next, we will introduce some important functions inherited from DJIO M 5, which are excellent in experience and have a high probability of being used in our daily shooting.
1.Add a new template in Story mode
Story mode is an old face in the features of DJI mobile gimbal. With the continuous iteration of products, the templates of story mode are becoming more and more abundant. We can see that many new templates have been added to DJI OM 5. Story mode is actually a preset short film mode in Dji. Generally, there are several different mirror effects in a template, and users shoot different subjects according to the prompts.Then the APP will automatically synthesize a film with a soundtrack and a theme, so that you, as a novice, can become a video master. This mode is very friendly for novices, from which you can learn shooting skills and lens skills, as well as post-color and music skills.
2.Three time-lapse video functions
Time-lapse photography is also a favorite subject for users, and DJI OM 5 still offers motion time-lapse and time-lapse photography (static and trajectory). Motion delay is to shoot while walking, while riding in a car, and so on, to complete the shooting of a time-lapse film while moving. The video shot in this mode has a unique charm, and the author himself will apply this material to many commercial projects.
In the time-lapse photography function, DJIOM 5 still provides two modes of static and track, static shooting is fixed shooting time-lapse photography, which is very common. Shooting trajectory delay, DJIOM 5 built-in several trajectory paths for users to choose, shooting is automatically completed by DJIOM 5, users only need to choose according to their own needs, very relaxed and pleasant.If you need to shoot time-lapse photography, remember to match the tripod in the accessories.
3.Three panoramic mode functions
Panoramic shooting has always been a very popular shooting technique. DJI OM 5 has three preset panoramic shooting options, 3X3, 240 ° and split Panorama, among which split Panorama is a very popular shooting technique in recent years. I believe you must have seen in the social software, split Panorama is a photo of yourself and yourself in a panoramic photo. With the help of DJI OM 5, you will feel very simple to shoot.Because the precautions for shooting, the position when shooting and other information are prompted in the APP, you just need to follow them, and then you can have your own panoramic photos.
4.Dynamic zoom function
In commercial video shooting, there is a kind of mirror effect called "Hitchcock" which has been well received and has been used in major film and television works. Now with DJIOM 5, you can directly choose to shoot two different "Hitchcock" effects, automatically completed by the smartphone gimbal, you just need to follow the operation, and then harvest the film.The videos recorded by the dynamic zoom function will be widely praised on platforms such as Little Red Book and Tik Tok.
5.Better beauty effect
DJI MIMO APP matched with DJI OM 5 has the beauty effect that female users are most concerned about at present. This function can be opened directly in the main interface. After opening, you can choose one-click beauty, or you can choose common beauty functions such as thin face, dermabrasion and so on. The preset beauty effect of APP is excellent, and female users are shooting videos and taking photos.Or when doing short video recording and other operations, you can use this function extensively to make yourself more perfect.
It has to be said that the improvement of DJI OM 5 smartphone gimbal is very obvious, it is more comprehensive, more worry-free, and the use experience is better. DJI OM 5 is smaller, lighter and better in folding mode, which is very in line with the current user's carrying and use needs. Magnetic quick-release design meets the fast switching mode of shooting and using smartphones.
The newly added extension bar design is definitely the finishing touch, especially when taking selfies, which solves the user's pain point that the front-facing camera does not have a wide angle, so that when taking selfies, there is no longer just a big face. Of course, some scenery that we can't reach can also be recorded by using an extension pole. Moreover, when the extension rod is used, the three-axis stability augmentation of OM 5 is still strong.There is no difference in stability performance, which is not easy.
This time DJI OM 5 offers two exterior color schemes, both of which are very fashionable, so that users can choose a suitable color scheme according to their preferences. The newly added light-filling magnetic smartphone clip accessory should also be mentioned separately, which also solves the problem of insufficient light for users to shoot indoors or in dim environments.In the past, users needed their own lights, which was inconvenient and cumbersome to carry, but now it directly solves the pain points of users, which is very intimate.
Software part, this time the promotion is also obvious, the newly added shooting guide can help novice users get started quickly, not only provides the recommended explanation of shooting theme and sub-lens, but also introduces the skills of using lens, which is more suitable for novice learning and promotion. In addition, the known functions built into the product have been greatly improved.For example, the intelligent following 4.0 system can make the following recognition more perfect, and the experience is also improved.
Overall, DJI OM 5 is the most experiential, functional and portable smartphone gimbal I have ever used, even though its price is not cheap. It can adapt to a wide range of users, such as live users, short video shooting users, Vlog users, travel users, family users who take pictures of babies and pets, novice users who want to play mobile photography, and so on.With excellent features and experience performance, DJI OM 5 is definitely the best choice for everyone.