We believe that many outdoor sports enthusiasts have a need to record their lives, but traditional cameras are too bulky and inconvenient to carry. In response to market demand, many manufacturers have successively launched portable panoramic cameras, sports cameras, and even gimbal cameras. These cameras not only record daily life but also cater to the needs of special wearers and shooting scenes, such as cycling enthusiasts, car-mounted shooting, pet photography, skateboarding, parkour, and more. The Feiyu Pocket 2S received an enthusiastic response from the market after its launch, and now we will be reviewing the newly released Feiyu Pocket 3 Pocket Gimbal Camera.
This time we got our hands on the gimbal camera + remote control handle set, which covers a wide range of daily use scenarios. It comes with a 64GB high-speed TF flash memory card and a phone clamp. Opening the gimbal camera packaging, you will find the gimbal camera host inside, and the accessory box includes a protective cover, tripod, extension base, wrist strap, Type-C data cable, velvet bag, quick start guide, and official platform QR code card.
Opening the remote control handle package, you will find the handle host inside, and the accessory box includes a quick start guide, Type-C data cable, velvet bag, and hanging rope.
On the gimbal camera, there is a high-definition camera on top, a small screen and three buttons below, which are the power button, mode button, and shutter button. On the side, there is a Type-C power interface and a memory card slot.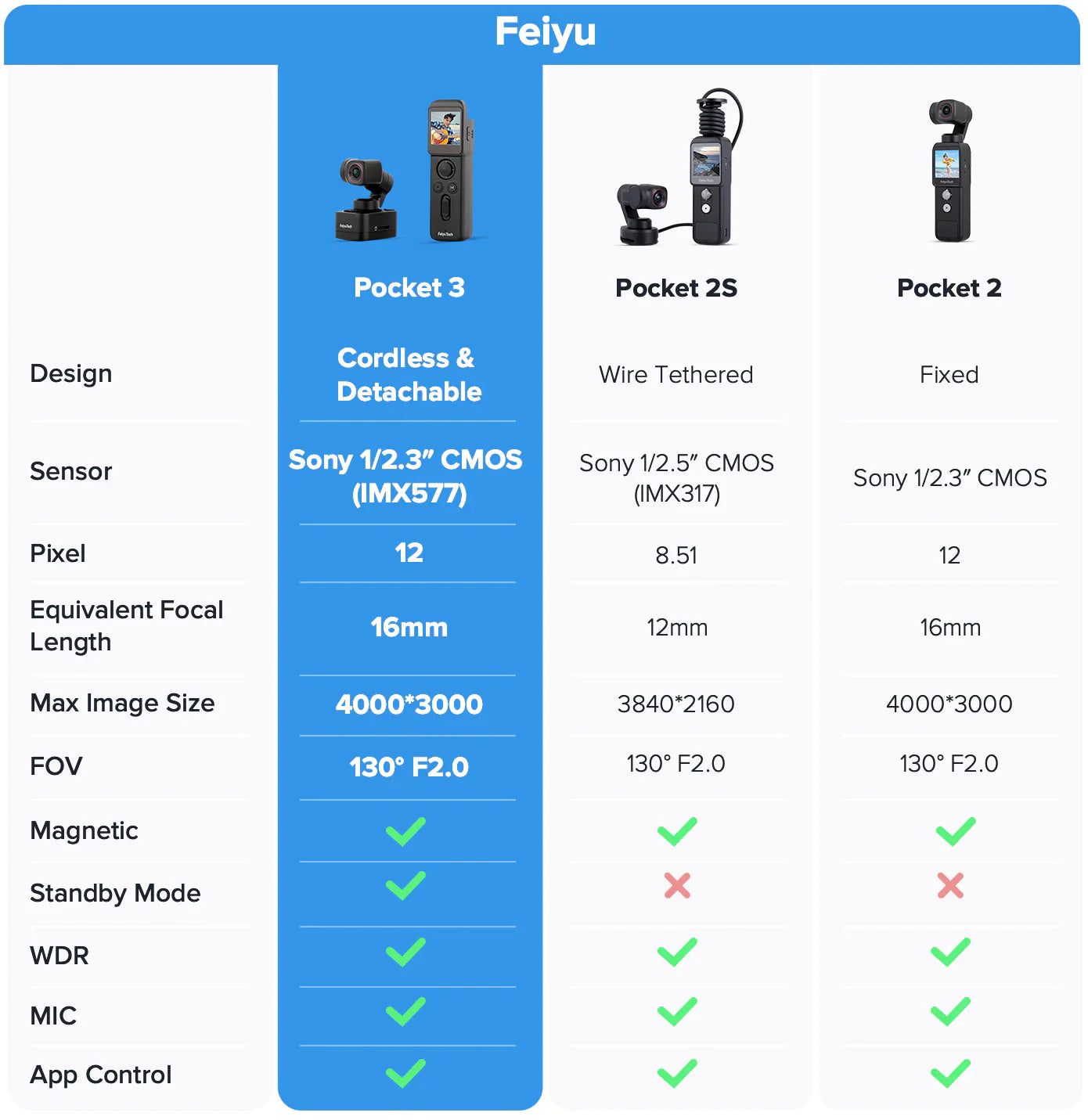 On the front of the remote control handle body, there is a touchable functional display screen, with direction control buttons, shutter button, mode button, and zoom button below. On the left side of the body is the Type-C power interface, and on the right side is the power button. The top of the handle has a Type-C interface protection cover that connects to the gimbal camera. The built-in 750mAh battery weighs only 73g.
The camera host weighs only 86g, with a 1200W high-definition pixel lens, a 130° ultra-wide-angle range, supports up to 4K 60fps video recording, and supports breakpoint continuation shooting. It also has AI intelligent tracking, with object tracking and face tracking options, and four tracking modes. The 64GB memory card can record about 2 hours of video, and it supports up to 512GB of memory expansion. The built-in 280mAh battery charges in about 90 minutes, and the full charge can last for 90 minutes. In addition, the remote control handle can be used to power the camera through the Type-C connection, extending the battery life.
This combination of the gimbal camera and remote control handle is a highly innovative product. When you open the camera and then open the handle, they will automatically connect, allowing you to hold the camera or remotely control the gimbal camera. The three-axis stabilization makes shooting more stable, and the gimbal camera can be directly magnetically installed on the bottom. It can also be installed and worn with other accessories to achieve more shooting scenarios.
The bottom of the camera has a magnetic function and can be directly magnetically attached to a metal surface. The multi-functional Android base can be adapted to the GoPro standard installation, which is compatible with most GoPro extension accessories. The base also has a reserved 1/4 screw hole that can be installed on an extension rod, tripod, and other shooting equipment.
When paired with the phone clamp, the phone can be connected to the camera through the app to display the camera's screen and operate it in real-time, making it very convenient.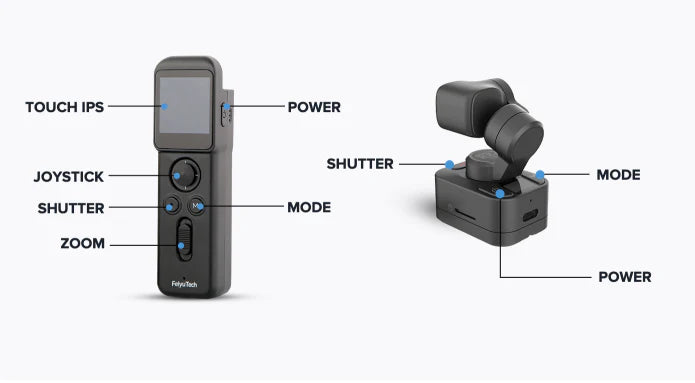 The benefits of a three-axis gimbal camera are self-evident. I previously used a camera three-axis stabilizer, which kept the camera from shaking during camera movement, achieving a smooth shooting effect. Similarly, the three-axis gimbal not only stabilizes the camera but also controls camera rotation, assisting in the buffering of various states during camera movement, to achieve a smooth video picture.
In addition to the photo and video modes, the shooting modes also include panoramic photos, track delay, motion delay, slow motion, and more. It cannot shoot panoramic videos, and the panoramic photos cannot achieve a spherical image, which is a bit of a shame. However, this is not a significant issue for me, and it can be ignored. Here is an actual panoramic photo taken:
The camera body itself is not waterproof and needs to be equipped with an additional waterproof case. There are many other expansion accessories that can provide more playability, such as extension rods, Android/Apple card readers, and more.
Overall, I believe that the Feiyu Pocket 3 is an incredibly innovative and high-quality product. It can be considered as a combination of portable panoramic cameras, regular sports cameras, and traditional gimbal cameras. With its powerful expansion capability, it can be used as a handheld gimbal or paired with a detachable handle for remote control. It can also be directly connected to a mobile phone through a clip and controlled through an app. This makes it extremely user-friendly for people who want to record their daily lives or capture special moments during outdoor activities such as traveling, cycling, driving, pets, skateboarding, parkour, and more. It is like having a modular and customizable camera that is perfect for any situation.