The Thronmax S1 Pro Professional Microphone Caster Boom Stand is a microphone stand designed to meet the needs of professionals in the audio recording and broadcasting industry. It boasts exceptional stability and flexibility, making it an ideal choice for content creators, podcasters, streamers, and musicians.
One of the standout characteristics of the Thronmax S1 Pro is its durable and sturdy construction. Crafted from high-quality steel, this microphone stand guarantees longevity and can withstand heavy usage without compromising its performance. The robust metal build ensures that the stand remains stable and secure, even when extended to its maximum height. This level of stability is particularly important in professional settings where maintaining consistent audio quality is crucial.
Another notable feature of the Thronmax S1 Pro is its adjustability. The boom arm of the stand can be easily adjusted to achieve the perfect microphone positioning. With a maximum extension length of 100 centimeters, it provides ample reach and flexibility to suit various recording preferences. The boom arm also offers a 360-degree rotation and a 270-degree vertical adjustment, allowing users to precisely position their microphones exactly where they need them. The adjustment mechanisms are smooth and reliable, ensuring that the microphone remains securely in place throughout recording sessions.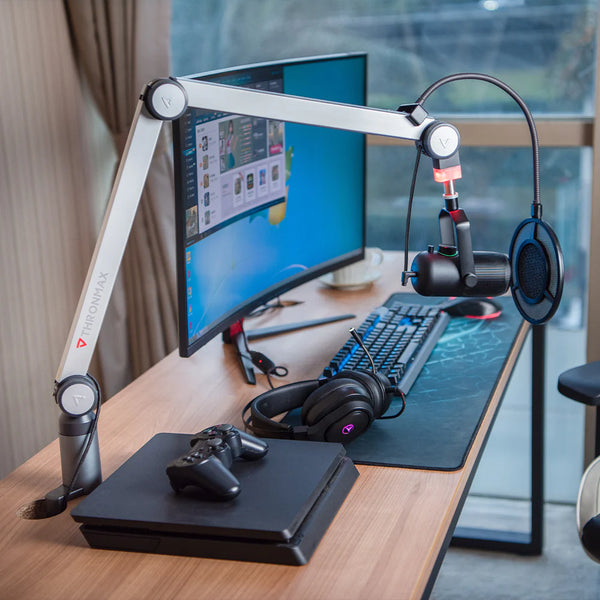 Furthermore, the Thronmax S1 Pro is highly versatile and compatible with a wide range of microphones. It features a standard 5/8-inch microphone thread mount that accommodates most professional microphones, including condenser, dynamic, and shotgun models. This versatility enables users to use their preferred microphone without any compatibility concerns, making the stand adaptable to different recording setups.
In terms of usability, the Thronmax S1 Pro excels. It is straightforward to assemble and adjust, and it comes with clear instructions and all the necessary tools for quick and easy setup. The intuitive adjustment mechanisms allow users to fine-tune the microphone position effortlessly, saving time and energy during recording sessions.
Specifications:
Cable management Length : 3meter 10 feet
Clamp thickness: 60mm (2.5 Inch)
Compatibility: shock mounts with standard specifications.
Rotation: offers full 360 degrees
Final Verdict
In summary, the Thronmax S1 Pro Professional Microphone Caster Boom Stand is a reliable and adaptable solution for professionals in need of a high-quality microphone stand. Its sturdy construction, adjustable boom arm, and compatibility with various microphone types make it an invaluable tool in the world of audio recording and broadcasting. With its stability and user-friendly design, the Thronmax S1 Pro is an excellent investment for content creators, podcasters, streamers, and musicians seeking a dependable and versatile microphone stand.