The Thronmax S4 Professional Microphone Phantom Boom Stand is specifically crafted for professional audio recording settings, making it a versatile and top-notch microphone stand. Its durable construction, customizable features, and ability to work with various microphone models make it an ideal choice for musicians, podcasters, voice-over artists, and content creators who require a dependable and adaptable boom stand.
Design and Build Quality
The Thronmax S4 showcases a professional and stylish design that radiates a sense of sophistication. Made from robust metal, the stand guarantees durability and stability throughout recording sessions. Its sleek black matte finish adds a touch of refinement to its overall appearance. The stand's adjustable height and angle mechanisms provide seamless customization options, catering to different microphone setups and individual preferences with ease.
Functionality and Adjustability
The remarkable features of the S4 lie in its functionality and adjustability. The boom arm can extend up to 90 cm (35.4 inches), offering generous reach for positioning the microphone at the desired distance and angle. Equipped with top-notch springs, the arm allows for seamless and precise adjustments, ensuring the microphone stays securely in place during recording sessions. The stand's integrated 3/8" and 5/8" screw adapters make it compatible with a wide range of standard microphones, providing users with the freedom to use their preferred microphone without any inconvenience.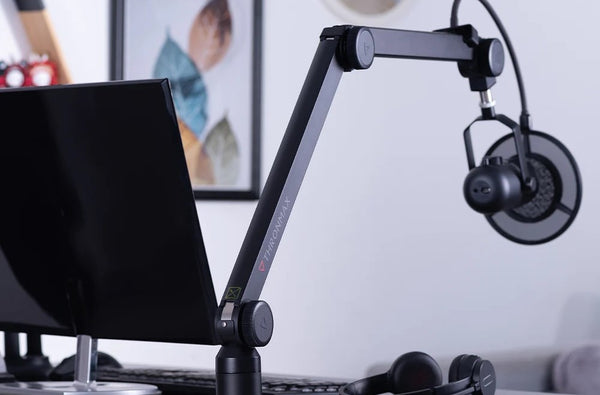 Stability and Durability
Ensuring a stable microphone stand is essential to avoid any undesirable vibrations or accidental disruptions that could compromise the quality of recordings. The Thronmax S4 excels in this regard, courtesy of its solid construction and strong base. Its triangular-shaped base provides exceptional stability, minimizing the risk of tipping over. However, when the boom arm is fully extended, there might be slight wobbling, although it does not have a significant impact on its overall performance.
Ease of Use
Setting up the Thronmax S4 is a breeze. The stand comes with an easy-to-follow instruction manual, allowing users to assemble and adjust it swiftly. The quick-release lever on the boom arm facilitates effortless height and angle adjustments, ensuring a smooth user experience. The cable management system integrated into the stand helps keep your recording space organized by neatly securing the microphone cable, reducing the chances of tangling.
Value for Money
The Thronmax S4 Professional Microphone Phantom Boom Stand offers exceptional value in relation to its price. Its robust construction, flexible adjustability, and compatibility with a wide range of microphones make it a trustworthy companion for both professional and aspiring audio enthusiasts. Although it may not be the most budget-friendly option available, its durability and outstanding performance make it a worthwhile investment for individuals seeking a long-term solution for their recording requirements.
Specifications
Maximum Rotation: 360 degrees
Maximum Vertical Reach: 37 Inches
Maximum Horizontal Reach: 34 Inches
Max Load: 1Kg
Mount-Type: C clamp
Conclusion
In conclusion, the Thronmax S4 Professional Microphone Phantom Boom Stand is a remarkable addition to any recording setup. Its robust build, customizable features, and compatibility with various microphone models contribute to its outstanding functionality and reliability. If you are a musician, podcaster, or content creator seeking a top-notch boom stand that can fulfill your professional requirements, the Thronmax S4 is definitely a worthwhile choice to consider.