With the rapid development of image technology, people say that the technology of shooting in dark light is becoming more and more mature. However, no matter how excellent the algorithm and technology are, for shooting photos and films in dark light, having a stable shooting environment is the premise of taking high-quality dark light images. For this reason, it is necessary to set up lights to fill the light in dark light and use the gimbal to move the mirror for video recording in dark light. Therefore, if the two are combined, will the image shooting in dark light become convenient and efficient?
ZHIYUN Crane M3
is such an outstanding "two-in-one" product.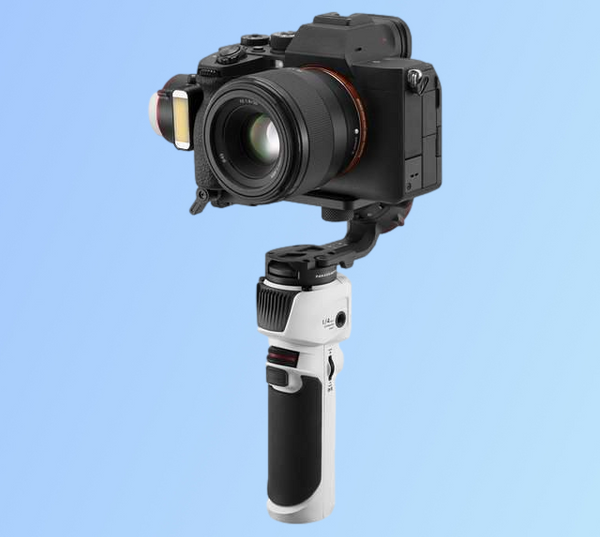 As a high-tech enterprise that started as a stabilizer,
ZHIYUN
Crane M3 can be said to have performed well in providing a stable mirror for professional micro-single, not only by using a high-performance reverse motor internally, but also by adopting a compact structure design and shaft arm structure optimization scheme for the whole platform. In the case of only one bottle of mineral water, it can still ensure the stability and clarity of the imaging equipment when moving the mirror, which is quite powerful.
The ZHIYUN Crane M3 stabilizer is designed with a compact structure and is compatible with a variety of devices. The body size is 280.37 * 74.88 * 157.06 mm and the weight is about 700 grams. In addition, the ZHIYUN Crane M3 stabilizer is also equipped with a 1.22-inch one-handed touch screen. The screen supports Chinese and English menu switching, simple and clear control UI, device status display, etc.
The ZHIYUN Crane M3 stabilizer also has the following configurations:
> Quick Release Leveling System 4.0
> Free of secondary leveling, customized with quick-release plate accessories
> Embedded two-color temperature fill light
> The base has a built-in signal receiver, and with the camera wireless Bluetooth transmitter module, it can realize the wireless control of the mainstream camera functions.
> Adapt to camera shutter protocol and support wired control of camera shutter protocol permission function control
> Built-in 6.5mm audio interface supports the connection of wired microphone equipment for professional interviews
> Built-in multi-function wheel, supporting function switching control within the camera protocol
> Support PD fast charging protocol, up to 2 hours can be fully charged to 100%
> Built-in 1150mah battery lasts about 8 hours
> There is a Type-C interface, which can provide 5V1A power supply for the camera and support the shutter recording function control within the camera's authority.
> Support common following, full following and locking modes, and expand global POV, 3D dream, mad dog mode, etc.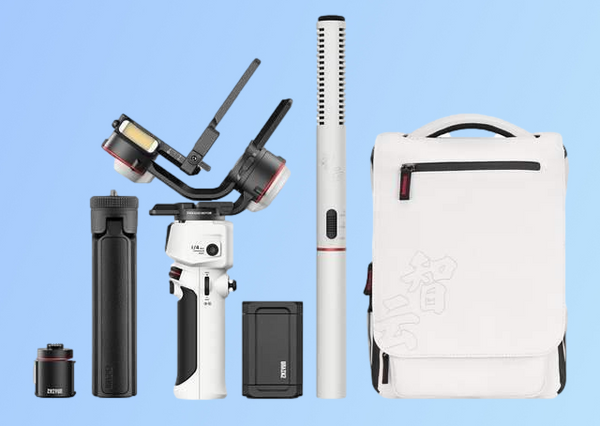 And on the basis of this powerful platform, Crane M3 in order to meet the user's shooting needs in the dark light environment, but also the use of embedded two-color temperature fill light, when Crane M3 is used with professional micro single Sony A7S3 products, it can also fill the area of 20 square meters without additional fill lighting equipment. It provides stable and clear picture quality performance for professional micro single products in dark light shooting.
Moreover, the embedded dual-color temperature fill light also supports seamless adjustment of color temperature and brightness to meet the needs of users in brightness and cold and warm color temperature shooting, so that the fill light has more selectivity.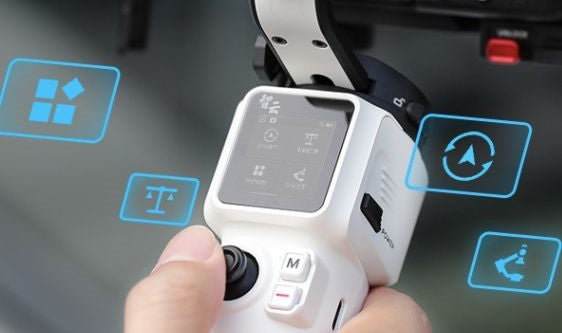 In addition to filling light, another important selling point of Crane M3 lies in its expansibility. Considering that professional users not only have a very high demand for pictures, but also have a strong demand for radio when recording video, ZHIYUN specially designed a multi-functional expansion base on Crane M3, through the 6.5mm audio interface on the base, Crane M3 can be connected to professional interview recording equipment. O as to meet the requirement of directional radio in an interview scene and ensure the clarity of the radio.
With these features that greatly improve recording productivity, Crane M3's control over interaction and quality is certainly not a bit lax. First of all, Crane M3 uses a new handle interaction design, through the multi-functional scroll wheel with a 1.22-inch touch display screen, so that users can complete the adjustment of various complex parameters with one hand, to achieve a more simple, fast and efficient operation experience.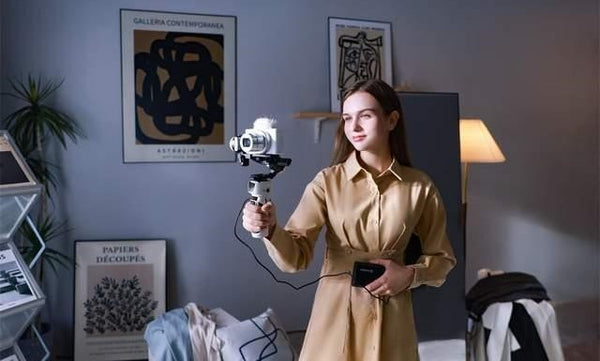 And the appearance is not dull at all, using a new black and white color matching and a variety of composite materials, so that Crane M3 not only has outstanding appearance, but also brings users a skin-friendly grip feel. At the same time, it also uses a new camera disassembly and assembly structure to achieve rapid leveling of video equipment and rapid disassembly and assembly of batteries to ensure efficient and convenient video recording.
Overall, as a smart camera gimbal product for video enthusiasts and professional video shooting, Crane M3 can obviously be easily satisfied with both daily Vlog travel shooting and professional video shooting. And the small design and outstanding performance of the gimbal obviously bring a lot of convenience to users, so if you have a professional micro single and want to use it to shoot high-quality blockbusters, it is a good choice to match it with a Crane M3 gimbal.