Blue Yeti and HyperX Quadcast are microphones from two reputable brands that have been in the market for quite some time. Despite the rapid technological innovation, they are still some of the most preferred gaming, streaming, and YouTubers brands.
They are both condenser USB microphones, plug-and-play without additional software, and with four polar patterns
Suppose you are starting your streaming career, new to gaming, podcast, or any other activity that may require a mic, and wondering which one to buy between the 2 mics. 
Read on HyperX QuadCast vs. Blue Yeti. You will get all the specifics of these two outstanding mics and be the judge on which one is the best or which one meets your need.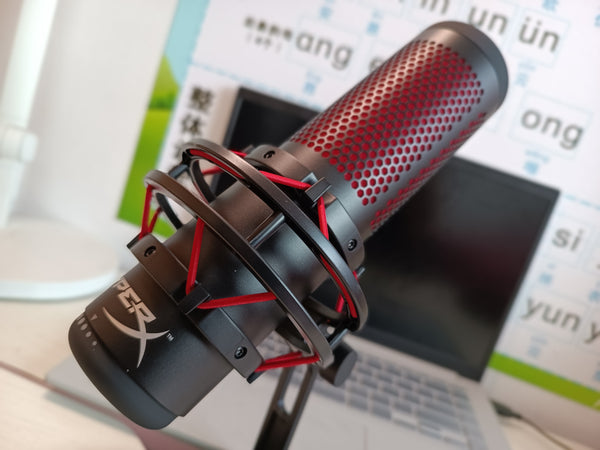 HyperX QuadCast
HyperX QuadCast is a stunning standalone condenser microphone. It stands out from other mics thanks to its distinctive red and black coloring. The mic is ideal for those who want to venture into gaming, livestreaming, or singing. 
Design
The mic is cylindrical, resembling a hairbrush without bristles. It is mounted on a tilting stand with a remarkably sturdy dual-shock mount. A gain control dial used to reduce or increase sensitivity is located on the bottom of the capsule. On the back, you will find a knob for changing the pickup pattern.
Basic description
Stunning red light with dynamic effects 

 It has an anti-vibration shock mount that helps suppress background noise. 

It has a mute button with a red LED light you can use when you want to take a break and talk to someone but do not want your audience to hear the conversation.

All 4 polar patterns are available. You can choose cardioid, stereo, omnidirectional or bidirectional, depending on the number of people recording in the room. It helps you optimize your broadcast setup.

 It has a gain control knob. This helps you easily adjust the mic's sensitivity. 

An internal pop filter is also available. It blocks plosive sounds from getting into the mic.

Headphone jack to monitor the mic 

USB port to connect to PCs, Mac, PS4
Under the Hood
Type -HyperX Quadcast is a wired multi-pattern USB condenser mic

MODEL- QuadCast

Operation mode – Plug-in

Features – The mic is compatible with Macs and PCs. You can also connect to PS4 or PS5. It has 4 polar patterns: cardioid, stereo, bidirectional, and omnidirectional.

Other accessories -Microphone stand, microphone stand adapter.

Frequency response- 20Hz – 20kHz 

Connectivity -USB plug-and-play connectivity.

Output – USB, 3.5 mm audio
Specs:
Frequency response of 20Hz -20000Hz

4 Polar patterns 

High Sensitivity

 The impedance at 32 ohms 

Signal-to-noise ratio is 90 Db

 Cable length 3mvs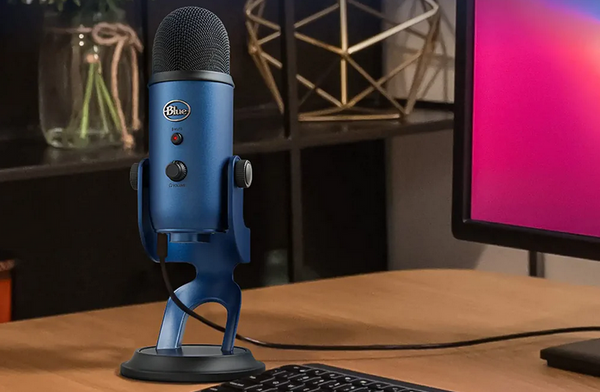 Blue Yeti

Blue Yeti microphones, a production of Logitech company, remain among the best in the market. The mic is suitable for podcasting, live-streaming, round table discussion, singing, and gaming. 
It is a USB condenser microphone that produces a clear and crisp voice when recording. It is also reasonably priced, making it among the most purchased mic for home recordings. Furthermore, it has most controls that put you in charge of the quality of all your recordings. 
Design
Blue Yeti mic has a rugged, unique design that is irresistible and stands out among other designs. 
It comes in 11 different colors: Silver, black, gray, Aztec copper, slate, teal, platinum, satin red, white-out, lunar gray, and midnight blue. 
Basic Description
Has 4 polar patterns (cardioid, omnidirectional, stereo, and bidirectional). Whether you want to record as a group or just you and your mic podcasting, it will serve all your recording needs. 

It has a 3 -capsule array to produce powerful, precise, and broadcast-quality sound.

 The mic is compatible with Mac OS X, Windows 8, and 7 

 It has a gain control to allow you to adjust the amplitude of the microphone signal 

Mute button enables you to mute when taking a break from your live stream.

 Zero-latency headphone output. 

It comes with blue voice software that enhances your voice, making it ultra-fine. Download it on Logitech free GHUB software. 
Under the Hood
Type – 4 -Pattern Condenser USB Microphone

Model – Yeti

Connections – USB, 3.5 mm audio

Other accessories – Yeti USB mic, USB cable, Desktop stand

Operation mode – Plug-in

Features – 3 capsule array, pro gaming microphone, blue voice software, unique design, four polar patterns, zero-latency monitoring, broadcast quality sound and plug-and-play on PC and Mac.
Specs
Frequency Response- 20Hz - 20kHz

Power output (RMS): 130mW

Frequency Response: 20Hz – 20000Hz

Capsules: 3 condenser capsules

Bit Rate: 16-bit

Max SPL: 120dB 

Weight: 1.2 lbs 

Polar Patterns: Stereo, Bidirectional, Cardioid, Omnidirectional,
Impedance -16 ohms

Signal to Noise ratio – 100dB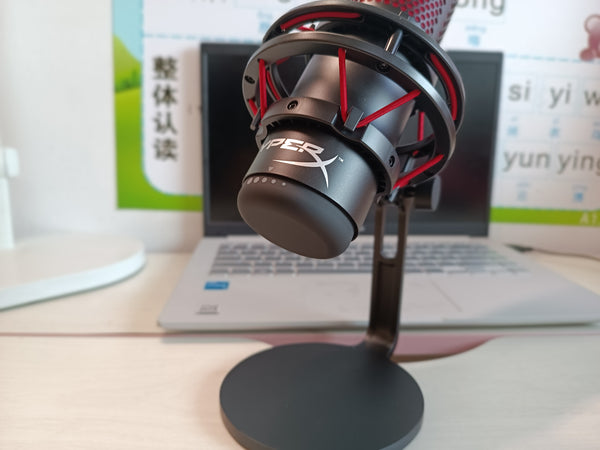 Time for Comparison
Both the HyperX QuadCast and the Blue Yeti are condenser USB microphones. They are plug-and-play, and you don't need any additional software when using them. Besides, they are side-address microphones, so you speak into their sides rather than their tops when using them.
Design
Blue Yeti is a strong metallic microphone with a rugged unique form, while HyperX Quadcast has a black grille,cylindrical with a strong plastic outer cover that is red in color. The red glow shows that it is on when it is functioning. A pop filter is integrated into the grille, QuadCast stand is metallic, and the shock mounts are plastic. 
When the microphone is on the mute mode in blue Yeti, it flashes red, and when it is activated, the light remains red. In HyperX QuadCast, entire body is visible as it glows red.
Without the stand, the Blue Yeti is 7.5 inches (19.05 cm) tall and 11.75 inches (29.84 cm) tall when using the stand. On the other hand, HyperX QuadCast is 8 inches tall without a stand and 10 inches with a stand. 
HyperX Quadcast has a total weight of 1.6 pounds (0.73 kg), while the Blue Yeti has a total weight of 3.51 pounds (1.59 kg).
You can turn QuadCast light on and off using the mute button on top of the microphone. 
Performance
When it comes to performance, you first consider the microphone's specs. Specs help you identify which mic will give you the best performance. 
Comparing Blue Yeti vs. HyperX QuadCast specs
| | | |
| --- | --- | --- |
| | Hyperx quadcast | Blue Yeti  |
| Frequency response | 20Hz-20KHz | 20Hz-20KHz |
| Polar patterns | 4 polar patterns | 4 polar patterns  |
| Bit rate  | 16 bit | 16 bit |
| Impedance  | 32 ohms | 16ohms  |
| sensitivity | High sensitivity | High sensitivity |
| Signal to noise ratio | 90db | 120db |
| Capsules  | 3 capsules | 3 capsules |
| Pop filter | Built in | Add on  |
| Shock mount  | Built in | Add on |
The table above shows that there is not much difference in performance between the two mics. Both mics offer almost identical functionality. 
Sound Quality
The sound quality from both mics is almost the same. Blue Yeti and HyperX QuadCast produce a naturally clear, crispy sound, and it is hard to tell one from the other. 
Background Noise
In an experiment to check if they were good at blocking background noise, Both mics did not block sound from keyboard typing. 
Blue Yeti did also not block other background noise, making it unsuitable to use in an office or noisy spaces. Hyperx QuadCast, however, blocked other background noise. 
None of the two mics blocked shock or bump sounds in the background. 
Therefore, HyperX QuadCast works better than blue Yeti in spaces that are not sound-treated. 
Outputs
HyperX and Blue Yeti both produce natural sounds when using them. However, Blue Yeti produces finer sound when recording music in a sound-treated studio. 
The voice software in Blue Yeti also enhances the audio quality, and it is easy to use . By playing around with the filter, you can improve the quality of the voice produced, a software that HyperX Quadcast lacks.
Quadcast is more suitable for live streamers and gamers because of its ability to block some background noise. 
Audio Control
Both mics have control gains, a mute button, and a headphone jack to monitor audio. The four features available in both mics give them the same capability to control the audio output to their audience. 
The Price
A blue Yeti USB microphone is more affordable than HyperX QuadCast. It is currently retailing at $99 on Amazon, and HyperX quadcast is retailing at $128. 
If you are on a tight budget, buy a Blue Yeti. It will give you almost the same quality of service as HyperX Quadcast.
The prices, however, keep fluctuating; if you are lucky, you could get them at even a lower price.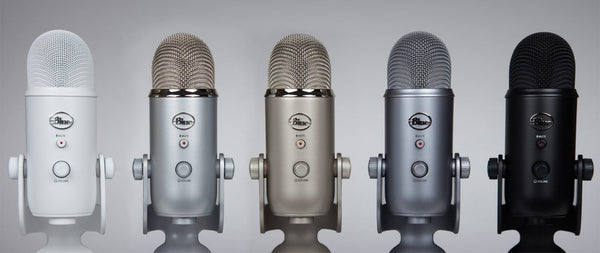 Blue Yeti vs. HyperX QuadCast Verdict
Go for Blue Yeti if you want to record your podcast, gaming, or live-streaming in a sound-curated studio. Yeti also produces a finer sound when you are singing. Therefore, use it when recording music.
Additionally, buy Blue Yeti suppose you want a mic with knobs and buttons that are easy to access, voice software that enhances your voice quality, built-in headphones volume knob, and a professional design. 
However, if you want to use a Mic in an office setup or somewhere with a bit of background noise, then buy Hyperx QuadCast. It will block most background noise except the keyboard or a bump. 
When looking for a complete recording package, choose HyperX QuadCast. The mic has a shock mount and pop filter. 
You need an external pop filter to capture ultra-fine frequencies and a shock mount to absorb all accidental sounds and bumps when working with a condenser mic. 
It also has an accessible mute button and a compact design, making it easy to change it from a stand to an arm position, and you do not have t spend more.