Vlog-making shooting equipment selection guide:
1. Video recording equipment:
>
2022 [DSLR,Mirrorless,card camera,action camera] vlog camera recommendation
>
2022 vlog-making action camera recommendations

> 2022 Panoramic Camera Guide Recommendation
2. Stabilized equipment:
>
2022 Mobile phone handheld gimbal stabilizer recommendation
>
2022 Camera Handheld Gimbal Stabilizer Recommendation
>
2022 vlog-making tripod recommendations

> 2022 vlog-making Monopod and Selfie stick recommendations
3. Recording device:
>
2022 vlog-making Radio Microphone Recommendation 4. Lighting equipment:
>
2022 vlog-making photography led fill light recommendation
What is vlog?
Vlog is the abbreviation of video blog. It is a type of blog, which means video recording, video blog, video weblog, and a variant of source blog. It emphasizes timeliness. The author of vlog uses images instead of text or photos to write personal blogs and upload them to share with netizens.
YouTube's definition of vlog is that creators record their daily lives by shooting videos, and such creators are collectively called vloggers.
Vlog mostly records the author's personal daily life, with a wide range of topics, which can be a record of participating in large-scale activities, or a collection of daily life trifles.
Record form of vlog:
The vlog can be divided into two types: one is the video blog video, which is biased towards video attraction as the main element. One is the voice blog, which is biased towards content attraction as the main element.
Vlog is a form of video, which can be defined in two ways: one is "video log-video log", and the other is "video of log-log video". The difference is that the focus of the previous definition is the log, which is essentially the same as the text diary. The picture diary is a form, which carries the content of the log in the form of video. The latter definition is more concerned about video, log content for video services, vlog is only one form of many styles of video, with daily records as the content of video.

Features of Vlog:
◆ Record of natural and ordinary life
A trip, an exhibition, a painting, a game can be used as material.
◆ Unique personification
The vlog lens speech, character characteristics and self-expression are very distinct, which not only meets the needs of the creator's real record, but also meets the audience's emotional connection and sense of belonging.
◆ Difficult creation threshold
The vlog requires sophisticated shooting, planning, and editing by the blogger.
◆ Aesthetic segmentation in the field of short video
Yloa focuses on natural and realistic narration, travel videos reflect a delicate and substantial attitude towards life, and learning life videos reveal the quality of independent struggle, all of which cater to the aesthetic taste of modern young people.
Content classification of vlog:
◆ Daily life
Record your daily life, record the fragments of life with video, and splice them together through editing. Daily life should be exquisite and attractive, not a running account of the whole article.
◆ Beauty evaluation
As a senior beauty expert, I share my rich experience in beauty and skin care.
◆ Travel sharing
Record your own travel, share your travel experience, recommend tourist attractions and various travel strategies.
◆ Food production
Love food and have the ability to make it. Food shooting should be attractive and appetizing.
◆ Learn and share
Including English learning sharing, postgraduate entrance examination experience, book recommendation and other related learning content.
◆ Entrepreneurial record
You can record your entrepreneurial journey along the way, and at the same time, you will receive a lot of people who resonate with entrepreneurship.
◆ Fashion wear
He has his own unique views on the field of fashion, is a fashion trendsetter, and can grasp the current fashion trend.
How to vlog-making:
1. From now on, learn to record, pay attention to the details of your life, and record the wonderful fragments. Look for the story line.
In this story, you need to reflect your character characteristics or dry goods knowledge, so that the audience can like you or learn something through a video, and experience what you want to express. A vlog work that can resonate with the audience will certainly be an excellent vlog.
2. Use clips to add highlights to the video.
Editing is a required course for every vlog writer, and a good video can not be separated from the optimization of editing.
Learn to get rid of videos that are too slow, don't keep too many empty clips in the video, leave only meaningful shots, and try to keep the video within 5 minutes. You can use stickers and subtitles to add interest to the video.
3. Choosing the right background music is half the battle.
Appropriate background music can set off the theme of the video and deepen the influence of the audience on the work. The volume control also requires the author's careful debugging, the background sound can not cover the main volume of the characters, try to add multiple background music in a video, will bring unexpected surprises.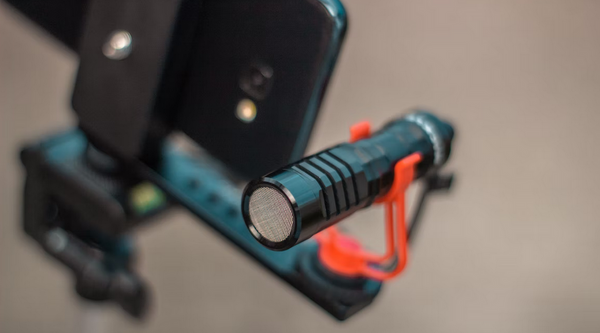 Difference between Vlog and short video:
A vlog can be a short video or a long video. The length cannot define a vlog. The real difference is the content.
Short video is a form of video based on the mobile Internet, the basic carrier is mobile phones, tablets and other light screens, so it must be short, occupying the user's fragmented time. Short videos can be anything, which can be watched quickly and spread quickly to form large-scale traffic.
A vlog is a world presented from the vlogger's perspective. From the angle of observation, the shining point of search, the way of narration, to the editing technique and the selection of BGM, it is extremely subjective.
Personalized, or in other words, this series of operations is precisely to magnify this subjective observation and feeling as much as possible. This determines that vlog is extremely personal and emotional. It takes the photographer holding the lens as a potential display object and combines it with the content he presents to form a group of three-dimensional slices. The former is a product form, while the latter is a content form, which is the fundamental difference.
What equipment should be prepared for vlog-making?
1. Primary stage: mobile phone + gimbal stabilizer
For beginners, it is recommended that you use a portable mobile phone for Vlog creation. Today, with the increasingly powerful functions of mobile phones, shooting equipment is not so important. Director Peter Chan can use an iPhone X to create "Three Minutes" and Jia Zhangke uses an iPhone XS to create "a Bucket". Although they use a lot of plug-in devices, it also proves that the current mobile phone camera can fully meet our daily Vlog shooting needs.
But in the shooting, it is inevitable to encounter the "shaking hand party" Vlogger, the shot also more or less with a "sense of rhythm" of the beat, this time a mobile phone stabilizer can help you, stabilizer in hand, hand shaking trouble is not.
2. Advanced stage: SLR camera + gimbal stabilizer
Vloggers who want to continue to advance recommend several professional cameras and stabilizers. First of all, we recommend several cameras suitable for shooting Vlog. The overall type can be divided into micro single, card machine and SLR.
(1) Micro single recommendation: Canon M6/Canon M50
Both of them are Canon's entry-level models, with high cost performance, good imaging effect and easy to carry. The price difference between the two is only a few hundred yuan. In terms of appearance, M6 has a retro design, which is more compact, but there is no viewfinder.
The M50 looks more like a traditional SLR and has an electronic viewfinder. M50 can shoot 4K, but it is limited 4K, and the picture is larger, but relatively speaking, it is also a good configuration in the micro single. Moreover, M50 has dual fuselage anti-shake, which is a great improvement compared with M6.
Sony A6000/A6300/A6400/A6500 has mature technology, complete interfaces, strong performance, and can be equipped with external batteries to ensure endurance. The only drawback is that the color needs to be fine-tuned.
(2) Card machine recommendation
The advantage of the card machine is portable and compact, but the disadvantage is that the lens can not be replaced, the interface is limited, and most of them can not be connected to the wheat mouth.
> Canon G7 X Mark II
Net red model, with its own beauty effect, easy to carry, comprehensive functions, is the first choice for many beauty-loving Vlogger.
> Sony Black Card 3/5/6
Sony black card is very famous in the card machine, equipped with Zeiss lens, imaging is very good, but also can buy a matching Vlog handle, performance is very good.
(3) SLR recommendation: Canon 200D/750D/77D/80D
Due to the size limitation and focusing speed of SLR, SLR is not recommended, only a simple recommendation is made.
In the process of purchasing a camera, it is suggested that you pre-select several models that you like and have a good evaluation, go to the major evaluation websites to see the detailed evaluation, and then go to the experience store to actually experience it. If there is no local experience store, you can also choose the form of rental to experience it.
Of course, in the initial stage of Vlog, it is recommended to use mobile phones to shoot and improve technology, and then consider purchasing cameras according to their own needs when equipment upgrades are needed.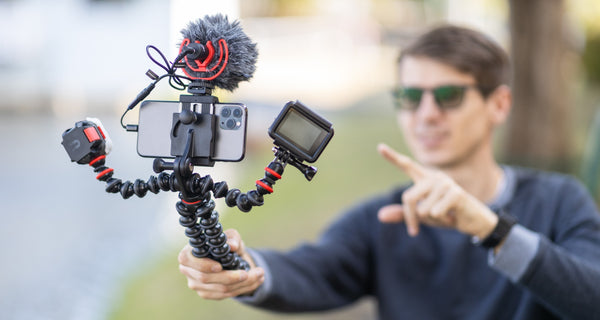 What type of gimbal stabilizer do you choose to making-vlog?
Stabilizers can be roughly divided into Stanikon (big and small according to size), hand-held stabilizers (one-handed and two-handed), etc., and can also be divided into film (camera) stabilizers, camera stabilizers and mobile phone stabilizers according to demand. The predecessor of the handheld stabilizer is Stankon, but its adjustment is more complex and relatively large. The handheld stabilizer has more comprehensive functions and is easy to carry. In addition, it is recommended that you buy an octopus tripod, which can be used for self-portraits and other scenes.
> DJI Ronin-S
The invention has the advantages of simple structure, excellent performance, stable and intelligent system, good stabilizing effect, smoothness, capricious use, support for multiple intelligent shooting modes such as colossus photography (shooting multiple photos to synthesize a huge panorama), fixed-point delay, track delay, track camera and the like, oblique angle design, avoidance of a camera screen, convenient composition, and quick operation of the lock catch design at the handle and the quick-loading plate. Relatively heavy.
> MOZA AirCross
Light and portable, small size, light load, bearing 1.8 kg, suitable for micro single use, known as micro single, stable effect is limited by the volume has a certain impact, handle grip is good, basic functions are relatively complete.
> MOZA  Air2
Intelligent focusing, focusing speed block, automatic parameter adjustment, key imitating camera design, convenient operation, clear at a glance, low learning cost, multiple intelligent shooting modes, 360 ° full-angle photography, flexible gimbal design, lasting endurance and focusing ability, strong stability.
Radio equipment
Good video, sound is also very critical. Clear radio can improve the quality of the short film. Obviously, you need to choose the right microphone here, and recommend Rode Video Micro and Rode Wireless GO.
> RODE VideoMicro
Video Micro is a compact, portable headset that you can easily tuck into your bag when you're out, and use when you need it. It can be fixed to the camera through the hot shoe base, and even devices such as action cameras can be fixed through peripherals such as rabbit cages, which is very convenient.
Although the volume is small, the performance is not weak at all. Equipped with a high-quality cardioid condenser microphone capsule, it provides high-quality audio recording regardless of the camera used. In addition, as a directional microphone, the Video Micro is able to centrally record the sound directly in front of the camera, which will make the surrounding ambient noise less noticeable. At the same time, it has a wider sound pickup than other Rode microphones, and can even be used in indoor recording to provide better voice-over and commentary for your videos.
> RODE Wireless GO
It is also a microphone from Rode, which can be said to be the Crispy Fried Chicken of the microphone. Although Video Micro has a good radio effect, if you need to record your own voice while recording video, there will be some trouble, after all, you need to always point the microphone at yourself, then it's time for Wireless GO to show its skills.
Wireless GO is a very portable wireless microphone system, which makes the traditional wireless microphone extremely portable. Both the transmitting end and the receiving end are only 44X45.3X18.5mm in size. You can easily clip the transmitting end to your collar. It has a built-in high-quality omni-directional condenser microphone. In this way, you can record high-quality sound while shooting with a wireless additional collar clip microphone.